I am a co-leader of my daughters "kids club" group where our focus is on teaching tweens "Why is community service important?".  We are presenting this to the group as a lesson of kindness- that through the act of community service to others it can make a significant difference in someone else's life and in turn that makes us feel good too. Kindness to others is a practice of kindness to ourselves- words I want my large family to live by!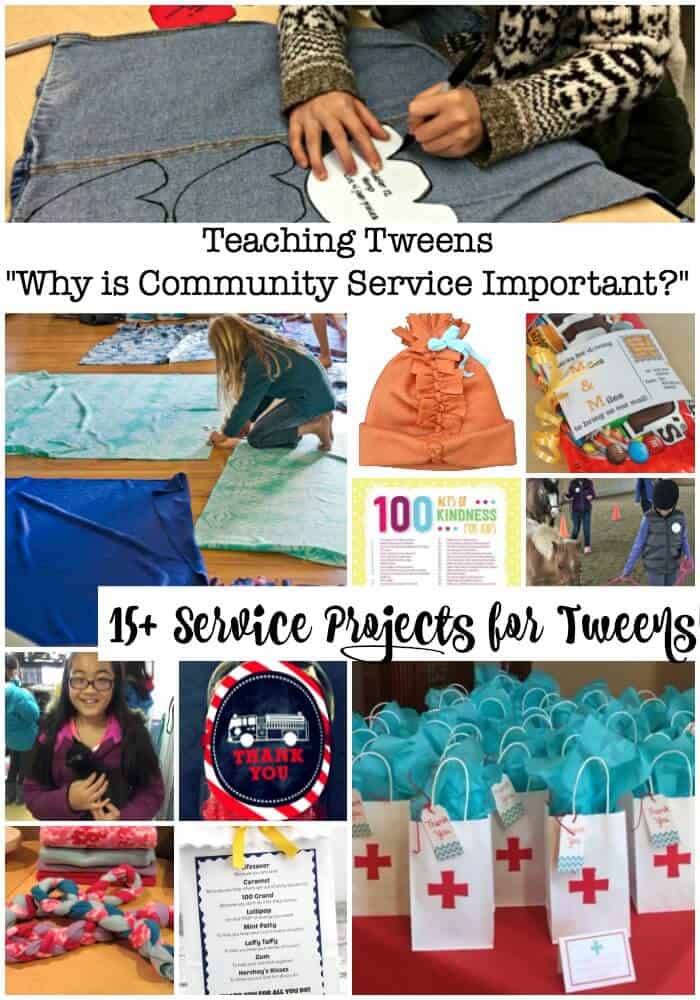 Whether you are also leading a tween/teen service group who is looking for service project ideas or are just wanting to do something to give back as a family- I wanted to share with you some of the service projects we have done as a group. We try to center our projects around things we can actively do together during our meeting times- rather than asking the kids to do something kind and in service on their own.
Service Projects to Help Other Kids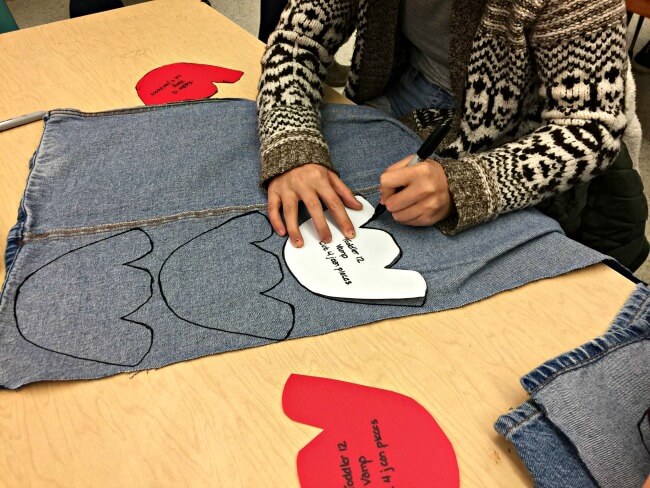 Sole Hope
A wonderful idea for a community service project is to cut pattern pieces out of denim and plastic which are then used to create shoes for children in Uganda who suffer from jiggers- small parasites that bury into children's feet and eventually makes it impossible for kids to walk, play, and be kids.
Visit solehope.org to purchase a shoe party kit which includes a video you can show to the kids which explains the problem and the solution and provides the patterns you use to cut out the shoe pieces.
Each shoe will require an accompanying $10 donation which is used to pay for shipping of the pattern pieces to Uganda as well as to pay the tailors that the program hires to sew the shoes (so not only are you providing shoes to kids who need them, but also putting people to work to make the shoes- which is an amazing thing!).
Our girls loved doing this project and felt so good to have something tangible to send to someone in need.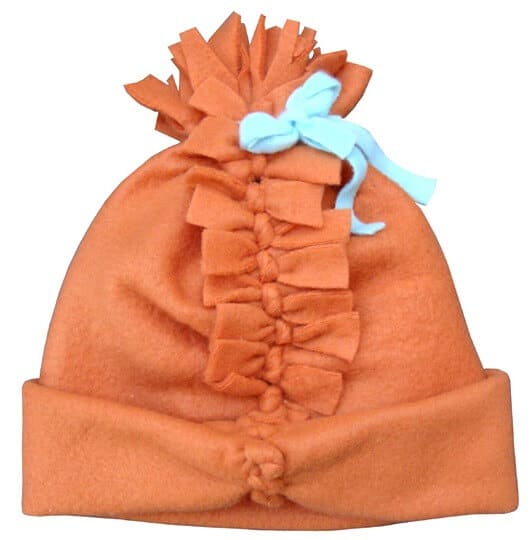 No-Sew Hats and Scarves
These are simple fleece projects that a tween group can do to donate to a local homeless shelter or women's shelter. You can make them for kids or large enough to fit an adult as well.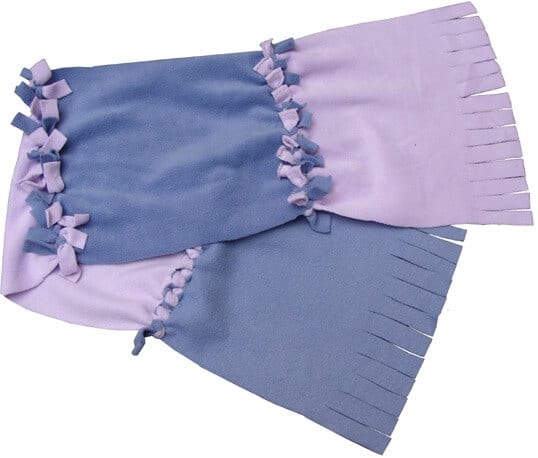 You can find the instructions from Creative Jewish Mom on how to make the hats here and how to make the color block scarf here.
Service projects for animals!
Make Dog Toys
Kids love to work on any kind of service projects for animals- whether that is actually working with the animals or even just creating something to give to the animals.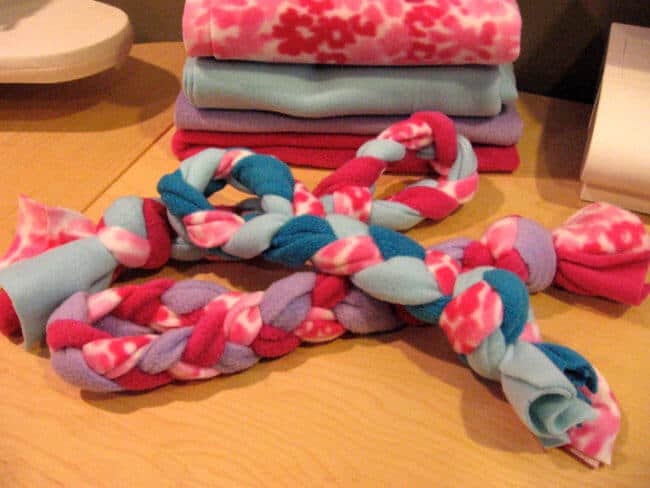 You can find a tutorial at Imagine Our Life on how to make no-sew dog toys out of fleece which would be great to donate to an animal shelter (always call and ask if they will accept the toys before you make them!) 
Participate in Clicker Training
Our group spent an afternoon volunteering at a local animal shelter, learning how to use Clicker Training to help to train dogs and get them ready for their new homes. Clicker training can be conducted outside of their enclosures which is for the safety of younger volunteers. In essence, you reinforce behaviors the dog is learning such as "sit" and "lie down" by clicking and tossing in a small treat when they respond to the command.
Visit a Therapeutic Riding Center
We also had the chance to visit a local therapeutic riding center and learn how volunteers can help take care of the horses as well as be of assistance to special needs riders. It was here that we learned that we could collect used riding equipment such as helmets, boots, and pants for donation to the center. (Sometimes the best way to get involved in a community service project is to spend some time visiting local organizations to see that they do and how you can get involved.)
Later this year we will visit a center that cares for miniature therapy donkeys that visit nursing homes, schools, and hospitals. The donkeys need to be walked daily for exercise- so we will be there to walk the donkeys!
Service projects for local food banks and shelters
Create Toiletry Kits
Our group recently spent some time at our local food bank to understand the service they provide to our own community to help out those who need access to donated food, toiletries, and clothing. We created small toiletry kits of shampoo, washcloths, soap, combs, and lotion that the food bank could give to their clients.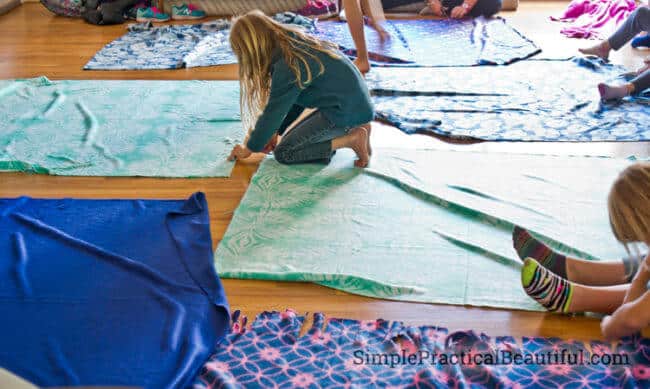 Project Linus
Next month we are hosting a Project Linus blanket-making party (inspired by this idea from Simple Practical Beautiful) and will be donating our homemade blankets to our local food bank along with diapers that we are collecting through a diaper drive in our community. (The food bank mentioned to us that one of the most difficult items to keep in stock are larger-sized toddler diapers. Apparently everyone donates the small ones!).
Repackage Rice and Beans
Another project that gets kids doing things- is to purchase rice or dried beans in bulk from a warehouse store and then re-package those products into 1 lb packages that can be distributed at food shelters. DoingGoodTogether.org also suggests that you can partner with a local food bank and make a pledge to keep that pantry shelf filled with 1 lb packages for a period of time.
Service Projects to Thank Those Who Serve The Community
I love the idea of creating a service project to thank members of the community for their service to the community.
Thank a Police Officer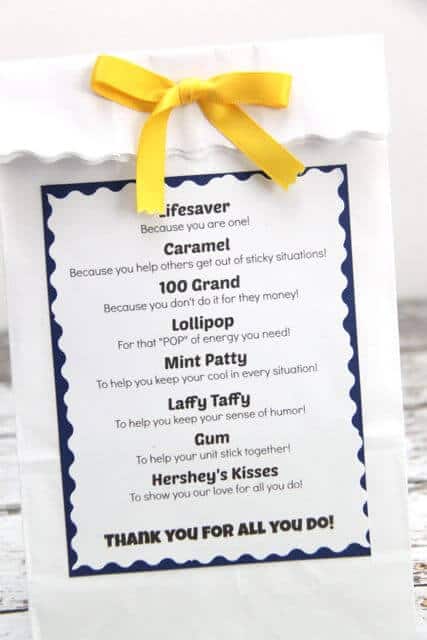 I love this printable from Smashed Peas and Carrots (link no longer available) that you can use in a package of candy and drop off at your local police station.
Thank a Fireman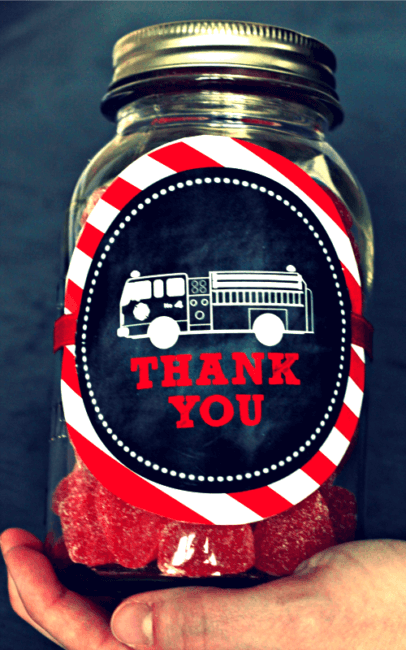 Happy Money Saver has a beautiful printable label that you can apply to a mason jar filled with red candy and drop off a group of jars at your local firehouse.
Thank a Nurse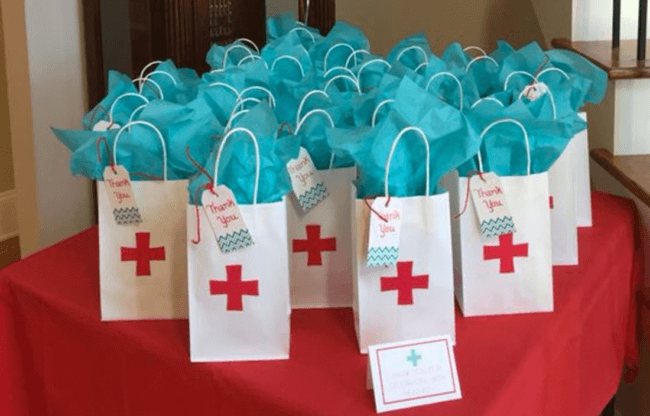 Our group put together nurse appreciation bags similar to these to take the nurses at our local veteran's facility. Inside we included a framed quote that highlighted the kindness of nurses. We also tucked in a bottle of good quality hand lotion (much appreciated when you think of how often nurses wash their hands!).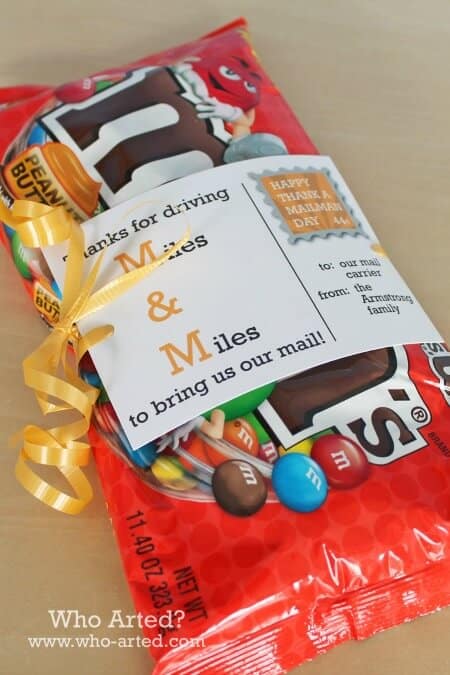 Thank a Mail Carrier
Who Arted created this fun printable that can be packaged along with candy, warm socks, hand cream- whatever you think would be a fun gift to give!
Service Projects for Senior Groups
There are many things you can do at a local senior center who would love to have the gift of time with younger people:
Lead a bingo party
Offer manicures (we've done this for the seniors at our local VA)
Read books or magazines together
Interview a senior to get "their life story" and then type it up, add artwork for a cover and present it to them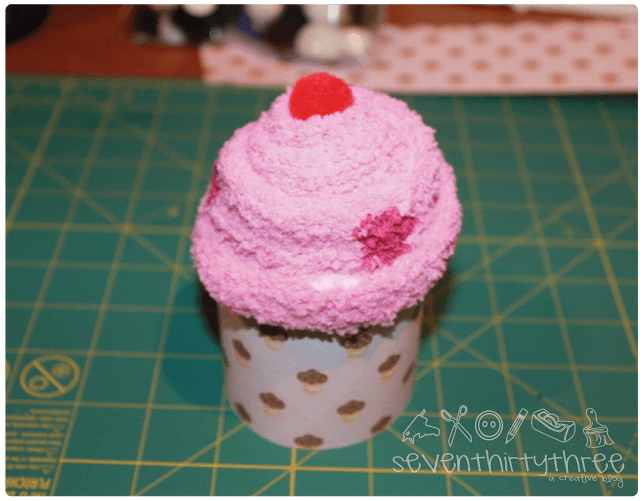 The sock cupcakes from Inspiration Made Simple would be a wonderful gift to take along to a senior center while visiting.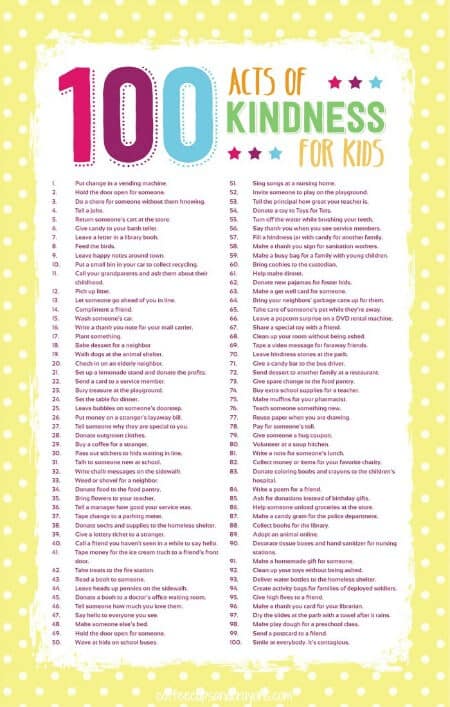 100 Acts of Kindness for Kids
If you are looking for something that you can give to kids to help them continue their acts of kindness on their own, Coffee Cups and Crayons has a great printable on 100 Acts of Kindness for Kids. This would be great to pass out at the end of the year to motivate kids to continue their acts of service on their own.
More Posts You Might Enjoy On Large Family Parenting