Is parenting in a large family different than parenting in a regular-sized family? Probably. There's more group herding. There's more laundry. There's a lot more driving around town! But there are these amazing "bonuses" too- like everyone has someone to play with. To ask for help with homework. To share a room with.
But I also think that in many ways- it's not that different. I always say that parenting takes up all of your time- whether one kid is filling up that space or a dozen!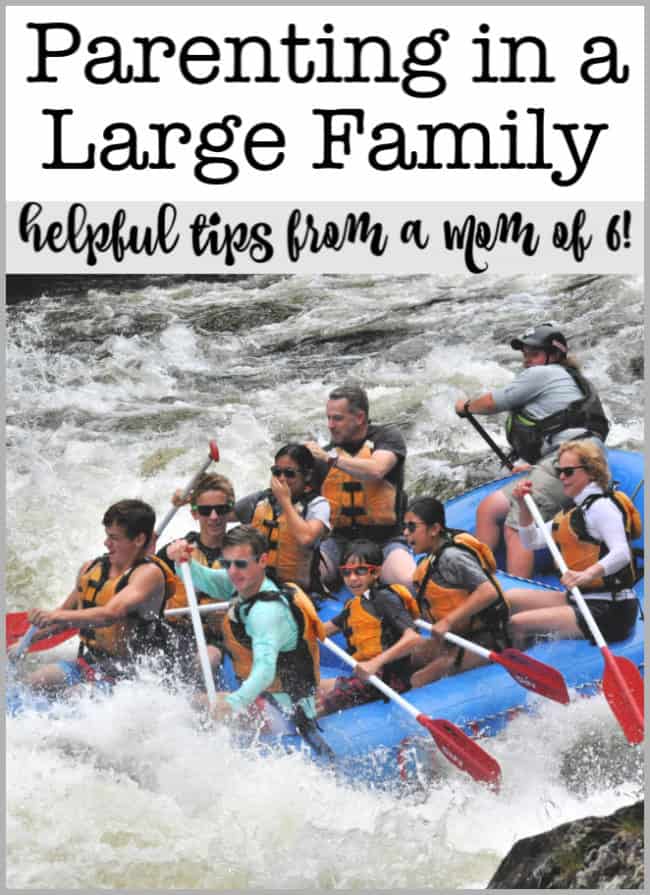 Quick Links to the Info in This Post!
While I absolutely love being the Mom of a large family- I have to admit we didn't get here because this was my life-long dream or because I grew up in a household with lots of siblings (both my husband and I each have just one brother!) We got here because we found that we just loved being parents!
First we had one child and then quickly became pregnant with another. And 7 months after he was born we joyfully discovered we were expecting again! We had three young boys under the age of 3, and we loved it!
And before long we thought to ourselves… "How much harder could one more be?"
And so we adopted our sweet daughter Lili.
And then we said to ourselves, "How much harder could one more be?"
And so we adopted our beautiful daughter Charlotte.
And then we said to ourselves, "How much harder could one more be?"
And that's how Alex came to complete our clan!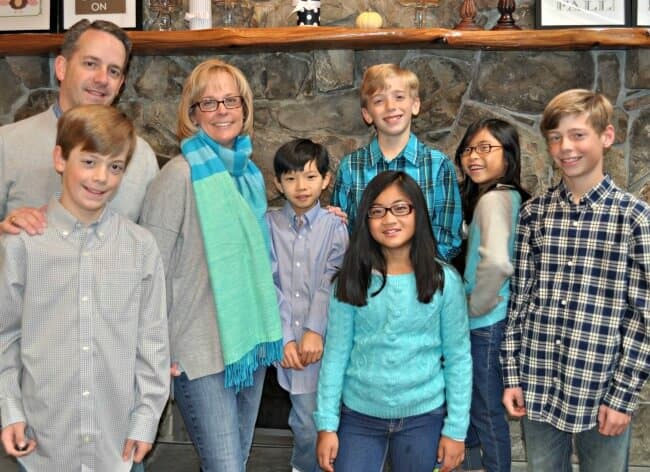 Large Family Parenting
Am I an expert on this whole "parenting a large family" thing? Heck no! I make mistakes and learn new things about my kids and how to raise them every single day! But I do have some tips to share that might help you as you navigate parenting too- no matter what your family size!
Sure, Large Families are a Little Different:
Parenting Strategies:
Things that have worked for this family with 6 kids!
Keeping Things Organized:
Mothers of large families know that the key to LIFE is being as organized as possible!
Making Time for Mom!
As busy Moms, we often put ourselves last. Which, quite frankly, can lead to "job burnout"! Here are some ideas to help make yourself a priority!
Parenting Stories:
Just like any other Mom, I love to tell stories about my kids. Not the kind that will embarrass them later when their college boyfriends or girlfriends stop by the site to check out their childhood photos… but stories that reflect on the wonders of parenthood and also the challenge of it all!
Adoption & Parenting
Again- let me be super clear- I am not an expert on adoption parenting. I am just an adoptive parent raising kids that I am blessed to help to grow up.
Each of my children has a unique story- one that they alone can tell if and when they choose. These posts share some of my experiences and thoughts on adoptive parenting. If you are looking for a great resource on adoption and raising a family created through adoption, I highly recommend Adoptive Families.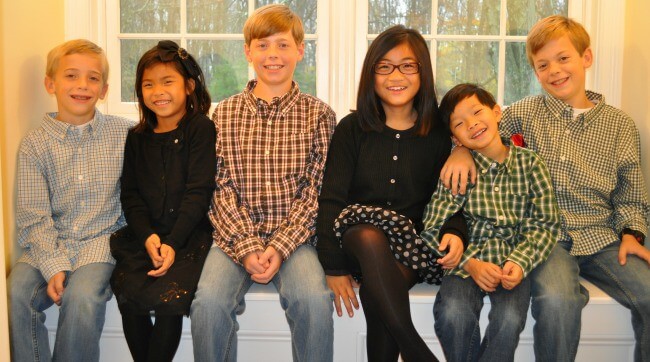 Back to School Ideas and Tips!
I love, love, love the start of a new school year! The chance to start fresh with clean bedrooms and closets and new school supplies! Here are the checklists, ideas, and tips that we use at our house to get the new school year started right!
Saving Money with a Large Family
Having six kids does not mean it is six times more expensive than raising one child. Or at least it doesn't have to be!
More Resources for Busy Moms!
I hope that you found this to be a great resource to you for parenting your kids- no matter what your family size!