I am such a huge fan of the at-home birthday party. I love creating magical days of fun for my kids and their friends that are easy to pull together, don't cost a lot of money, and create the kind of memories that my kids will look back on fondly on when they are all grown up with kids of their own.
Over the years I have thrown dozens of birthday parties for my kids, using all different kinds of themes. Most of the time my husband and I are the ones leading the guests through the activities, but depending on the party- sometimes we'll hire someone to bring in small animals or entertain the kids for us. At-home parties don't need to be over-the-top-professional-photography-worthy affairs- they are meant to be homemade, simple, and fun for you as well as for your child. So if you are looking for a fun at-home birthday party for your young man… here are 12 Awesome Birthday Party Ideas for Boys!
#1 Minecraft Party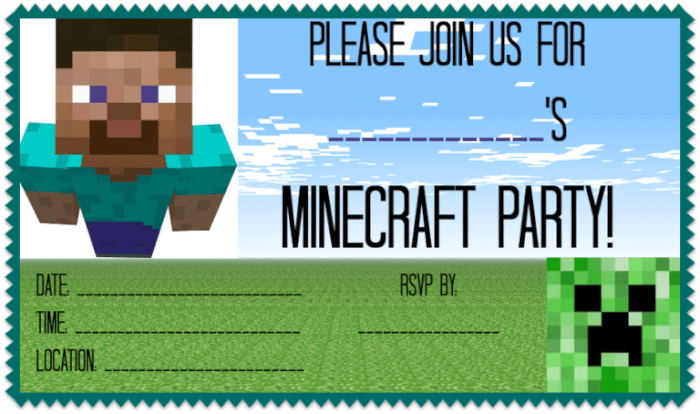 If your son is obsessed with all things Minecraft as my son is- this party is sure to be a hit! In this Minecraft Party post I share with you lots of ideas on activities you can do with the Minecraft theme (because you aren't going to line up computers and just have kids play Minecraft for the party, right?), ideas for cake, favors, as well as free printable invites and thank you notes!
#2 Lego Birthday Party
Lots of little boys love Legos- but how do you turn that hobby into a birthday party? By playing traditional party games but giving them all a Lego-themed twist! I show you how to do it in my Lego Birthday Party post!
#3 Minute to Win It Birthday Party
The inspiration for this party comes from the NBC game show "Minute to Win It"… and if you have never had a chance to see this show- I'll summarize it for you. Contestants are given challenges (involving common household items) to complete in 60 seconds to win ever-increasing prize money. But the best part, the challenges are funny, and can easily be replicated at home! This Minute to Win It Party is so much fun and such a success at our home, that we have actually hosted it 3 different times for 3 of our sons' birthday parties!
#4 Backyard Campout
Kids love camping, and getting to sleep in a tent with their friends in fun- even if it is only in your own backyard! This Backyard Camp-Out post gives you the details on the order of events for your party as well as ideas for party favors!
#5 Amazing Race Party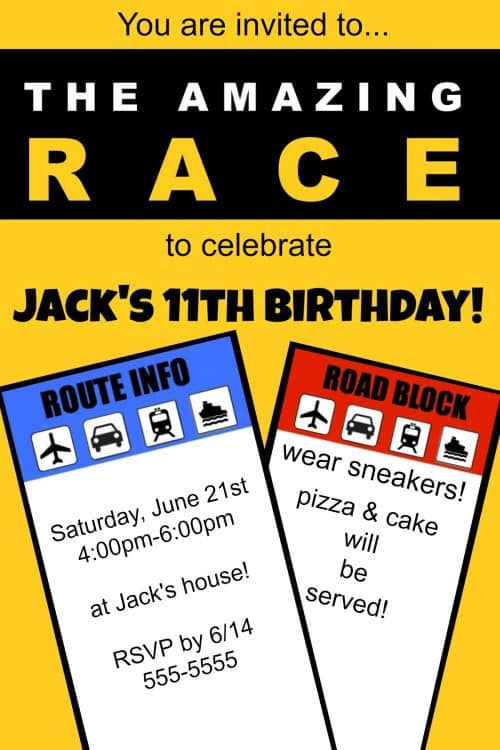 Fans of the hit CBS show "Amazing Race" would love a birthday party that features them taking on challenges and competing against other teams to win the race! This Amazing Race Party can be done right in your backyard, using traditional party games that fit into the theme. The post inlcudes free printable invites, thank you notes, and game cards!
#6 DIY Magic Party
Kids love learning new magic tricks- and this party gives them the chance to do just that! In this DIY Magic Tricks party, kids team up with a partner, read how to do a new trick, practice a little, and then get up in front of the group to perform their new trick! The results may not always be what's expected, but the kids will laugh and have a great time anyway!
#7 Safari Birthday Party
This was a party where we chose to hire an outside entertainer, "Jungle Jim", to come in and bring along his menagerie of small animals that the kids could learn about, feed, and play with- bunnies, chinchilla, guinea pig, dove, snake, and more! This Safari Party is perfect for younger kids, and this post shows you a few games that you can play to go along with your party, as well as a few ideas for a safari-themed cake!
#8 Olympics Birthday Party
After enjoying the Socchi winter Olympics as a family, my kids would love to have an Olympic-themed birthday party this summer! This Olympics Party post gives you lots of ideas on holding an opening ceremony, party games, and a medal ceremony too!
#9 Baseball Birthday Party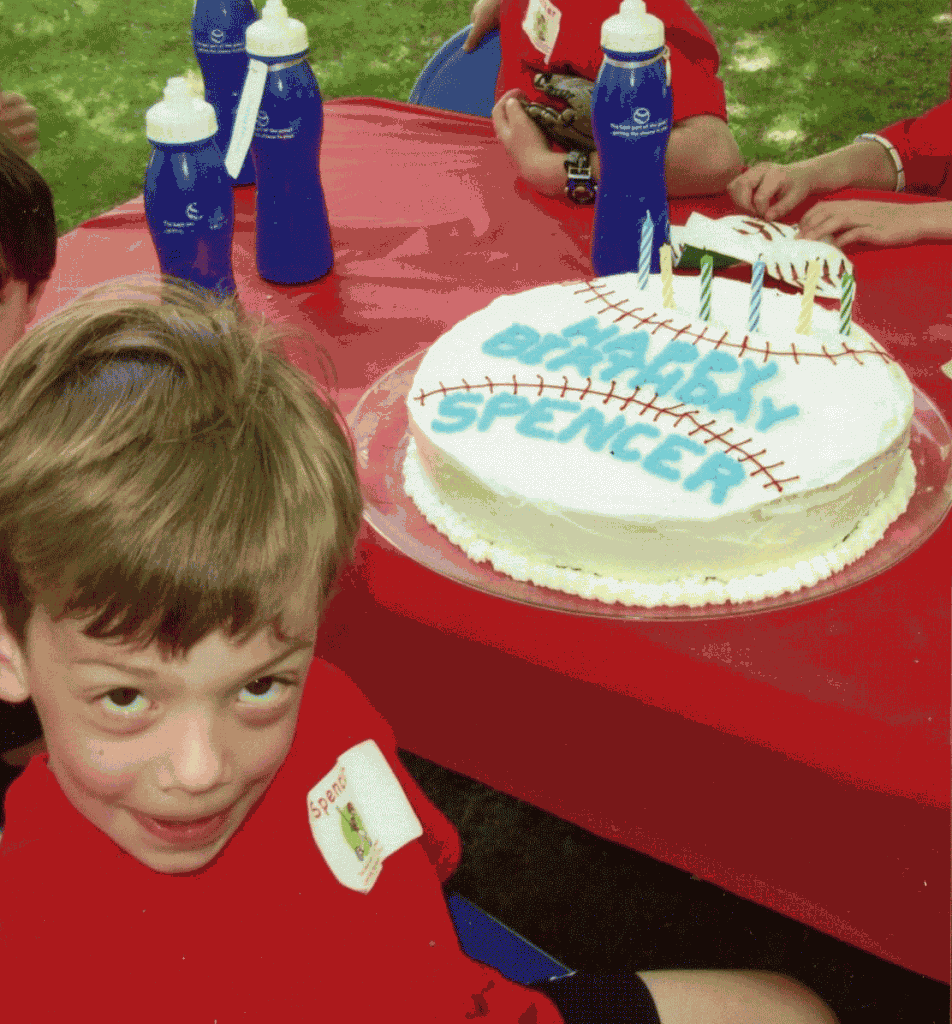 This is a great party to hold in your backyard or at the town park! This Baseball Party post shares ideas like buying solid-colored shirts for each team, how to set up the rules of the game so that everyone gets a fair chance to hit the ball, and a great party favor- personalized water bottles!
#10 Firefighter Birthday Party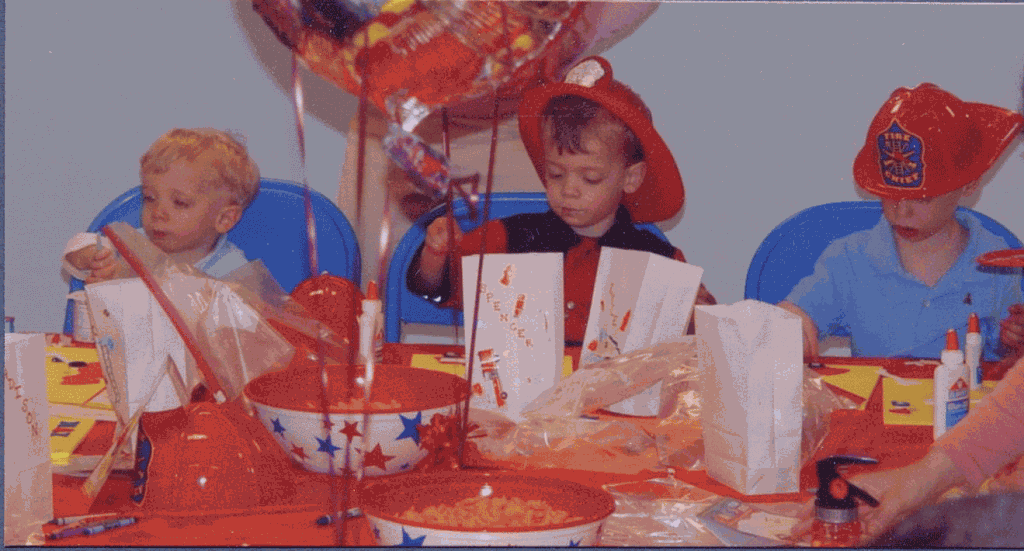 Little boys LOVE fire trucks! So a Firefighter Birthday Party can be a lot of fun! This post gives you the run-down of party games, (overly-decorated) party cakes, and a fun closing activity!
#11 Waterslide Birthday Party
Our kids had been begging us for one of those giant inflatable waterslides, so we finally decided to buy one and use it for this great Waterslide Party! And how cute are these snorkeler cakes?
#12 Science Birthday Party
This was another fun party where we hired someone (from Mad Science) to come in and provide the entertainment for the kids. This Science Party post even tells you how we pulled off a bubbling volcano birthday cake!
I hope you enjoyed these 12 Awesome Birthday Party Ideas for Boys! Looking for some ideas for girls parties? Then check out my post on 12 Awesome Birthday Party Ideas for Girls!
What birthday party would your guy love this year?