Don't you remember how excited you used to be back when you were a kid, and you were finally able to say, "I'm five and a HALF!", or "I'm seven and a HALF!"? I think for the under-10 set, reaching the point where you can add "half" to the end of your age always feels like a milestone- so why not celebrate it as such? Here are 5 ideas to celebrate your child's half birthday!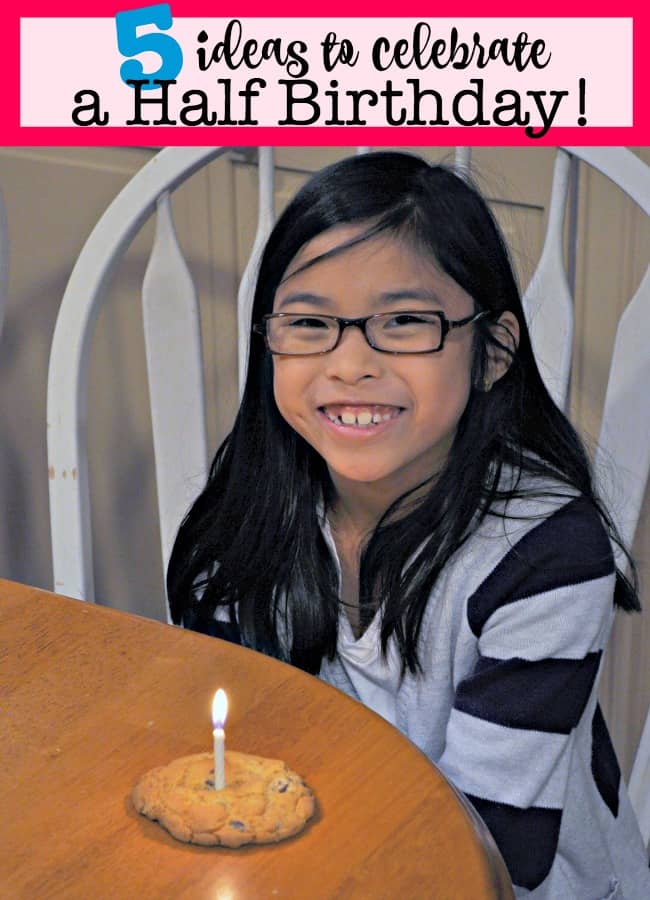 In our family, we recognize all of the kids half birthdays, as well as their actual birthdays- so yes, that means we celebrate 12 times a year! But a half-birthday doesn't need to be a big production.
We certainly don't buy any presents or go out to dinner; we just do a few small things to make the half-birthday child feel a little special! Here's how we like to make their day fun:
1. Wake Them Up By Singing "Happy Half Birthday"!
Right off the bat, you make the "half-er" feel excited that they've reached their milestone by remembering this is "their day" right when they wake up. It puts an instant smile on that sweet face!
2. Make Something a Special/Different for Breakfast
Whether it's something as simple as making pancakes instead of their usual cereal and toast for breakfast, or surprising them with a small powdered sugar donut snowman with sliced gumdrops for eyes, nose, and buttons- mixing up the regular breakfast routine makes the day feel special.
3. Allow Them To Choose the Dinner Menu
Half-birthdays don't change our family routine- there are still soccer practices to get to, and homework to accomplish. But I still need to prepare and serve dinner to the family, so an easy thing to do is to allow the half-er to help with the menu plan.
Now while my kids might really want to pick steak or grilled shrimp for dinner, they know that we don't have time to pull off a meal like that during the week. So I ask them to pick a favorite "weeknight" dish instead!
4. Celebrate with a Special Dessert
I don't normally do much baking during the week, but I do like to bake a special treat for a half-birthday. Not a whole elaborate birthday cake, but a simple sheet cake, a pan of brownies, or some molasses cookies are all great picks!
We like to pop a candle in whatever we are serving and sing to the half-birthday child too!
5. Allow Them to Stay Up a 1/2 hour Later 
A little more snuggle time with Mom, maybe an extra book at bedtime, or even a little additional TV watching while the rest of the siblings keep a normal bedtime all go a long way into making the half-birthday child feel like this was truly a fun day!
Here are a few ideas from people who have taken the Half Birthday celebration to a bigger level:
I love this 1/2 birthday cake from AlexaMarieZurcher (link no longer working)!
And then there's the half-birthday celebration at school (we do this for our kids who have summer birthdays- they are NOT celebrating twice in the same year in the classroom!). Here's a sweet idea from Over the Big Moon.
So what do you think? Do you celebrate your children's half birthdays?
Looking for Some Great Party Games, Crafts, & Activities for Kids?