Would You Rather is a fantastic party game for tween sleepover parties. But it can be hard for kids to think up their own questions "on the spot" so sometimes the game comes to an end pretty quickly at kids birthday parties! To keep things moving along and make it a whole lot of fun for the party guests- my kids and I came up with these 50 Would You Rather Questions that are perfect for tweens!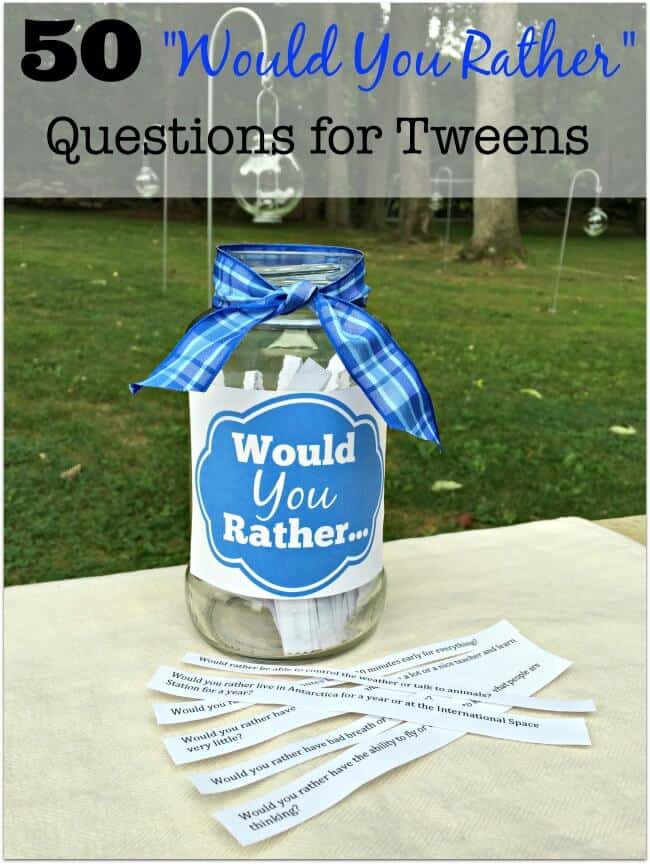 We recently celebrated my youngest daughter's 10th birthday with a sleepover party. The birthday girl and her guests enjoyed a "glamping experience" in our own backyard- complete with festive lighting and sleeping in our giant family tent. And we themed the entire party around one of our favorite cooking shows (you can check out the full details of our backyard Cutthroat Kitchen Party here).
I wanted to give the girls something fun to do in the tent in the evening after the main party activities were over, and while I initially proposed our Truth or Dare game for tweens, my daughter had her own idea- she wanted to come up with our own "Would You Rather" questions instead! So we did!
Since these questions are specifically written for a tween party- we stayed away from posing questions about crushes (not every tween has them!) and from anything that might make someone feel embarrassed or left out. They are meant to get the kids talking and hopefully share a few laughs as well!
The girls absolutely loved it!
*Please note that some of the links in this post are affiliate links, which means I will make a small commission if you purchase through these links.
Would You Rather Questions- Jar Label
I printed all of the Would You Rather questions on my home printer, and using my paper cutter, cut the questions into individual strips, folded them in half, and placed them inside of a glass jar (that is actually a recycled pasta sauce jar). To pretty it up, I added a label and a ribbon!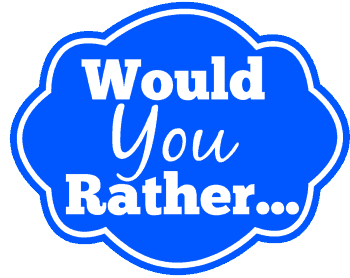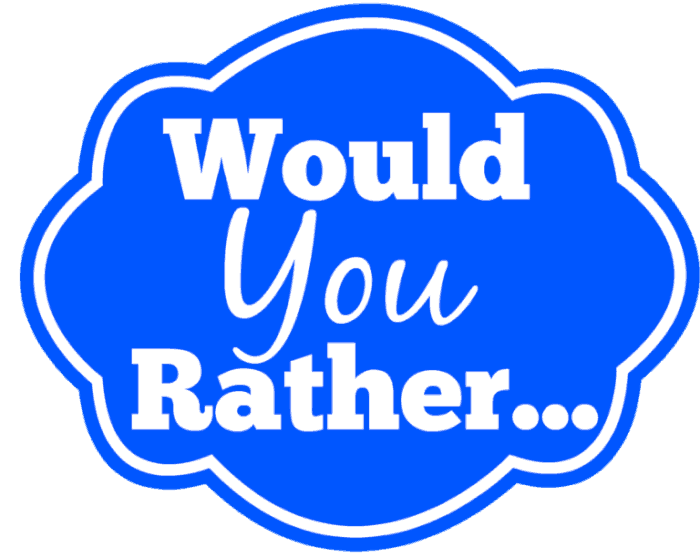 Ready to Download the Would You Rather Printables?
Awesome! Simply sign up below to join the MomOf6 community, and you'll be directed to a thank you page with access instructions!
Join the MomOf6 community!
You'll receive our twice-weekly newsletter via email filled with ideas and resources for busy Moms! *You can view our Privacy Policy here. To access the printable without subscribing to our newsletter, click here to send an email requesting access.
Looking for Some More Great Party Games, Crafts, & Activities for Kids?
Shop for These Awesome Party Games!
Check out all of our Kids Birthday Parties here: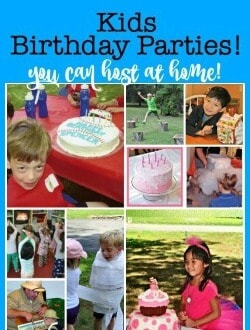 How to Throw Your Own Kids Birthday Parties at Home!
Would your tween love to play this party game?