I like to pick a theme for my kids birthday parties that celebrates the things that they love the best! Which in the case of my daughter Charlotte, is ponies (she just started taking riding lessons) and puppies (she adores our dog, Bentley)! Which is why we thought a Puppies and Ponies Party would be the perfect 8 year old girls birthday party idea!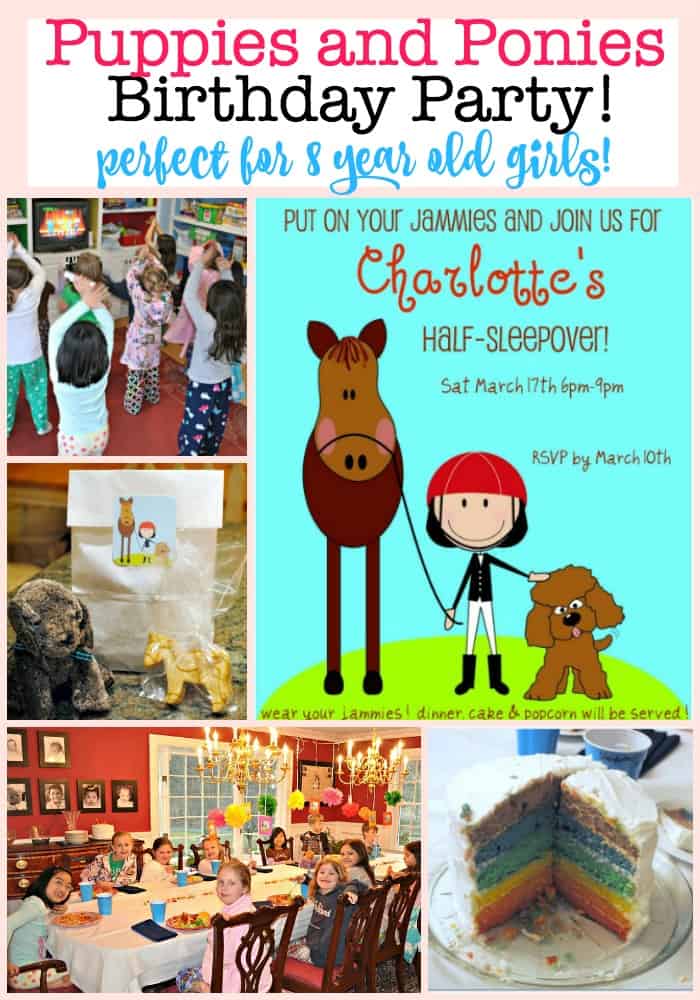 It's right about the time that the kids turn 8 years old that birthday parties become a bit tricky. An over-themed party involving lots of structured activities and crafts may seem too young for your budding tween. Yet, for some kids, a full-blown sleepover party complete with staying up super-late and watching tons of movies may be more than a tender heart (used to being close to home) is ready for. So coming up with an 8 year old girls birthday party idea can be a challenge.
Enter the half-sleepover party! Guests come wearing their jammies and participate in all of the traditional sleepover party activities, but get picked up later in the evening so everyone gets to sleep at home!
The Puppies and Ponies Party Invitation:

Nathalia, from Firefly Creative Design, created this artwork that I used in our invitation and thank you notes. You can download a blank version of each at the bottom of this post!
The Thank You Notes:
*Please note that some of the links in this post are affiliate links, which means I will make a small commission if you purchase through these links.
The Party Decorations:
We decided that the girls would eat dinner in our dining room, so to make it festive we decorated with tissue paper pom-poms and little cards with the pony and puppy art. We placed a few beanie baby ponies and puppies in hurricane glass holders and sprinkled the table with jellybeans to be edible confetti!
The Goodie Bags, Cake, Party Punch, and Popcorn Bags:
Our final prep for the party included baking this multi-layered rainbow cake, preparing our family-favorite "party punch," assembling popcorn bags to be passed out during the movie, and putting together goodie bags for the guests to take home.
The Order of Events for our Puppies and Ponies Party:
I always say that party decor is nice, but the heart of the party is how you entertain the guests and make the birthday child feel special. So here is how our puppies and ponies party unfolded:
6 pm: Our guests arrived
As we waited for our nine guests to show up, the girls enjoyed playing Just Dance on the Wii. And let me tell you- this could have been the event to carry the entire party! The girls loved playing this as a group- no one cares who gets to hold the Wii remote, they just want to DANCE!
6:15 pm: Dinnertime!
Instead of the typical party meal of pizza, we decided to offer a make-your-own salad and pasta bar. This was a HUGE hit- and certainly much less expensive than ordering in pizza!
We served two different kinds of pasta (linguine and penne) with their choice of butter, tomato sauce, or tomato sauce with meatballs. We toasted garlic bread, served up a big bowl of romaine, and the girls could top their salad with carrots, cucumbers, grape tomatoes, croutons, and three kinds of dressing.
7:00 pm Shrinky-Dink Necklace Craft
Everyone loves to make shrinky-dinks!
I purchased sheets of the ruff 'n ready plastic and used my heart paper punch to cut out hearts, and then used a regular hole punch to make a hole in each heart.
The girl colored their hearts using colored pencils and then watched as we shrunk them into tiny charms in the toaster oven. We then threaded the hearts onto ribbon necklaces.
We also took a group picture of all of the girls, which I printed on special printer-friendly shrinky-dink plastic and then shrunk them into tiny charms to wear on their ribbon necklaces along with the heart. (But I will admit that printer shrinky-dink plastic is very hard to work with, and the results weren't as great as I hoped- the ink still bled a bit even after trying to dry it thoroughly with a hairdryer set on a cool setting).
7:30 pm- Birthday Cake
The cool thing about our multi-layered white cake was that it was actually a rainbow cake! (After all, Charlotte's birthday is shared with St. Patrick's Day!)
7:50 pm: Movie
The girls gathered onto sleeping bags that were spread out in the family room to watch "Moondance Alexander
," a great movie about a girl and a horse. Most of the party guests (as well as the birthday girl) had never seen the film, so they were enthralled. About 45 minutes into the movie, we served popcorn.
8:30 pm: Time for a Little More Dancing
The movie wrapped up, the girls put on their necklaces and headed back for a little more Just Dance before the party ended up at 9 pm.
The Puppies and Ponies Goodie Bags
Inside each of the goodie bags was a beanie baby puppy and homemade sugar cookies cut into pony shapes and individually decorated by my ever-so-patient and talented husband!
This was truly one of the easiest and least expensive parties we have ever hosted, and Charlotte loved every minute of it. And that was the very best part!
Would You Like to Download the Free Puppies and Ponies Party Printables?
Awesome! Simply sign up below to join the MomOf6 community, and you'll be directed to a thank you page with access instructions!
Join the MomOf6 community!
You'll receive our twice-weekly newsletter via email filled with ideas and resources for busy Moms! *You can view our Privacy Policy here. To access the printable without subscribing to our newsletter, click here to send an email requesting access.
Check out some more awesome Tween Birthday Party Ideas:
Check out all of our Kids Birthday Parties here: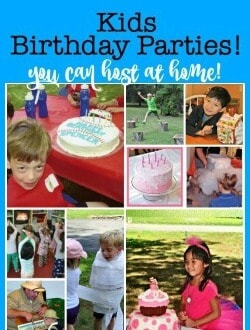 How to Throw Your Own Kids Birthday Parties at Home!
Looking for Some More Great Party Games, Crafts, & Activities for Kids?
or Shop for These Awesome Party Games!