This past Sunday we hosted a Lego birthday party for our son Alex who was turning six. We invited his entire kindergarten class to join us for an afternoon of Lego games and creations along with some pizza and cake (of course)! While I had been worried this week that I hadn't been able to spend enough time planning this party- it turned out to be one of nicest parties we've ever hosted! The kids were really into all of the games and activities and they were incredibly well behaved! It was so much fun, and Alex felt as if he had a truly magical birthday party! So here are the details on all that we did:
The Lego Birthday Party Stationery:
I created these invitations, thank you notes, favor tags, and name tags myself and printed them at home. I love that I can personalize all of the party paper goods so easily and then just print them. I found the art on another blog where a Mom had created a beautiful trifold invitation featuring these cute Lego guys and shared the invitation as a free printable. (Unfortunately I am unable to google it, find an old link for it, or any kind of note in order to attribute proper credit…. grrr… so if anyone comes across that blog, please let me know and I will update this post!)
The invitation:
The thank-you note:
The favor tag:
The name tags:
Party Set Up:
Fortunately we have a semi-finished basement where we can host get-togethers like this for the kids, and where the kids can run around and play when the weather is bad. And long ago, we invested in some folding chairs and tables that we can use for our parties. So we set up the room with the tables and chair pushed to one side so we had enough room for games on the other.
Tables were covered in plastic table roll (it makes the room look festive and it is super easy to clean up afterwards), and on top were dot-to-dot drawing pages that I downloaded (for free of course!) from the Lego website.

Bowls of legos, cups, and spoons were set aside for party games…

And Steve hung gummy worms from strings on these racks that we attached to our drop ceiling….
The Order of Events:
I like to have an activity for the guests to do when they first arrive, that provides newly arrived partygoers an easy way to join in on the fun. In the past I used to lead the kids in "Simon Sez"… but I've learned a few things… first of all- some kids feel a little shy at first and it is hard for them to jump into such a silly game until they have had time to warm up, and secondly- for the non-shy kids- it waaayyyy amps them up. And now you have a jumpy excited kid who has a hard time settling down for the "real" party games. So this time, we tried coloring pages…. and it worked perfectly!
Next I grouped the kids together (no picking teams!) and set them up for a Lego relay race, where they had to scoop up legos onto a spoon, race-walk to the other end of the basement and dump them into a cup. The first team to fill up their cup won!
I then had the same teams sit down with a big bowl of legos, and asked them to build the tallest tower they could… but it had to be able to stand on its own… and they needed to work together as a team!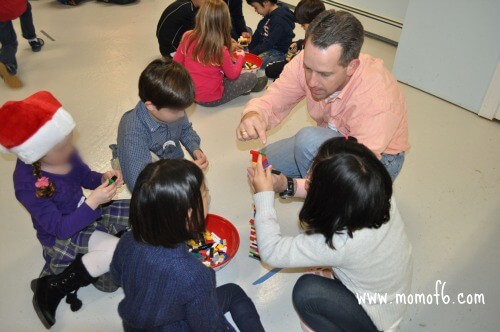 After that we headed back to the tables where Steve led the kids in making this adorable Lego snowman!
We ended our party games with the worm on a string game… where the kids have to eat the gummy worm off of the string without using their hands! Kids LOVE this game!
Then it was time for pizza and cake!
Our homemade Lego cake….. the dots on the top were made with colored fondant. I found the cool Lego candles on Amazon!
How happy does Alex look surrounded by his brothers and sisters?

And of course no party would be complete without handing the guests a goodie bag as their parents arrive to pick them up. Our goodie bag was filled with Lego candy- and you can actually build with it! How great is that? I found these on Amazon as well!
It was truly such a great party- even I had a nice time too!
If you liked this party idea, you might also enjoy these other at-home birthday parties we've thrown for our kids:
At Home Birthday Parties YOU Can DO!
Have I inspired you to plan a Lego birthday party too? I would love to hear about it- please leave a comment!