Ever since my husband and brother taught my sons how to play Texas Hold 'Em, they've wanted to invite their friends over for a Boys Poker Night- so I thought a Boys Poker Night Birthday Party would be a fantastic party theme for a tween! If all of the kids already know how to play poker- awesome! But if not, there are lots of less complicated card games that you can play at the party instead. Here's exactly how one of our favorite kids birthday parties unfolds: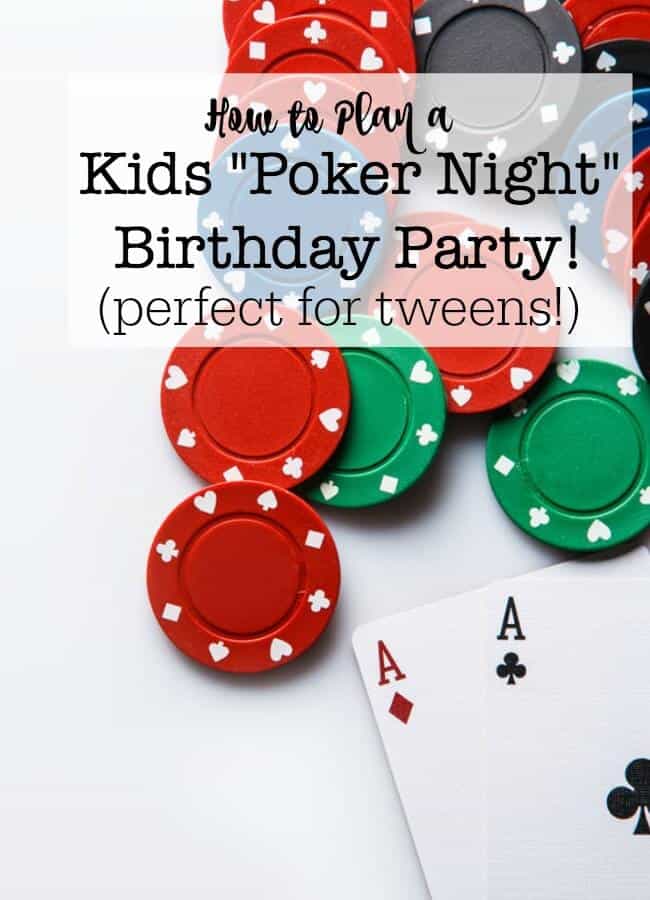 Boys Poker Night Birthday Party Invitation
I know that you could easily send an e-vite and be done with it, but then you wouldn't have anything cool to put up on your fridge or allow the birthday boy to display on his bulletin board in his room that builds the excitement about his upcoming party! So if you want a cool Boys Poker Night Party invitation, you are welcome to download this one for free at the bottom of this post!
You can print it, fill in your information, snap a picture of it or scan it and send it out to all of your party guests via email or text. Or if you'd like to personalize this invite- follow these instructions on How to Create Your Own Birthday Party Invites Using Picmonkey!
Poker Night Birthday Party Set Up
I am not a big fan of spending money on birthday party decorations- I think it adds cost without adding much value to the party itself- especially for tweens! If you want to decorate your front door- here's a cute idea from the Halloween Forum (link no longer available) that you could easily create from a sheet of red paper: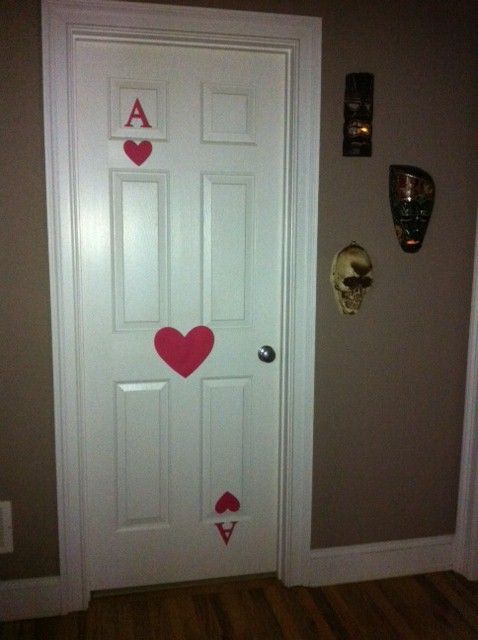 The most important thing to focus on- is the poker table! Depending on the number of guests you plan to invite- you may want to set up more than one table (and then draw names from a hat to see who plays at which table).
If you happen to own a poker table- awesome! But if not, you easily turn a round kitchen or patio table into a poker table with a fitted green felt cover like this one This is an affiliate link: MomOf6 earns a commission if you purchase, at no additional cost to you. !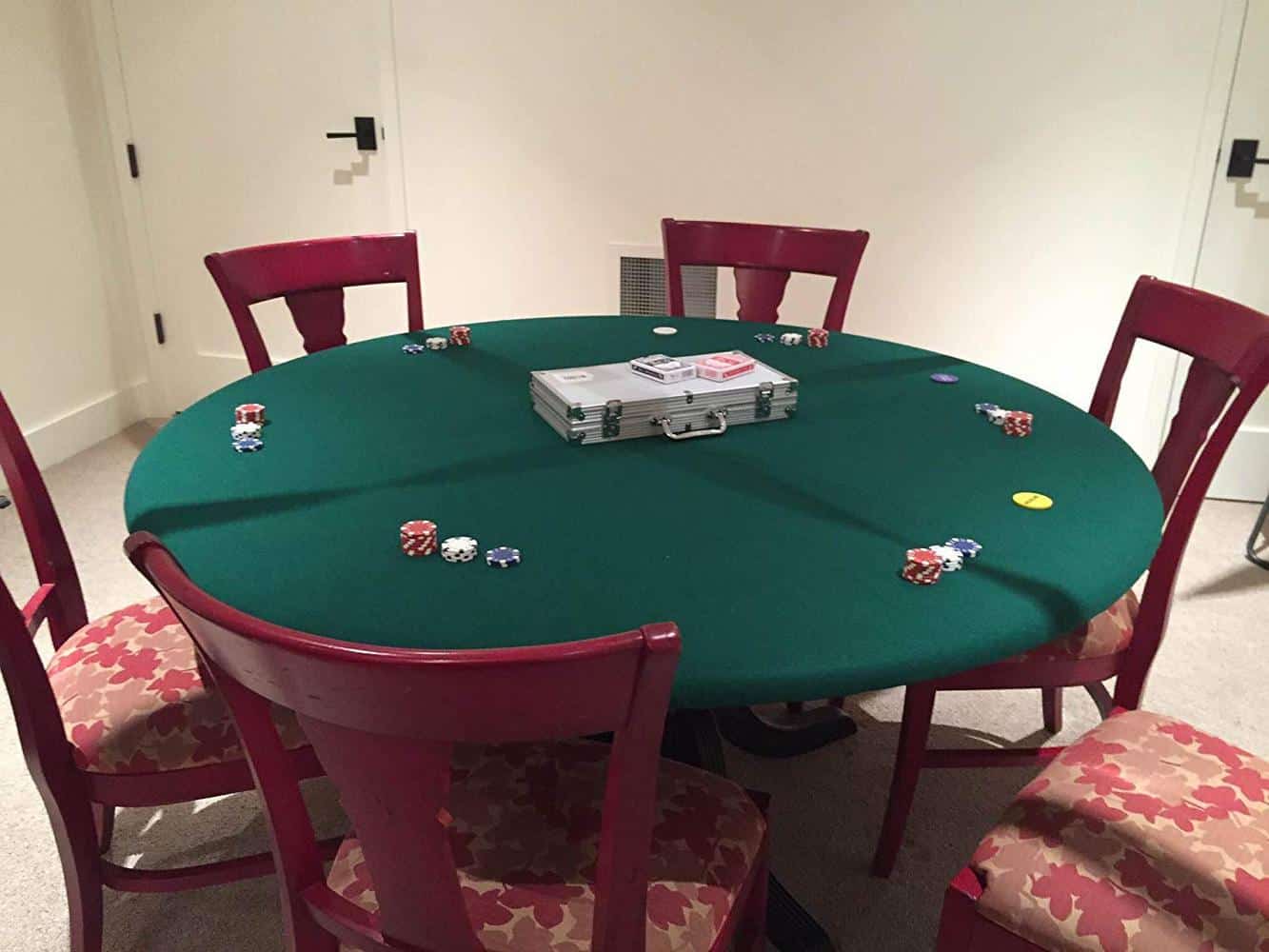 If your kids have ever watched the World Series of Poker on TV- chances are they would love to add a hat and sunglasses to their "look" while playing against their friends! So it would be fun to have a fedora cap This is an affiliate link: MomOf6 earns a commission if you purchase, at no additional cost to you. and a pair of dark sunglasses This is an affiliate link: MomOf6 earns a commission if you purchase, at no additional cost to you.  at each place at the table!
A great idea for your card games that also doubles as for a party favor is to get each guest a deck of personalized playing cards!
We ordered sets from Printer's Studio that featured a picture on the front of the deck. You could easily create a party graphic or use a group photo of the party guests to create a cool custom deck of cards!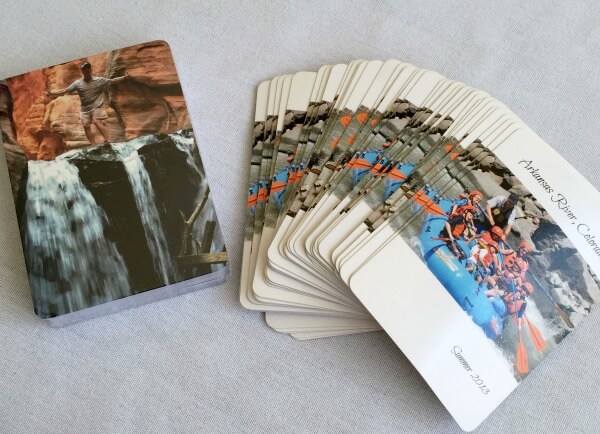 And finally- you need to decide what you want to do about poker chips. You can use skittles, M&Ms, or other candies- or you can invest in a full-on poker set This is an affiliate link: MomOf6 earns a commission if you purchase, at no additional cost to you.  (which would also make a great birthday gift for the birthday boy!)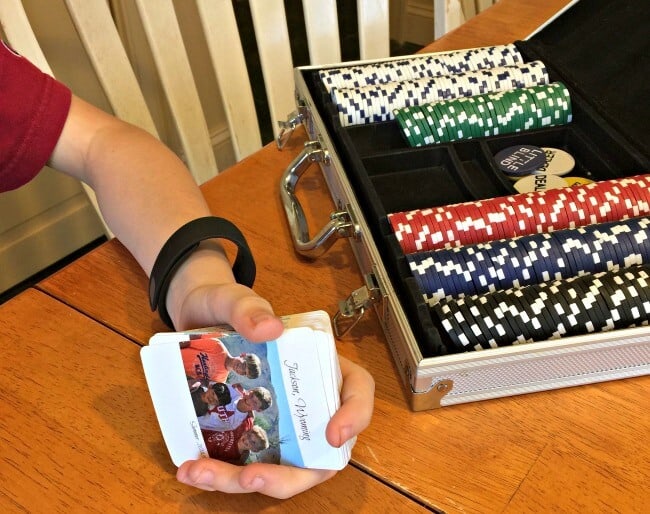 Party Food
One of the ways I love to save money on kids birthday parties is to make my own food for the party, rather than shelling out $60 for pizza! And homemade mini pizzas are perfect for a poker party- you can use scissors to trim pepperoni into the suit shapes from playing cards- hearts, diamonds, spades, clubs.
Another fun option is to set up a pasta bar in the kitchen- make one or two types of noodles and let the kids choose their toppings- red sauce, butter sauce, meatballs, etc. Add some salad and breadsticks, and you are all set!
Poker Night Birthday Party Cake
You can make a simple but perfectly themed birthday cake by baking a sheet cake, decorating with white frosting, and create a playing card- just like this great idea featured on Instructables: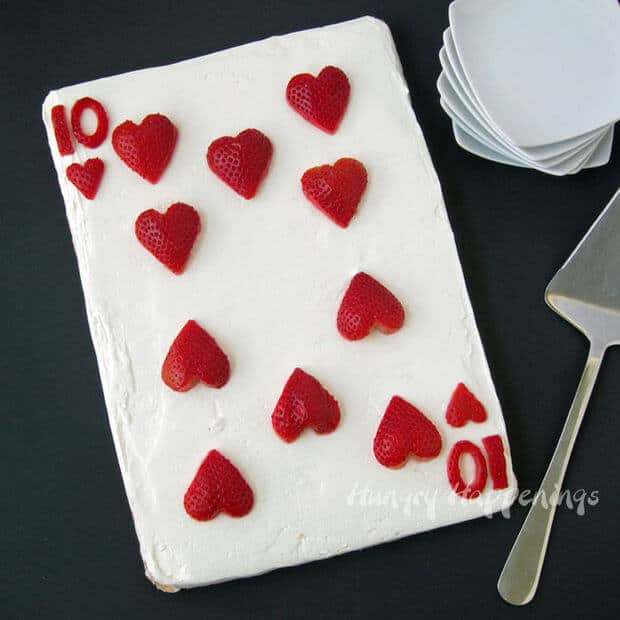 Or even bake cupcakes, and decorate them with cut corners of an old playing card deck, as featured here on Catch My Party: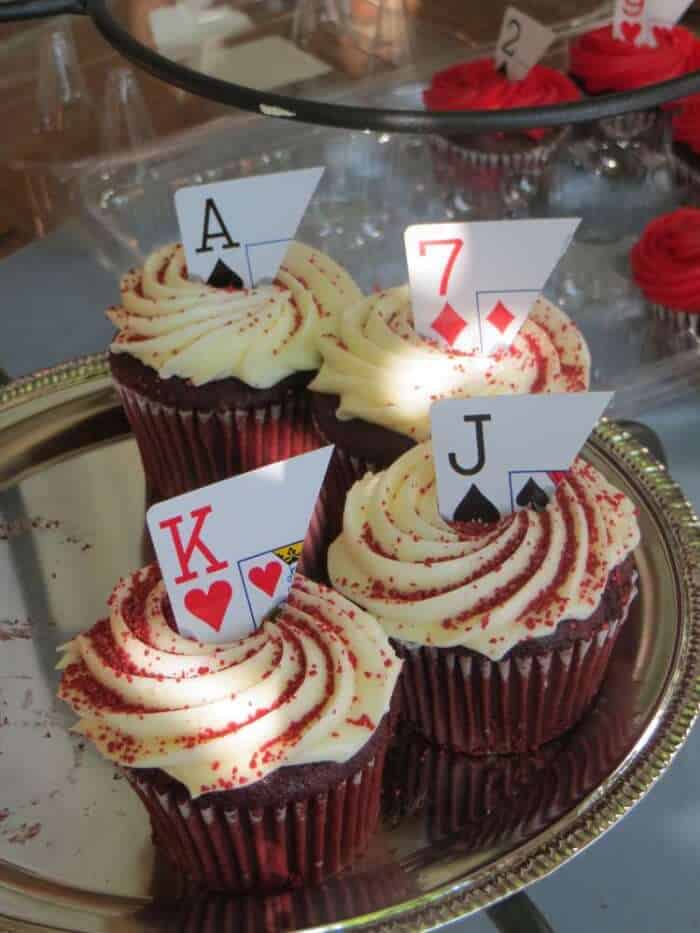 Tips for Playing Poker with Kids / Other Card Game Options
I will be the first to admit that teaching kids to play poker in an hour or two at a birthday party is a little daunting, especially if some of the guests have never played before! And then if they have to go up against players who already know the game- well, it's not much fun for the new learner.
So I suggest that you assess the kids' prior knowledge of the game before you start to play. If you are running more than one game- you might want to set up one table for more experienced players and one for less experienced players.
There are lots of cheat sheets available online that you can use to help teach your guests the poker hands and their hierarchy. This one is my fav:
And there are lots of other card game options that you can play at your party that are simpler to explain and just as much fun- including Blackjack, Crazy Eights, and Spoons.

Be sure to have a parent or an older sibling serve as the dealer/additional player so they can help players who are still learning, and make sure that everyone is having fun!
Want to Turn It Into a Sleepover Party?
If after the kids have played cards for an hour or two you are looking for a few activities to direct them towards next- I suggest having them all roll out their sleeping bags, pop a couple of big bowls of popcorn- and put on a movie. Here are a few ideas (but please check out their reviews on Common Sense Media to judge the appropriateness for your child and his guests!
Boys Poker Night Birthday Party Thank You Notes
It might be one of my kids' least favorite parts about having a birthday party- but I think it is so important to teach kids the art of writing a nicely crafted thank you note! So I always create an easy format that they can use that fits the party theme! You can download this thank you note for free below!
Want to Download the Poker Night Birthday Party Pack!
Simply sign up below to join the MomOf6 community, and you'll be directed to a thank you page with access instructions!
*You can view our Privacy Policy here. To access the printable without subscribing to our newsletter, click here to send an email requesting access.
I hope your kids enjoy their Boys Poker Night Party as much as mine did!
Check out some more awesome Tween Birthday Party Ideas:
Check out all of our Kids Birthday Parties here: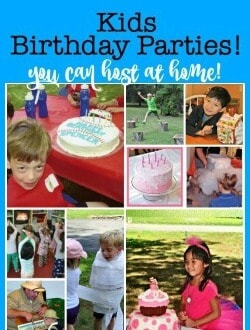 How to Throw Your Own Kids Birthday Parties at Home!
Looking for Some More Great Party Games, Crafts, & Activities for Kids?
or Shop for These Awesome Party Games!