With the release of the new Disney Cinderella movie, now is the perfect time to plan a Cinderella birthday party for your tween! First of all let me begin by saying that the movie is fantastic! I think every girl loves the Cinderella story of falling in love, being found again by her prince, and becoming a princess. And this new Disney film tells the story so beautifully- the actors are enchanting, the dresses are amazing (oh- and the wedding dress at the end is going to be the dream gown of every girl who sees it!) and the magical elements of the fairy godmother, the carriage, and the shoes were perfectly done in the film! Seriously- whether or not you are planning a Cinderella party for your tween- you have to see this movie!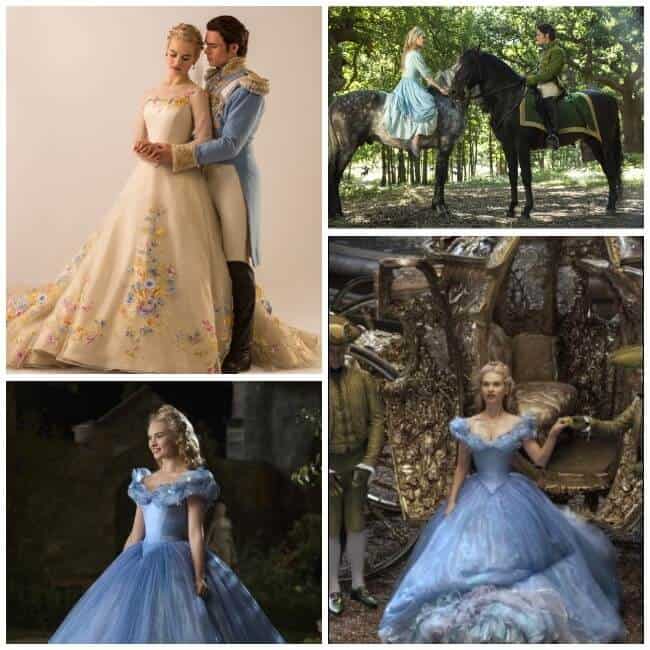 We hosted our Cinderella birthday party on Friday night for my daughter's 11th birthday- and this is how we did it:
Cinderella Birthday Party Stationery:
It all starts with the perfect invite, doesn't it? I created these invitation in PicMonkey and emailed them to Charlotte's friends. You are welcome to download this blank Cinderella birthday party invitation, and you can use this tutorial on How to Create Birthday Party invitations in PicMonkey to modify it to fit your own party!
I also created this thank you note:
And these favor bag tags- which you are welcome to open the image, download, and print for your own personal use.
Cinderella Birthday Party Set Up:
I wanted to create glass slipper birthday cupcakes for the centerpiece of our dining room table, so I used this tutorial from How Does She? to make our Cinderella glass slipper cupcakes. (And they were a huge hit with our party guests!)
I found these plastic glass slippers
on Amazon and used them in both the favor bags (see below) as well as part of our table decor. And I sprinkled some light blue shimmer jellybeans
and white shimmer jellybeans
on the table as "fairy godmother dust".
Cinderella Birthday Party Order of Events:
We invited our guests to arrive at 5:30pm, and we stashed their sleeping and overnight bags downstairs in our finished basement, then gathered around the dining room table for pizza and soda.
For this party I decided to buy small bottles of soda and pair them with festive straws!
After the girls finished eating, I invited them to our candy bar table so they could select some candy to enjoy at the movie theatre along with their popcorn. I also set up water bottles for them to take along, and offered Crystal Lite mix ins too. (Side note: Um…. no…. my movie theatre doesn't actually allow guests to bring in outside candy or drinks. So… do this at your own risk!)
One of the benefits of driving a "Mommy bus" is having enough room to drive nine kids to the movies! We arrived extra early since this was opening night of "Cinderella", and we wanted to be able to find everyone seats together at the 7:10pm showing.
After the movie, we returned home to sing "Happy Birthday" and enjoy the cupcakes, and then the girls headed downstairs to set up sleeping bags, change into PJs, and play "Truth or Dare" together. You can find my Truth or Dare for Tweens party printables here!
In the morning, I set up a build-your-own yogurt bar, offered a selection of juices, and served it alongside a big batch of Monkey bread!
Cinderella Birthday Party Favors
Every guest was given her own Cinderella glass slipper to take home, nestled in a bed of light blue and white jelly beans, along with two Lip Smackers
(because very princess needs moist lips!).
Do you think your tween would love a Cinderella birthday party?
If you liked this party idea, you might also enjoy these other at-home birthday parties we've thrown for our kids:
At Home Birthday Parties YOU Can DO!