I love to plan birthday parties around cool craft kits that my kids have seen on TV or that their friends are talking about school. My daughter Lili has been talking about Beados for a long time, so I thought it would be fun to create a craft birthday party, using Beados as our theme!

The Craft Birthday Party Invitation
I create all my birthday party invitations using PicMonkey (you can check out my tutorial on how to use PicMonkey to create birthday party invitations here). This invite gives all of the important info- the theme, the time, date, and place, and lets the guests know that it is also a sleepover party and what they should bring along.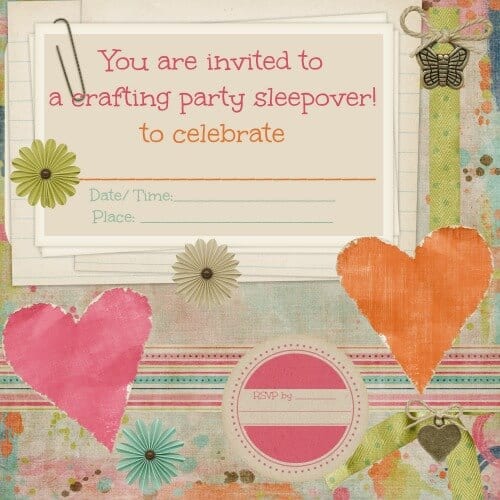 You can right-click on the image above to print a blank version of the invite and either fill in your party information by hand, or upload it to PicMonkey to add your own text details. (or you can click here to open the blank craft party invite).
Craft Birthday Party Set Up
Whenever I plan a birthday party, I like to start with my birthday party checklist, to make sure that I didn't forget anything! (6 kids = 6 parties a year and so sometimes I forget some of the details!) My daughter wanted to keep her party small so that she could invite the girls to sleepover, so she invited 8 girls to her party (and this being a summer party, only 5 girls were able to make it).
Craft Birthday Party Food and Cake
Lili also asked that instead of offering a pasta bar or ordering pizza as we often do at our parties, that instead we order in Chinese food for dinner. For smaller birthday parties, I usually forgo the paper/plastic party goods (saving money and creating less waste) and just use our regular dinner dishes and cloth napkins.
And it wouldn't be a party without some Rowley Party Punch:
Party Punch
1 can of frozen orange juice concentrate 1 container of fruit punch 1 2 liter bottle of lemon-lime soda 1 container of rainbow sherbet
Fill a large punch bowl halfway with the fruit punch and add the lemon-lime soda until the bowl is ¾ full. Stir in one can of orange juice concentrate (found in the frozen foods section of the grocery store), and then top with scoops of rainbow sherbet. Gently stir and then enjoy! (Party tip: put a Sharpie on the table and ask guests to write their names on the cups and to reuse them!)
Instead of a birthday cake, we decided to make these Homemade Oreos (recipe can be found at Your Cup of Cake), where we rolled the edges in sprinkles so that are Oreos looked as if they were wearing Beados! These soft homemade Oreos were easy to make (they come from a doctored-up cake mix!) and they taste scrumptious!
Craft Birthday Party Order of Events
6:30pm- Guests Arrive and Eat Dinner
When the guests walked in the door, we had them stash their sleeping bags and jammies in the room downstairs where they would be sleeping. The girls then went into the dining room to dig into dinner and chat (they hadn't seen each other all summer long!). After dinner we sang "Happy Birthday" and Lili blew out the candles on her Oreo cookie "cake"!
7:00pm- Beados Time!
Each of the party guests received a Beados paper mat to work on, and they each selected a character that they wanted to create. I used the Beados organizers that came with the Beados kits to place Beados beads throughout the tables so the kids could find the color beads they wanted to use easily.
The great thing about Beados is that it is so intuitive, the kids can easily figure out how to place the beads to create the cute critter they want…. and then it's just a few sprays of water to "melt" the beads together. As it dries the beads stick together. To make sure that your critter doesn't come apart, you can turn it over (once the first side is dry in about 15 minutes), and spritz the back of the critter as well, and then allow to dry again.
After the girl completed their creations, my husband rounded them all up outside for a group photo shoot, and later while the girls were watching their movie, I printed the photos, inserted them into these adorable pink frames (which I purchased as Kohl's in their "dorm room" section as a pack of 3 frames for $9!), and then used a hot glue gun to attach the Beados creation to the frame!
The girls loved their picture of all of their friends, the way that they were personalized, and this pulled double-duty as both our craft project as well as the party favor!
7:30pm- Outside Play Time
It's always a good idea to let the kids run around outside a bit and blow off some steam- so the girls had some time to do just that before….
8:00pm- Bonfire and S'mores!
For our summer birthday parties, we love to build a bonfire and roast s'mores with the kids. Because what's more fun than summer s'mores?
8:30pm- Movie Time!
For sleepover parties I like to include a movie so the kids can put on their pjs and enjoy some popcorn while laughing at the onscreen antics. We chose a movie that had recently been released on DVD- Legends of Oz
(note: this is an affiliate link).
10:00pm- Party Pick Up and Settling In
When hosting a sleepover party for younger kids, you should keep in mind that not every guest will be comfortable spending the night. So I always let parents know that kids are welcome to stay or not, and what time to pick up the kids that plan to go home that evening. At 10:00 we had a few kids go home for the night (with their frame favor in hand), and the rest of the guests headed down to our finished basement to roll out their sleeping bags and settle in.We declared "lights out" at 10:30, but truthfully- the chatting and TV watching lasted at least another hour before the girls fell asleep!
8:30am- Breakfast is Served!
You never know what to expect at a sleepover… sometimes the kids are up at 6am looking for something to do, so we always stash a second movie downstairs that the kids can turn on when they wake up (in this case we chose Disneynature's Bears, but as it turns out, the girls slept until 8:15am- so there wasn't even time to watch the movie!
My daughter requested a yogurt bar where the girls could make their own yogurt parfaits with toppings such as granola, dried fruits, and strawberries, and a sweet side dish- Monkey Bread!
9:30am- Party Pick Up
After breakfast we helped the girls put away their sleeping bags, and then they got dressed and played outside until their parents arrived to pick them up.
Craft Birthday Party Thank You Notes:
You can right-click on the image above to print a blank version of the thank you note (or you can click here to open the craft party thank you note ).
Lili loved her craft birthday party! (Disclosure: Moose Toys sent me some of their Beados craft kits to try out with my kids. But it was my idea to turn them into a party theme- and all opinions expressed here are my own!)
If you liked this party idea, you might also enjoy these other at-home birthday parties we've thrown for our kids:
At Home Birthday Parties YOU Can DO!