Would your tween or teen love to have an Escape Room birthday party at home but you have no idea where to begin? It's actually pretty easy to pull together and a whole lot of fun for the guests- which is why an Escape Room party is one of our favorite kids birthday parties! Here's everything you need to host an Escape Room for kids for less than $100!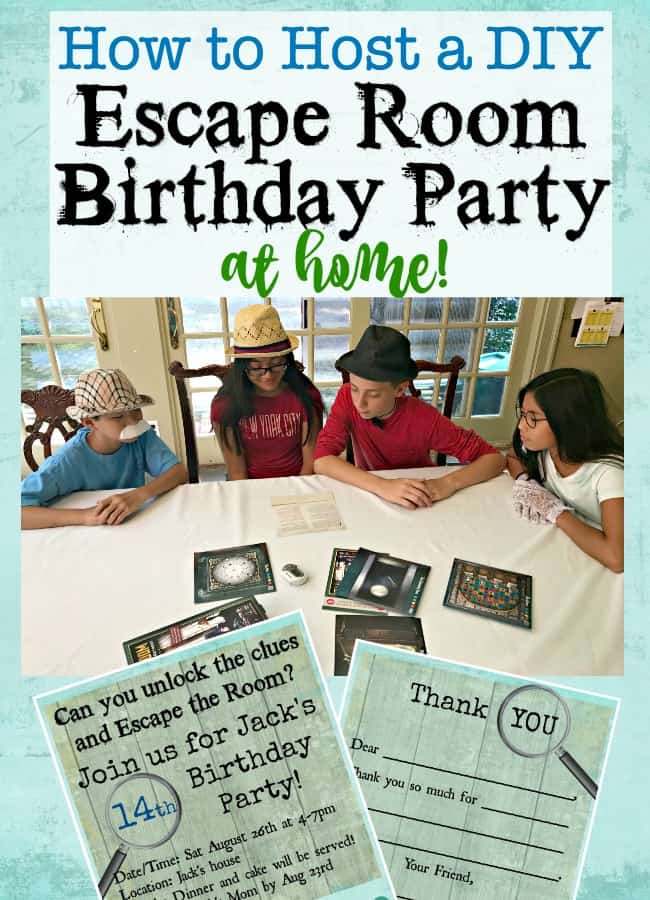 The Escape Room Birthday Party Invitation: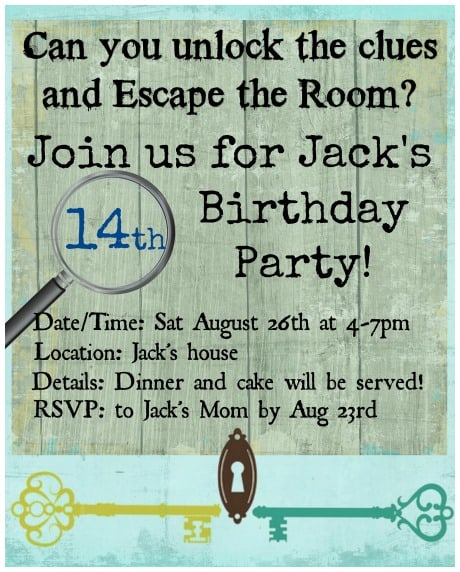 I created these cool party invites which can be printed and mailed or sent out as an email attachment. You'll find a download link to a blank invite you can use (for free!) at the end of this post.
You can either fill in the party information by hand or upload the image to PicMonkey to add text. (Check out my tutorial on how to use PicMonkey to create birthday party invitations!)
Escape Room Games for Kids
For your escape room party, you'll need to have a compelling story and set of clues you can give to the kids. Solving the complex puzzles and figuring out the clues allows players to move to the next stage of the game (most escape room games have 4 stages). But creating an escape room game by yourself would be a serious challenge! Which is I suggest purchasing one of these 3 game sets:
*Please note that some of the links in this post are affiliate links, which means I will make a small commission if you purchase through these links.
ThinkFun has two different escape room games for kids that are perfect for tween and teen birthday parties! "Mystery at Stargazer's Manor" is the easier of the two (intended for kids 10+), and is based on the story of Richard Harrison, a retired astronomer who has disappeared. The game takes place inside of his observatory where players have to find clues and solve puzzles to stop the impending disaster!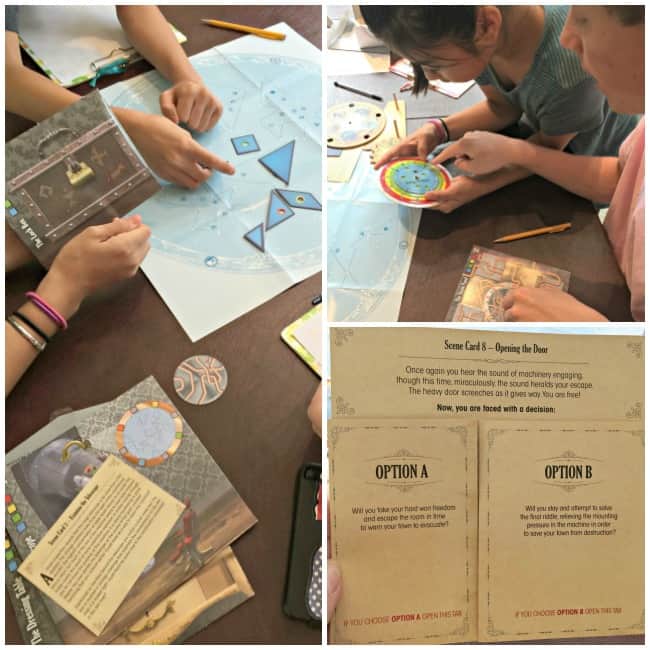 "The Secret of Dr. Gravely's Retreat" is a more challenging escape room game (intended for kids 13+) that follows this storyline: players are the lucky winners of a free stay at the Foxcrest Retreat where the famous Dr. Gravely is known for indulging his high-end guests in luxurious spa treatments. But upon their arrival, the guests learn that this spa is not what it seems- and players need to solve the increasingly complex puzzles and find the clues to escape the asylum!
SpinMaster's "Escape the Room Game" is actually 4 different escape room games in one box! And the cool thing about this set is that it uses an electronic chrono decoder that keeps the countdown clock as well as well as serves as the solution verification system using a set of plastic keys that you have to place into the slots in the correct order based on how you solve the puzzles.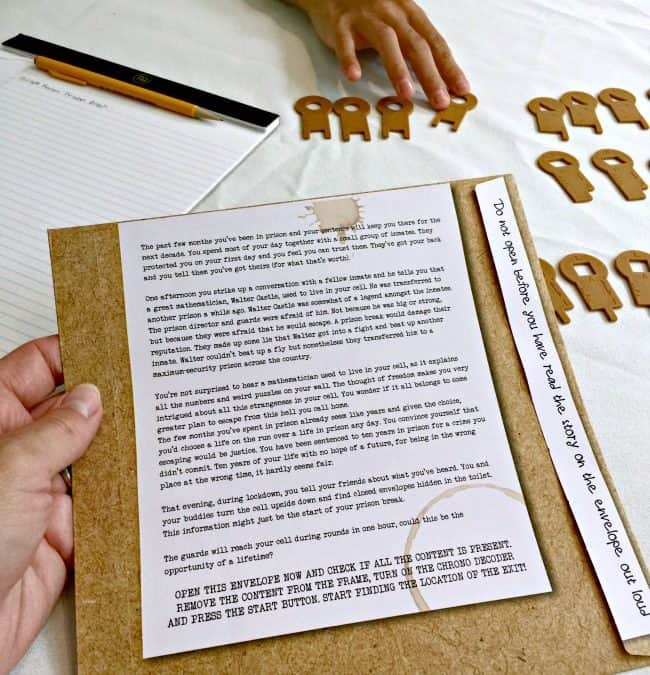 We started with "Prison Break" as that is supposed to be the easiest game in the set, and we actually found this escape room game to be quite challenging! Thankfully the chrono decoder helps to keep the pace of the game going by offering hints if you've not completed a stage by a certain point in the game. In some cases, this helped the team by getting them pointed in the right direction, and at other times they had already worked out that piece of logic by the time the hint was revealed!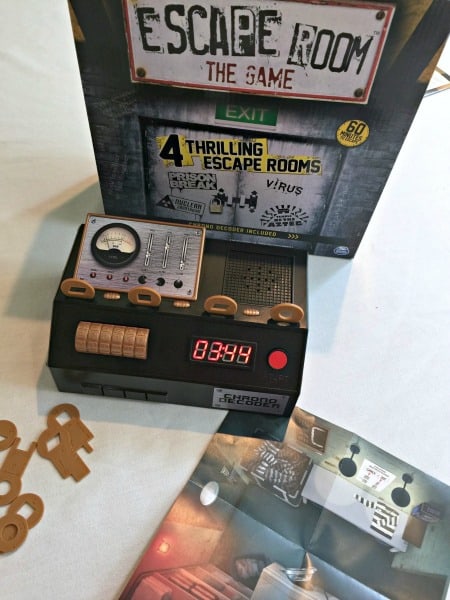 But as you can see- our party guests barely escaped the room in the nick of time (just 3:44 left on the 60-minute clock!). And without the access to these hints…. they definitely wouldn't have finished on time!
How Many Guests Should You Invite?
Because the escape room games are centered around printed materials and clues- it is easiest to play the game by limiting the number of players to 4-6 people per game. But here's an idea if your son or daughter wants to invite more people- buy more than one game! At the beginning of the party, you can draw names to put guests together into teams of 4-6 players, and then give them separate areas to play each game. One team can work on "Mystery at Stargazer's Manor" while the other team plays "Prison Break" and then after a break for cake and ice cream- teams can switch and play the other game!
If you decide to do this- keep in mind that "Mystery at Stargazer's Manor" and "The Secret of Dr. Gravely's Retreat" follow the same pattern of problem-solving- so once a team has played one game it will be a bit easier for them to play the second game (which might be a good thing!). SpinMaster's "Escape Room the Game" comes with 4 different games in the box, but they all use the same electronic chrono decoder- so you can't play more than one game simultaneously without buying more than one kit.
Do I Really Need to Lock The Kids in a Room?
Nope! While I suppose that part of the thrill of going to an Escape Room venue (and paying $15-$30 per person to play) is that you are actually locked in a room together- I just don't think it is a necessary part of the party. The kids will get so into the game and the "pressure" of trying to solve the puzzles in one hour's time that it won't matter if they are in a separate room or even outside on your patio!
Props for Your Escape Room for Kids
A birthday party is always more fun and festive with props! And since most of these games are set back in an earlier time- it's kind of fun to put out some hats and accessories for your guests to wear while trying to escape!
Fedoras, mustaches, glasses, feather boas, and lace gloves all make for fun props! And don't forget to put out some steno pads and pens for the kids to use while solving the puzzles!
Escape Room Birthday Party Cake: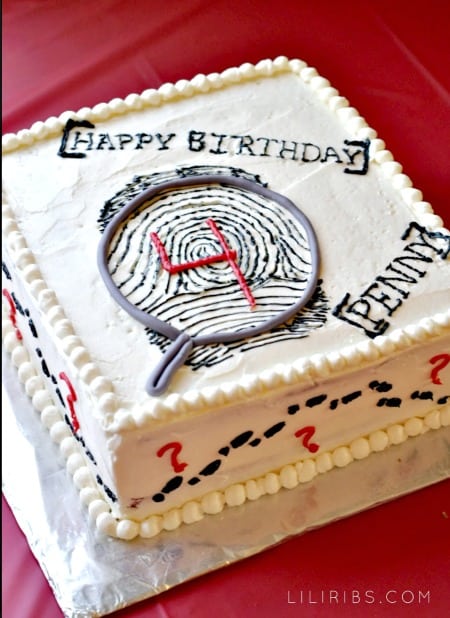 A simple sheet cake with a magnifying glass drawn in icing and the birthday child's name is perfect! I love this beautiful cake that was featured over on The Ribeira Crowd!
Escape Room Birthday Party Favors: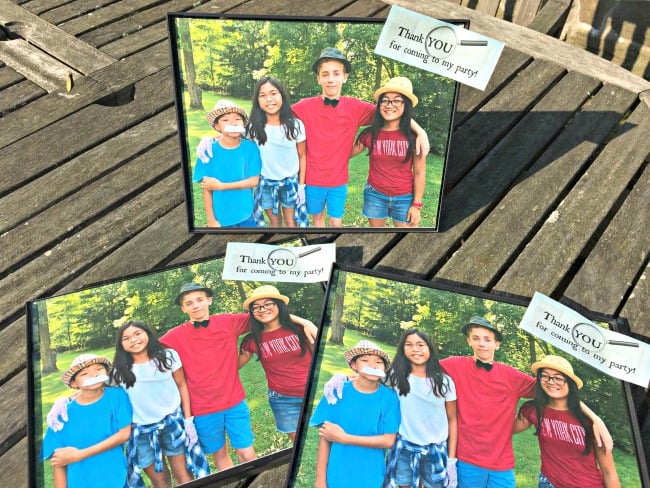 I love giving party guests a favor that they can use for a long time (rather than candy or plastic toys), so I take some group photos of the party guests after they've donned the props and accessories, but before we've played the game.
Then while the kids are playing- I quickly print copies of the photos on my color printer and then place them in a 4×6 black picture frame for each guest. I put a small sticker on the corner of the frame that reads "Thank YOU for coming to my party". (These little tags are included in the free downloadable party pack below!) I think framed photos make the perfect party favor!
Shop this Post:
We haven't personally tried these Escape Room games yet, but I think we need to!
Ready to Download The Free Escape Room Birthday Party Printables?
Awesome! Simply sign up below to join the MomOf6 community, and you'll be directed to a thank you page with access instructions! The download includes the party invitation and thank you note.
Join the MomOf6 community!
You'll receive our twice-weekly newsletter via email filled with ideas and resources for busy Moms! *You can view our Privacy Policy here. To access the printable without subscribing to our newsletter, click here to send an email requesting access.
Please note that these printables are for your personal use only and are not to be distributed or sold.
Check out some more awesome Tween Birthday Party Ideas:
Check out all of our Kids Birthday Parties here: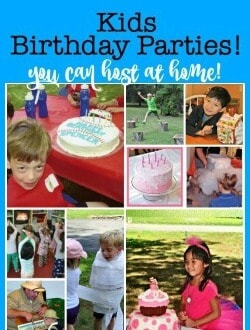 How to Throw Your Own Kids Birthday Parties at Home!
Looking for Some More Great Party Games, Crafts, & Activities for Kids?
or Shop for These Awesome Party Games!
*Please note that some of the links in this post are affiliate links, which means I will make a small commission if you purchase through these links. It's a great way to support a blogger!
Do you think that your child would love an Escape Room birthday party?