*Please note: I am just a parent who is a fan of the hit game show "Minute to Win It" and created a Minute to Win It birthday party theme that celebrates the fun of the show. This post is in no way affiliated with or endorsed by NBC, Game Show Network or Minute to Win It. All ideas and opinions expressed here are my own.
The inspiration for one of our favorite kids birthday parties comes from the NBC game show "Minute to Win It" and if you have never seen this show- I'll summarize it for you. Contestants are given challenges involving common household items to complete in 60 seconds to win ever-increasing prize money. So the first challenge will be the easiest one, and they continue to ramp up in difficulty as contestants work their way up to the ultimate $1 million prize. But the best part is that the challenges are fun (and funny!) and can easily be replicated at home for your very own Minute to Win It Birthday Party!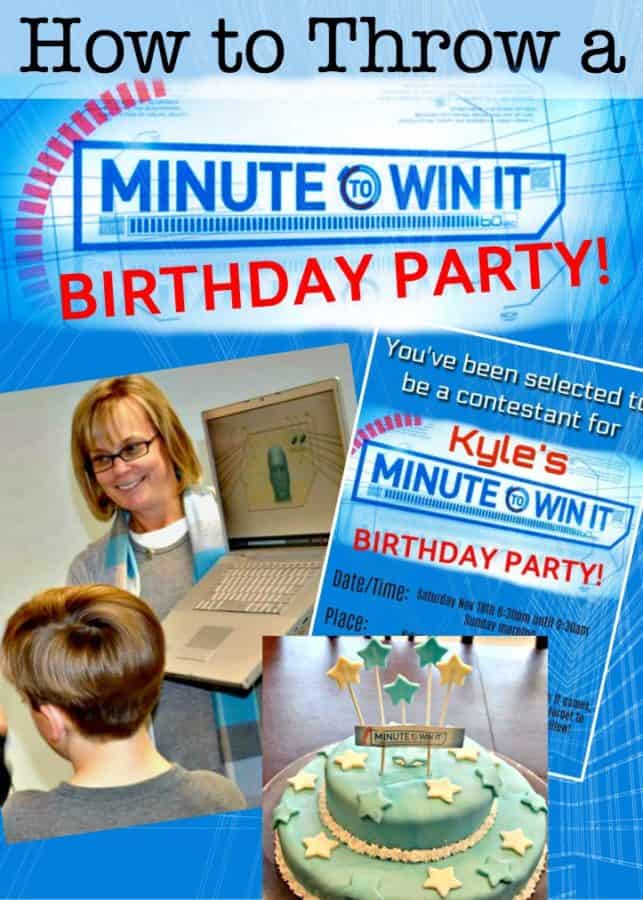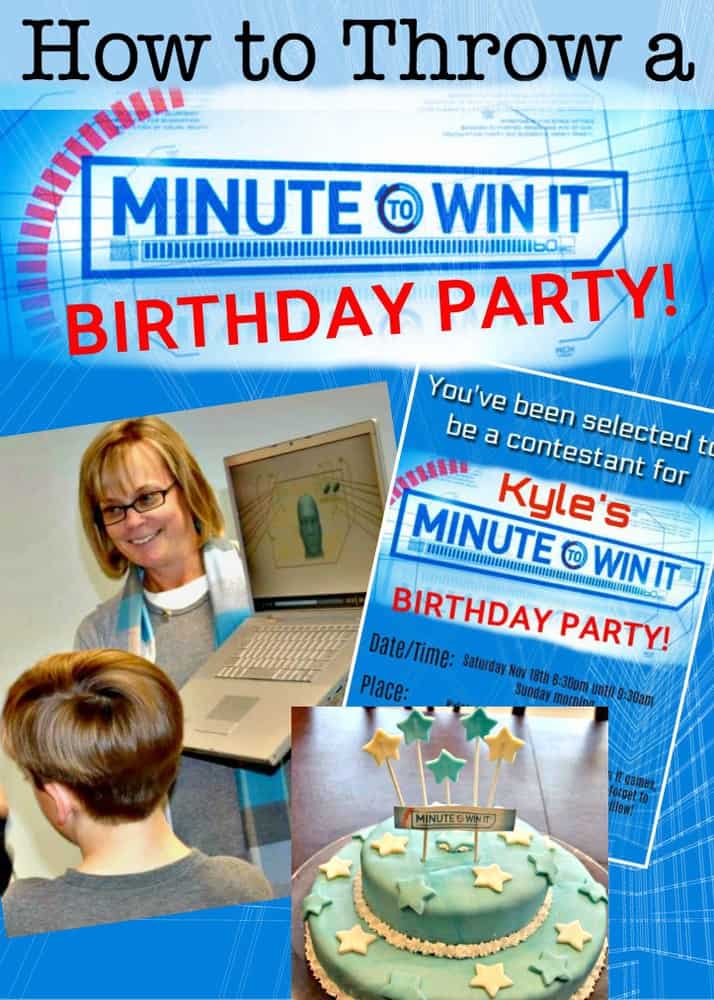 This party is so much fun and such a success at our home that we have actually hosted it 3 different times for 3 of our sons' birthday parties! In each case, the party was a sleepover party and we conducted the "Minute to Win It" portion of the party for about 90 minutes right after we served dinner.
The Minute to Win It Birthday Party Invitation: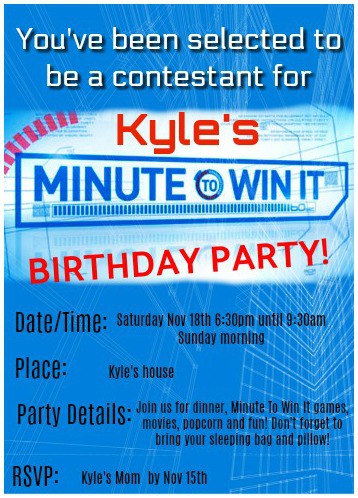 I created these cool party invites which can be printed and mailed or sent out as an email attachment. You'll find a link to a blank invite you can use (for free!) at the end of this post.
You can either fill in the party information by hand or upload the image to PicMonkey to add text. (Check out my tutorial on how to use PicMonkey to create birthday party invitations!)
Minute to Win It Games for Kids: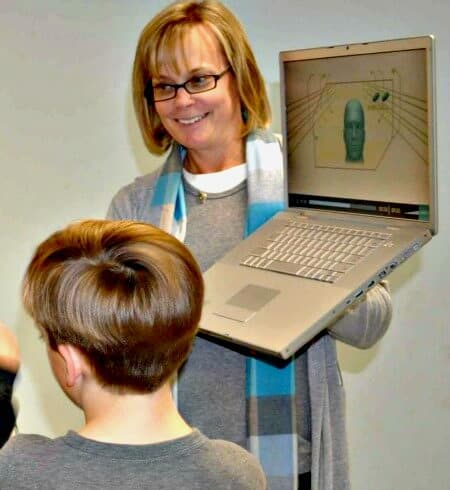 When the game show aired on TV there were dozens and dozens of games that contestants were asked to play. But some of them are a bit challenging to replicate for a kids birthday party! I outlined below the games we selected for our parties.
To explain each game to the kids, we played the video "blueprint" just as they did on the TV game show (I've included the Youtube links to each blueprint below). We then explained any modifications to the game that we were making to make the game a little more kid-friendly.
Pro Tip: Pair the party guests up into teams of 2 people. But the games are so much fun that every person will want to try every game- so play each game twice so each team member gets a chance to play!
*Please note that some of the links in this post are affiliate links, which means I will make a small commission if you purchase through these links.
1. Bite Me
Contestants have to pick up 6 grocery bags in decreasing sizes and put them on top of the table without using their hands, and their feet may not leave the floor! (Bite Me Blueprint link)
2. Bucket Head
Contestants bounce a ping-pong ball onto the floor, which then bounces off a wall, and attempts to catch the ping pong ball in a bucket on his or her head. (Bucket Head Blueprint link) We told the kids they had to keep the bucket firmly on top of their heads with one hand- moving the bucket to catch the ball would cause them to have to dump out their entire bucket to start over!
3. Face the Cookie
Using only facial muscles, move a cookie from the forehead to the mouth. (Face the Cookie Blueprint link)
4. Junk in the Trunk
8 ping pong balls are placed in an empty tissue box which is tied to the back of the contestant's waist- who then needs to jump up and down and shake until the tissue box is emptied (Junk In the Trunk Blueprint link). (We used shoe boxes for this, cut out holes in the top of the box and created a belt for the box using strips of an old t-shirt that we stapled to the box.)
5. Noodling Around
Using a piece of spaghetti placed between his or her teeth, the contestant must pick up 5 penne pastas, stringing them onto the spaghetti without using his or her hands. (Noodling Around Blueprint link)
6. Egg Roll
Using pizza boxes, contestants fan hard-boiled eggs from a starting line across the floor to reach a target. (Egg Roll Blueprint link). (We used large pieces of cardboard the same size as a pizza box).
7. Defying Gravity
Contestants must tap 3 balloons to keep them off of the ground for 60 seconds! (Defying Gravity Blueprint link)
8. Johnny Applestack
Stack 5 apples on top of each other. (Johnny Applestack Blueprint link)
9. Tilt a Cup
Done as a team event. Player 2 has a stack of 7 cups. Player 1 bounces a ping-pong ball on the ground, and Player 2 must catch it off of the bounce and into a cup. When Player 2 catches the ball in the cup he takes the bottom cup from the stack and places it on top of the stack, and then catches the next ball and so forth, until all 7 cups are stacked with balls in between them. (Tilt a Cup Blueprint link)
10. Suck It Up
Use a straw to move Skittles one at a time from the tabletop to balance on top of 4 flexible straws taped vertically to the end of a table. (Suck It Up Blueprint link)
Supplies You'll Need for Your Minute To Win It Games:
Paper Bags- each team will need 2 each of 3 different sized bags:
Ping Pong Balls – 144 should do it- but you'll need to load them into your Junk in the Trunk boxes after you play Bucket Head and then collect them again for Tilt a Cup
Sand Buckets– 1 per team
Cookies (we used Oreos)- you'll need 8 per team (cookies will drop on the floor!)
Tissue Boxes (we used shoe boxes)- you'll need one per team. We cut up an old adult t-shirt into strips and attached the strips to each side of the box to create a belt for the box. I recommend using tape to make the box opening narrow enough to make this game challenging (you'll need to try this a few times before the party to determine the right sized box opening).
A box of penne pasta and a box of spaghetti
Pizza boxes or pieces of cardboard the size of a pizza box- 1 per team.
Hard-boiled eggs- 2 per team
Balloons (blown up by you- not with helium)- 3 per team
Apples (red delicious)- 5 per team
Plastic party cups– 7 per team
Plastic Drinking Straws– 5 per team, Skittles, and Painter's Tape
Minute to Win It Birthday Party Area Set Up: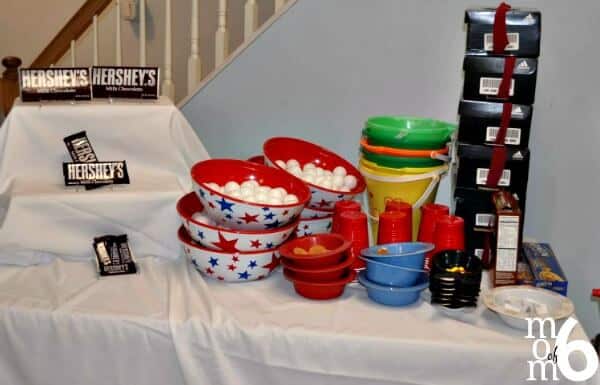 We used an easel to keep score for each team- awarding 5 points for 1st place, 3 points for 2nd place and 1 point for 3rd place for each round (and keep in mind- we ran each game twice so everyone had the chance to play!)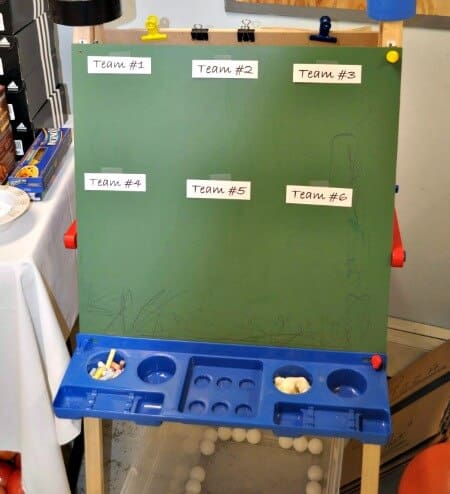 Our Prize Table- For the winning team we used Giant (7oz) Hershey Bars. The 2nd place team received Regular (1.55oz) Hershey Bars, and everyone else received Snack-Sized Hershey Bars.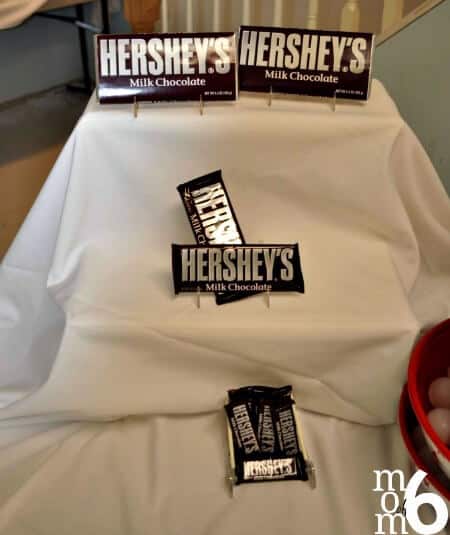 Each team was assigned to a table that they used for playing the games: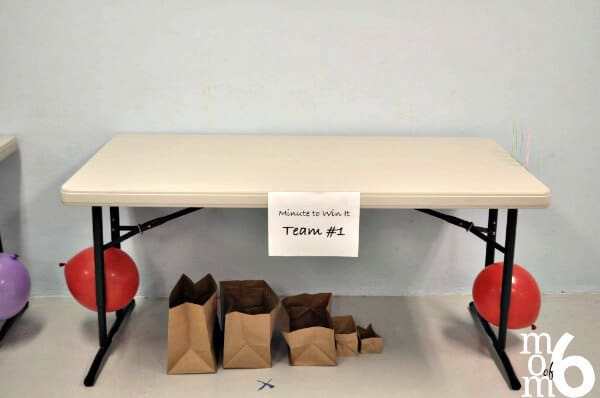 Minute to Win It Birthday Cake: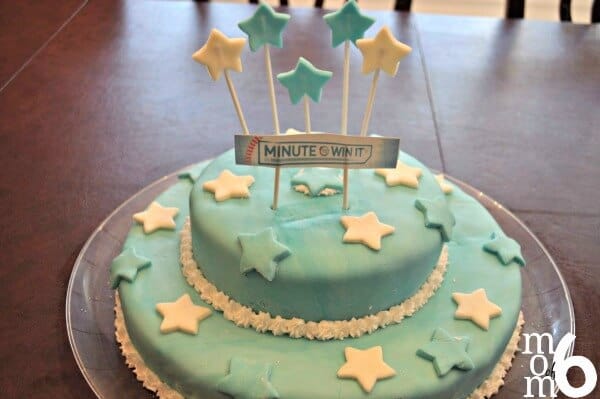 I created this simple cake- using a large round cake topped with a smaller round cake. I covered them both in my favorite buttercream icing and then in a layer of homemade fondant. I cut out the stars from fondant and used them to decorate the cake- placing some on lollipop sticks to add some height. Then I simply cut out the logo from the printed party invitation and attached it to lollipop sticks as well so the cake fits the theme!
Minute to Win It Birthday Party Favors:
Instead of goodie bags filled with candy, I wanted the party guests to go home with something cool that they could use for a long time, so I took some group photos of the party guests before we started playing "Minute to Win It".
Later on in the evening, when the kids were watching the movie, I printed copies of the photos on my color printer and then placed a photo in a 4×6 black picture frame for each guest. I put a small sticker on the corner of the frame that read "Thanks for coming to Kyle's party".
Shop This Post:
Ready to Download The Free Party Printables?
Awesome! Simply sign up below to join the MomOf6 community, and you'll be directed to a thank you page for access instruction! The download includes the party invitation and thank you note.
Join the MomOf6 community!
You'll receive our twice-weekly newsletter via email filled with ideas and resources for busy Moms! *You can view our Privacy Policy here. To access the printable without subscribing to our newsletter, click here to send an email requesting access.
Check out some more awesome Tween Birthday Party Ideas:
Check out all of our Kids Birthday Parties here: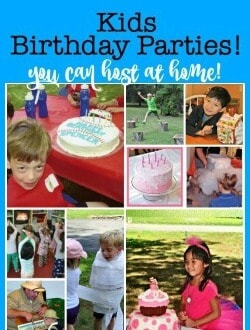 How to Throw Your Own Kids Birthday Parties at Home!
Looking for Some More Great Party Games, Crafts, & Activities for Kids?
or Shop for These Awesome Party Games!
Do you think that your child would love a "Minute to Win It' birthday party? What's the best birthday party theme you've ever used? Please leave a comment and share it with us!
*Please note: I am just a parent who is a fan of the hit game show "Minute to Win It" and created a birthday party theme that celebrates the fun of the show. This post is in no way affiliated with or endorsed by NBC, Game Show Network or Minute to Win It. All ideas and opinions expressed here are my own.