You don't have to "take me out to the ball game" to throw this fun birthday party…. instead you invite the guests over to your house or a nearby local park for your own baseball game! We've thrown this party twice now for two of our sons when they each turned 6… and it was so much fun!
The Baseball Party Invitation
I prefer to create my own invitations in Microsoft Word and then print them out at home. To create these, I printed the party details on white card stock, then cut them out into the circle shapes, and added the baseball stitching effect by hand using a thin red marker. Easy and cute!
Dividing the Party Guests into Two Teams
I wanted to be able to divide the party guests into two teams…. and I thought it would be a fun party favor if we gave everyone a team t-shirt. Since our baseball party was held in the summertime, I thought it would be cool to give the kids tie-dyed shirts, which I created in advance of the party (one team was red and blue and the other was yellow and green). I learned from our first baseball party that tie-dying 20 t-shirts ended up being a bit more work that I had bargained for…. so the next time we had a baseball party, I simply purchased colored tees for the kids (red for one team, navy for the other). You can often get great deals on solid colored t-shirts at crafts tires such as Michaels or even online (I paid less than $3 each for mine).
Layout the Ground Rules for the Game
We realized that it would be important to lay out all of the "ground rules" for the ball game ahead of time…. so there would be no arguing once the game had started.  We even figured out all of the "odd" details that go along with playing a baseball game in your yard with young kids…. such as what to do when a batter sends his or her ball into the tree in the middle of the yard (a double), and that there were unlimited strikes and balls for anyone under the age of 6, and so on. And we provided a batting tee for some of the younger players….
We planned the batting order ahead of time too- so there would be no "begging to bat first"!
And Don't Forget the Baseball Park Music!
One of the things that made this party "extra cool" for the kids, was that we had made a CD of baseball park music that we played between batters…. including all of the sound effects that you might hear at a real baseball game (or at least the Minor League games that our family attends!) The kids got a huge kick out of this!
Baseball Party Food!
Of course the perfect party food for a baseball party is hot dogs!  And we ordered a case of blue plastic water bottles which we had printed with the slogan "The best part of the game….  is getting to play!"
For one baseball party the cake was a giant baseball…..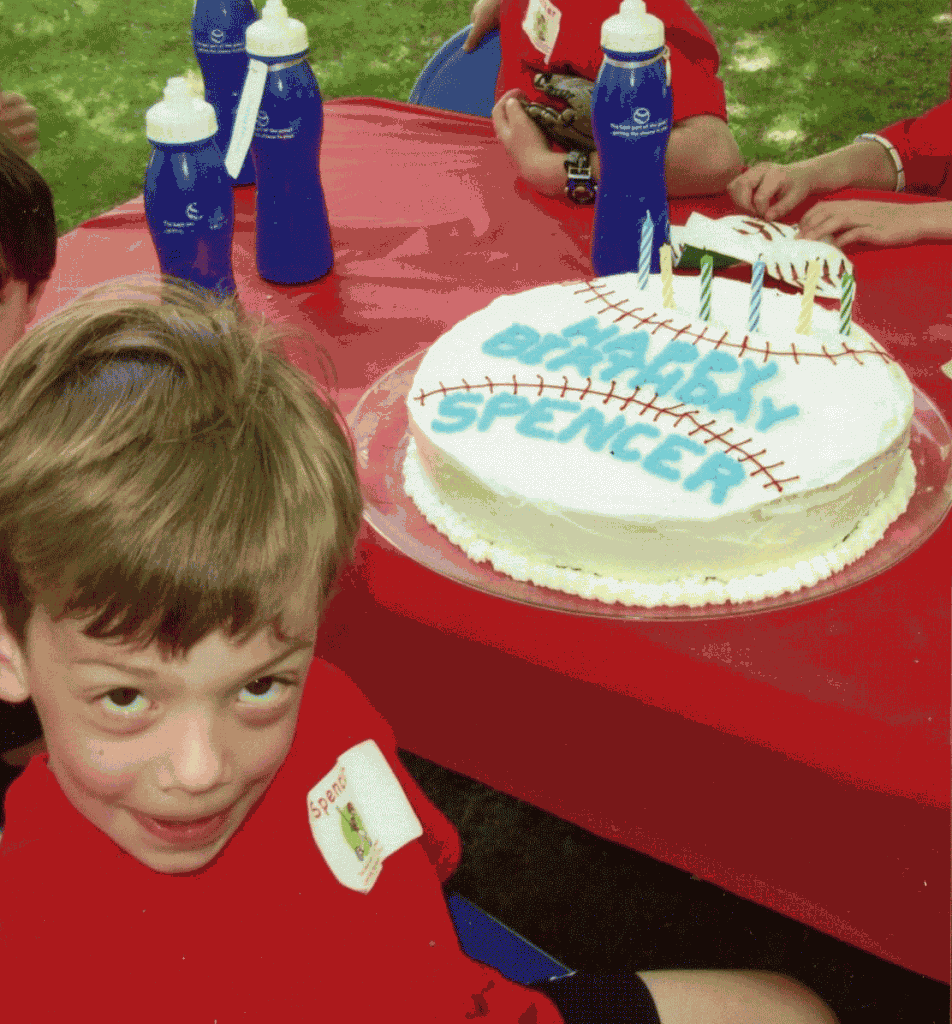 and for another baseball party we made a pennant cake…..
So do you think your kids would love a baseball-themed birthday party?
If you liked this party idea, you might also enjoy these other at-home birthday parties we've thrown for our kids:
At Home Birthday Parties YOU Can DO!
And to stay up to date on the latest tips and ideas from Momof6, please Like the Momof6 Facebook page!