After a fun summer that included several family camping trips, our son knew exactly what he wanted to do with his friends to celebrate his 9th birthday- a backyard camping birthday party sleepover! An evening filled with playing games outside, dinner on the BBQ, and a campfire with s'mores? Well, you can sign me up to host this kind of kids birthday parties anytime!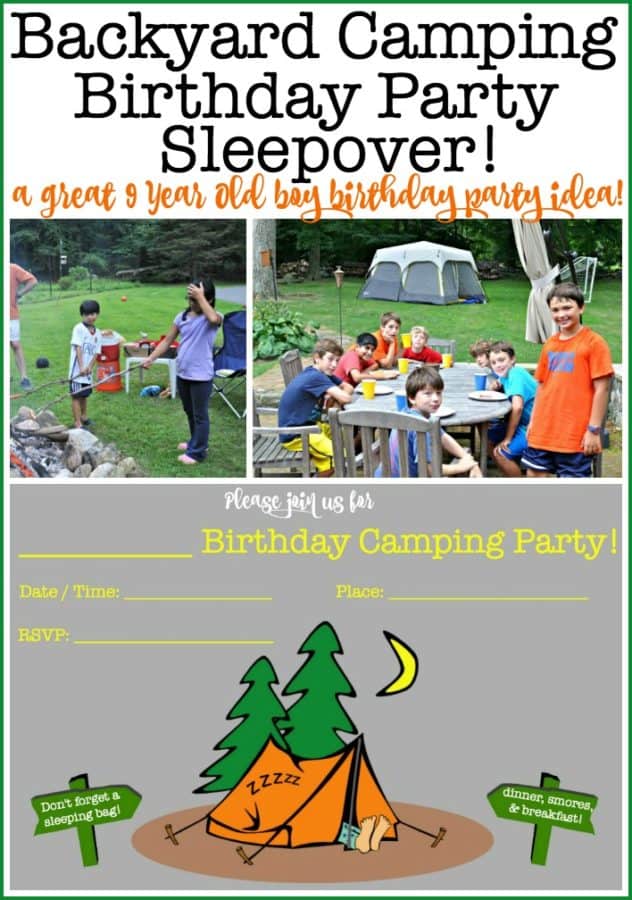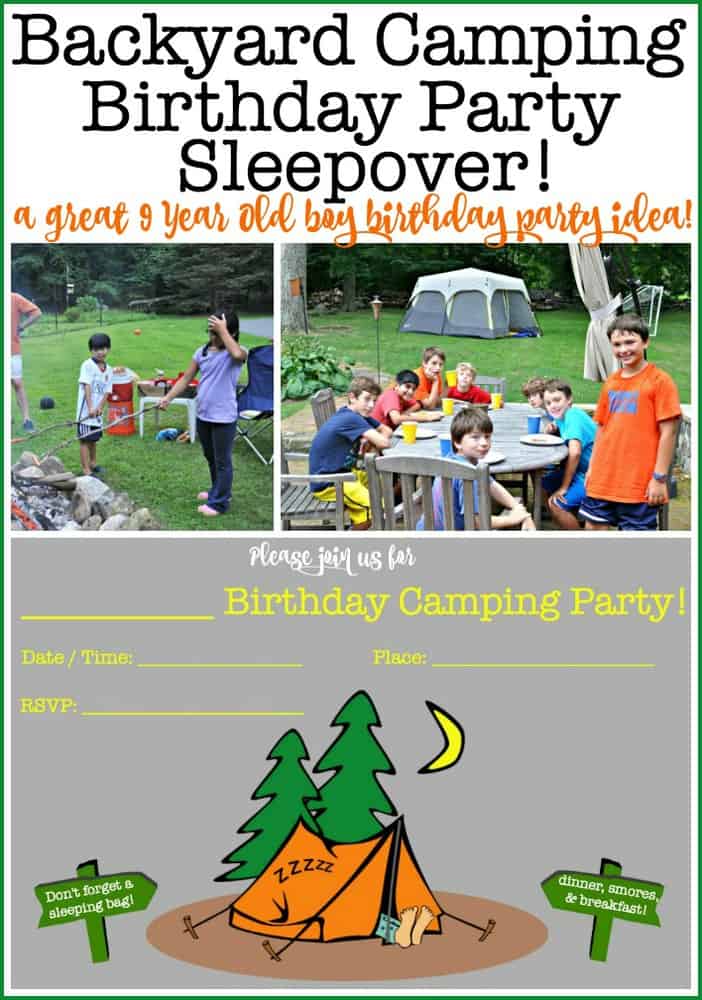 *Please note that some of the links in this post are affiliate links, which means I will make a small commission if you purchase through these links.
The Backyard Camping Birthday Party Invitation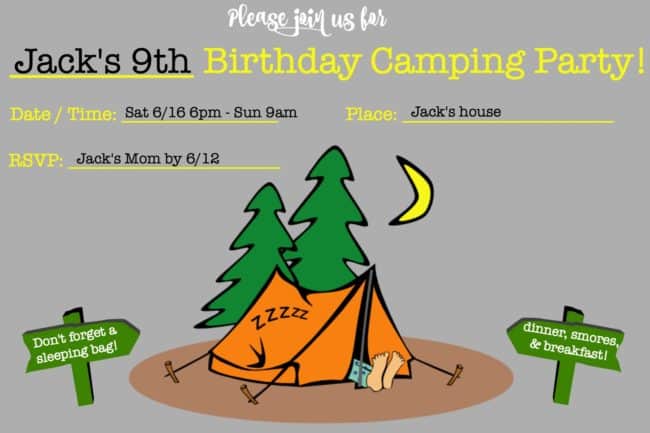 I created these cute camping birthday party invitations that we emailed the guests to invite them to our party.
And these thank you notes that fit the theme! You can print out a blank version of the invite, thank you note, and favor tag at the bottom of this post!
The Camping Birthday Party Set Up
Set up for a backyard camp out party is simple1 especially when you have two things:
One of those super-cool 5-minute pop-up tents (which we invested in this summer!) and
A husband who is happy to do the whole thing for you!
We set the tent up right off of the front porch- in case any of the party guests decided they were uneasy with sleeping outside in the middle of the night (which didn't happen), and so the boys had quick access to the indoor plumbing!
And since our bedroom is right above the front porch, it was also easy for us to keep an ear out for the kids all night long through the open window!
Steve set up an archery area for the kids (a highly supervised activity of course!), complete with a set of yard markers to create a line for the spectators to stand behind while each guest had a chance with the bow and arrows.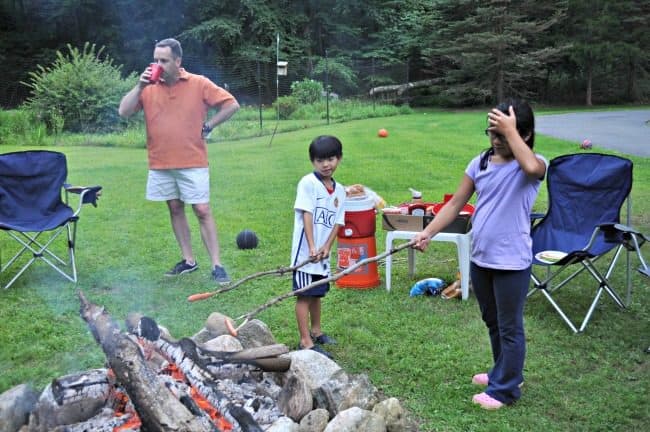 And Steve built us a fire pit too- so the kids could roast hot dogs and make smores!
The Camping Birthday Party Plan
I like to have a game plan for each of our parties, where I list the activities and the length of time estimated for each. While I only use this as a guideline, it helps me to keep the party moving along. This schedule of events for this party was:
6:30 pm
Guests arrive and play outside
7:00- 7:30 pm
Camping dinner at the fire pit- hot dogs with chips and baked beans
7:30-8:00 pm
Archery and basketball outside
8:00 pm
Birthday cake
Jack's all-time favorite cake is Texas Sheetcake, and he requests it at every birthday! And now his friends look forward to it too. When he was younger I used to decorate the cake to fit the theme, but now that Jack is older- he prefers it without decorations, but with candles of course!
8:20-10:00 pm
Movie time indoors- we decided to watch Jumanji– a family favorite!
10:00-11:00 pm
Campfire with s'mores
11:00 pm
Lights out!
It only took a few (okay, nearly a hundred) reminders for the boys in the tent that it was time to quiet down and go to sleep. But eventually (sometime after midnight), they finally did. And we didn't hear another peep until…
6:00-7:00 am
Boys hang out in the tent and talk a lot about farting! (No, I am not kidding- this is an entire topic for discussion). While my husband and I both groan in annoyance at their antics and giggle as quietly as possible at their complete goofiness!
7:00-8:00 am
Boys hang out in the basement and play ping pong while Mom & Dad make enormous heaps of bacon and homemade waffles!
8:00-8: 45 am
Breakfast- followed by packing up, getting dressed, and tooth brushing
We stood in awe while a dozen kids ate through enough food to feed a small army- in under two minutes. Even though I made far more waffles than I thought we would ever need- they were devoured immediately.
We then spent the next 43 minutes trying to get everyone to get dressed and help pack up their sleeping bags. And in case you don't already know this, 9-year old boys apparently cannot roll up their own sleeping bags- and in spite of your most valiant efforts- will collectively leave behind 1 bag full of clothes, 1 sleeping bag, and 1 flashlight that you will need to get back to their rightful owners at a later date!
9:30 am
Guest pick up and pass out party favors.
To fit our backyard campout theme, I found these cool flashlight headlamps on Amazon (which are perfect for reading under the covers in bed, even if the guests never "camp" again!). And I included a couple of packs of soccer trading cards called "Match Attax" cards and packaged them in a plain white bag along with this favor tag.
This was such an easy and inexpensive party- and Jack loved it!
Want to Download the backyard Camping Birthday Party Printables?
Simply sign up below to join the MomOf6 community, and you'll be direct to a thank you page with access instructions!
Join the MomOf6 community!
You'll receive our twice-weekly newsletter via email filled with ideas and resources for busy Moms! *You can view our Privacy Policy here. To access the printable without subscribing to our newsletter, click here to send an email requesting access.
Looking for some more awesome Tween Birthday Party Ideas?
Check out all of our Kids Birthday Parties here: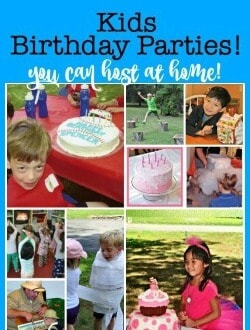 How to Throw Your Own Kids Birthday Parties at Home!
Looking for Some Great Party Games, Crafts, & Activities for Kids?
or Shop for These Awesome Party Games!