I love to throw birthday parties for my kids, and I find it really helpful when planning the party- if I can develop crafts and activities around some sort of a theme. My daughter loves everything to do with jewelry and crafting, so while I was casting about for great 9 year old girl birthday party ideas- I thought it would be fun to throw her a "Groovy" Tie Dye Party to celebrate her 9th birthday- and she loved the idea!
Tie Dye Party Invitation: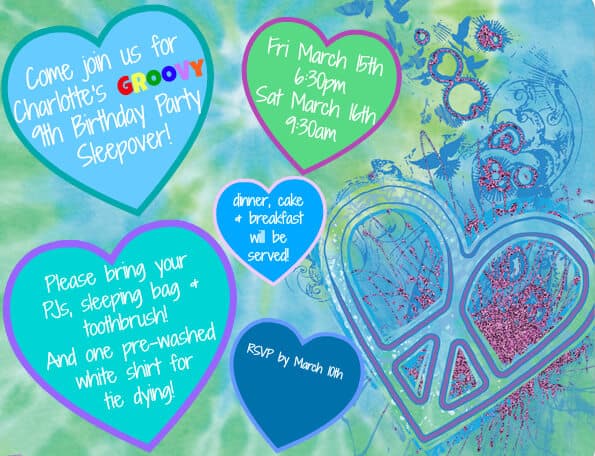 I like to create my own invites and thank you notes in PicMonkey. I love that I can create a custom invite myself and print them at home (or even email the invites) for free. And it's also a nice keepsake for her scrapbook!
Tie-Dye Party Thank You Note:
And I like creating a structured thank you note so that she can easily write a nice response (of course my kids like this party of having a birthday party the least- writing thank you notes!)
The Party Events:
6:30pm- The guests arrived, the birthday girl, along with her sibling helpers, stashed away their sleeping bags and backpacks for later, placed gifts on the dining room table (to be opened after the party), collected the white tee-shirts for tie-dying (I asked the guests to bring along their own so that I wouldn't have to guess at sizes) and placed the tees to soak in the soda-ash, and welcomed the guests to our home.
6:45-7:15pm- Dinner! For this party, we continued our tradition of serving a pasta and salad bar. Guests can choose the type of pasta sauce, add on meatballs and a side of garlic bread, and make up their own salads.
7:15pm-7:45pm- Time to tie-dye our shirts!
You can't have a groovy party, without tie-dying shirts, right? But we wanted ours to be a bit more unique than just your regular ole tie-dye shirt- we wanted ours to have hearts on them! Fortunately- we found this great tutorial to help us figure out how to execute this:
A couple of tie-dying tips for you:…. make sure that you use 100% cotton t-shirts. After dying, I put each tee into it's own plastic grocery bag, so the colors wouldn't touch one another, and allowed them to sit overnight. At 5am when I woke up, I rinsed the shirts until most of the dye was out, cut off or unwrapped the rubber bands and and then washed and dried all of the tees in our washer and dryer. They are now "set" and can be washed with a regular load of clothes.
7:45pm-8:00pm- Start the washer necklace project
I found this great idea online at Captain Crafty for making pendents out of washers and nailpolish. I ordered some ribbon necklaces
online from Amazon, and put together this cute craft for the girls. To start, they first painted their "base color" on their washer. (*Amazon affiliate link)
8:00pm-8:45pm- Time for "Just Dance" on the Wii- this never gets old! The girls elected to take turns picking songs from Just Dance 4, and then one of the girls selected a Just Sweat cheerleader workout that had them all dancing and giggling and having a blast!
8:45pm-9:15pm- Enjoy birthday cake and then finish painting our washer necklaces
9:15pm-9:30pm- Change into jammies.. get sleeping bags set up…
9:30pm-11:00pm- Time for a movie and popcorn! As an earlier birthday gift, we gave Charlotte two new movies so the girls could select one for the party. They chose "Wreck It Ralph".
11:00pm- Lights out (let the giggling begin)….
They finally settled down to sleep about an hour later- and were still all sleeping at 7:30am the next morning!
When the girls woke up, we started our friendship bracelet craft, which they continued to work on while watching a second movie. This gave Steve and I time to prepare platters of bacon and tie-dye pancakes!
If you liked this party idea, you might also enjoy these other at-home birthday parties we've thrown for our kids:
At Home Birthday Parties YOU Can DO!