My daughter Lili Ann loves riding her bike, and was especially proud when she mastered riding it without the help of training wheels! What better way to celebrate than with a bike-themed birthday party? And because little girls love crafts and decorations we decided to ask guests to bring along their bikes for a fun party of bike decorating and obstacle course riding, along with some homemade party foods!
The Bike Decorating Party Invitation:
I found this adorable free clip art, and created these homemade party invitations and stationary: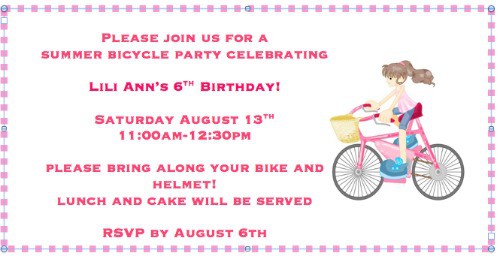 Artwork for the favor bags and water bottles:
Thank You Notes:
Bike Decorating Party Order of Events:
This was one of those parties where I did allow ambition and creativity get in the way of my own party planning sanity… and I packed a few too many activities into the ninety minute party! And the fact that it was in the mid-90's and I planned the activities on a sunny deck rather than in the shade didn't help! But the girls didn't seem to mind… and had a great time!
We started the party by dipping balloons (water-balloon-sized) into melted chocolate to create our chocolate cups for dessert, and placed them inside of the house to cool and harden.
Next the girls assembled their own pizzas by adding the sauce, cheese, and favorite toppings on pre-baked homemade pizza crusts.
Every pizza was marked with a flag with the guests name (in order to match the right pizza with the right guest later on!).
Next we moved onto the bike decorations…. which included folding our own tissue paper flowers to attach to a woven basket which would adorn the front of every girl's bicycle.
The girls then strung beads onto streamers that we later attached to their bikes' handlebars…
Prior to the party day, I had cut open dozens (okay, hundreds) of colorful drinking straws and cut them to the proper length so they would make beautiful bicycle spoke covers! The kids headed out to the driveway to attach their new bike baskets and streamers and some of them spent a long time adding all of the spoke overs as well.
We created an obstacle course in the driveway for the girls to weave back and forth through cones, ride underneath pool noodles "tunnels", and pedal quickly past sprinkler waterfalls. This was the best part of the party…. to see how fast they could pedal to avoid getting wet- and then squeal when the sprinklers caught them anyway!
Bike Decorating Party "Cake" and Favor Bag:
For this party, my daughter didn't want a cake… she wanted to make the chocolate ice cream cups with her friends….
And she loved the idea of giving homemade cookies as party favors…. so I found a fantastic bike-shaped cookie cutter, and tried my hand (for the first time!) making royal icing to decorate them!
This was such a fun party theme, and super simple to put together. The kids had a great time, and I enjoyed myself as well!
So do you think your daughter would love a bike-decorating party? Please leave a comment below and share your thoughts!
If you liked this party idea, you might also enjoy these other at-home birthday parties we've thrown for our kids:
At Home Birthday Parties YOU Can DO!
To stay up to date on the latest tips and ideas, please consider signing up to have Momof6 delivered daily to your email inbox!