Have you ever been to one of those slot car racing places- where kids get to choose their car and participate in planned races against their friends on the huge elevated track that twists and turns around the room? It's a ton of fun! But when you plan to take 12 kids to a slot car racing place for a birthday party- it can get kind of expensive. And there's the logistics of getting all of the kids to/from the party. Plus when the party is over and you leave- the slot cars and the cool track stay behind. You'll have to pay a fee to go there and play with them again. Wouldn't it be cool if there was a way to have this same experience at home? With awesome race cars and a track that you play with over and over again?
I thought so too! So when I attended a Toy Showcase event last year and had the chance to test drive an Anki Drive system- I knew I had found the perfect idea for a birthday present / birthday party combo!
Anki Drive is this cool high-tech roll-out track with smart car technology that is really impressive. You use your smartphone or tablet with the free app to control your car, and as you play you earn points which allows you to "upgrade" your car's abilities- such as being able to do U-turns and sudden stops or improve your car's armor or shooting abilities. You can race in three modes- battle, race, and team mode- and the fact that the race track is a roll-out mat (rather than a large permanent structure) that can easily be put away and set back up makes it a perfect birthday gift!
Now Anki Drive itself isn't cheap. One "kit" will set you back $150 (which is still less than what it would cost me to take 12 kids to a slot car racing venue). But a kit only comes with 2 cars, which isn't too party-friendly. So you'll need more cars. We ended up purchasing 6 additional cars and one expansion track. We bought everything directly through Anki.com, taking advantage of a "Buy One Get One 50% Off" deal they were running, and we also contacted customer service to negotiate a further discount on the entire purchase. Then we asked grandparents and aunts & uncles if they wanted to chip in on this whole big birthday present / birthday party package for Alex, which they were happy to do. So in all- the system was less than $450- and covered both his present from the entire family as well as the entertainment for his birthday party, and is something we've been playing with as a family ever since!
The Race Car Birthday Party Invitiation
I designed these race car birthday party invitations, which I emailed to party guests. Alex really wanted to have a sleepover party this year, but since not all kids are ready to sleepover at a friend's house or some might have an early morning commitment the next day- I always give guests the option to stay or not, and let them know an evening pick up time for those guests not sleeping over.
I created a blank version of the invite which you are welcome to download and print for your own personal use. (Simply right click on the image below to open).
You can either fill in the party information by hand, or upload the image to PicMonkey to add text. (Check out my tutorial on how to use PicMonkey to create birthday party invitations!)
The Race Car Birthday Party Set Up:
We moved the couches back in our family room so that we had room to roll out both race track mats on the floor. We asked the kids to sit on the outside of the tracks (no one in the middle and no one on the ends) so they could see everything when they weren't racing. And we made sure to tell the kids not to step on the race mats.
We set up all 8 cars with their respective charging stations on an ottoman using a power strip to provide the juice. Now before the party, you'll need to spend some time watching the Anki Drive "How To" videos so you understand how the cars work and how to race. My husband and three older boys practiced for two days until they felt comfortable that they could teach the kids how to race their cars fairly quickly during the party. You'll need an i-device to be paired with each one of the cars- because you race your car using your iPhone or iPad. With 8 people in the house who all own Apple products- we had enough devices to work with.
And of course our race winners would receive prizes! Prizes don't need to be anything too elaborate. Our guests were thrilled with the idea of winning a giant-"movie theatre"-sized box of candy! You can download and print the prize badge below for your own personal use:
The Race Car Birthday Order of Events
Now I think that one of the keys to a successful sleepover party (for you, the host!) is to limit the # of evening and morning hours for the party. So we normally start our sleepover parties at 6:30pm and begin with dinner. This allows the guests to settle in at bit before we move on to the party events. I also prefer a pick up time of 9:30am the next morning. Because even though the kids will stay up late- that doesn't mean you can count on them sleeping in! And by the time you serve breakfast and help them pack up their things- you are usually ready for the party to be over! So here's how we ran our party:
6:30pm- Guests arrived and ate pizza together for dinner.
7:00pm- Racing "lessons" using the cars and the tracks. Each guest was taught how to race their car and given lots of time to practice. We held several practice races as well. The cars were then returned to their charging stations.
7:45pm- Birthday cake
8:00pm- Racing events. Because we had two different tracks (an oval and a figure-8), we held three races on each track. The first two races allowed all of the party guests to race once. The top two winners of these two rounds raced in the final round (only 4 cars can race on a track at a time).
8:45pm- Break to put away the race tracks and set up for the movie, pop popcorn, etc.
9:00pm- "Speed Racer
" movie
10:30pm- Movie over- pick up time for the guests not sleeping over. Guests staying changed into their pjs, and set up their sleeping bags in our finished basement.
11:00pm- Kids wind down- chatting, watching TV
11:30pm- Lights Out
6:30-7:00am- Kids woke up (a ridiculously early time- but they were up!). Rolled out the Anki tracks again and let them race while we made breakfast.
8:30am- Breakfast served (homemade waffles, bacon, juice, fruit).
9:00am- Kids get dressed, pack up stuff, play basketball outside.
9:30am- Parent pick up.
The Race Car Birthday Party Cake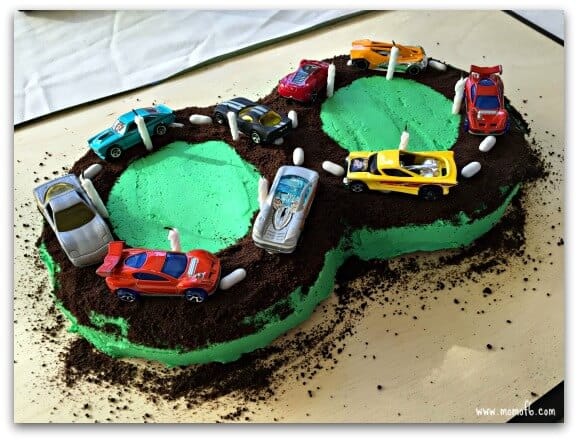 This cake was super simple to make. It was just two round cakes made from a cake mix. I sliced off a sliver on the end of each round cake and pushed them together on cake display board. Iced the entire thing in green icing. Then I cut out two medium-sized circles on paper and placed the paper circles in the middle of each round cake- this protected the green icing while I created the race track. Using a rolling pin, I crushed the chocolate cookie from a sleeve of Oreos (discarding the filling) in a zip top bag, and then sprinkled the cookie crumbles onto the cake- creating the figure-8 track. I used white good-n'-plenty candies to make the lines on the road, and then placed some Matchbox cars and candles on the top of the cake.
The Race Car Birthday Party Favor
I think that kids love to have pictures of their friends in their bedrooms- so I like to take photos of the birthday party guests as a group and make that the party favor at our parties. I had the kids line up for the group shot- and then I edited the photo in PicMonkey to include the tagline "Guys that drive!". I then printed the photos on our home printer while the kids were watching the movie. I found some cute wooden frames at our local craft store, and I just added the favor tag.
You can download and print this favor tag for your own personal use, or print the entire sheet of favor tags here.
The Race Car Birthday Party Thank You Note
After the party, Alex used these thank you notes, which you are welcome to download and print for your own personal use.
If you liked this party idea, you might also enjoy these other at-home birthday parties we've thrown for our kids:
At Home Birthday Parties YOU Can DO!
So what do you think? Would your child enjoy a race car birthday party?