It's been about 10 years since the Rainbow Loom came out as one of the hot toys for kids- which means it is just about ripe for a come-back because today's tweens haven't tried it yet! And a great way to get kids excited about it- is to throw a Rainbow Loom birthday party! (another one of our fun kids' birthday parties!)
Which Rainbow Loom Kit to Use for a Birthday Party?
A typical rainbow loom kit This is an affiliate link: MomOf6 earns a commission if you purchase, at no additional cost to you. comes with what you see above- the loom, a metal hook, a smaller mini-loom, rubber bands, and c-clips, plus an instruction manual showing you how to create the bracelets using the loom.
But for half the price, you can buy these rainbow loom travel kits This is an affiliate link: MomOf6 earns a commission if you purchase, at no additional cost to you. – which come with everything you need to create the bracelets! These are the perfect craft materials for your party, and you can send the travel kits home with the guests as their party favor as well!
So here are my ideas for hosting a Rainbow Loom Birthday Party!
The Rainbow Loom Birthday Party Invitation
I created these invitations using PicMonkey This is an affiliate link: MomOf6 earns a commission if you purchase, at no additional cost to you. and personalized them for my daughter. But I also created this blank version that you can download at the bottom of this post for your own personal use!
Rainbow Loom Birthday Party Order of Events
Guests arrive and join us at the kitchen table to begin making bracelets on the mini looms. Rubber bands are set out in bowls separated by color, making it easier for guests to find just what they want!
You'll want to have a few adults on hand who have already "been trained" on how to use the mini looms. It isn't complicated- it just takes some patience while you are learning.
And in no time- the kids will be creating links! Allow about 50 minutes for bracelet creating- everyone should easily complete one in that time frame, and experienced loomers may be able to create 4 or 5 bracelets.
Use the next 5-10 minutes to allow all of the guests to build a small container of bands that they can take home in their favor bags (see below) for future bracelet making.
Cake and Punch
Of course, a rainbow cake is the perfect sweet treat for this party!
And it wouldn't be a party without some Rowley Party Punch!
Outside Bracelet Scavenger Hunt
A perfect way to end a rainbow loom party is to have your kids make some rainbow bracelets ahead of time, and hide them in the yard. Have party guests see how many they can find!
Rainbow Loom Birthday Party Favors
Each guest can put their small tub of bands and their mini loom into favor bags that have already been pre-labeled with each guest's name. Twist tie to close.
Rainbow Loom Birthday Party Thank You Notes
So do you think that your son or daughter would love a rainbow loom birthday party?
Ready to Download The Free Party Printables?
Awesome! Simply sign up below to join the MomOf6 community, and you'll be directed to a thank you page with access instructions!  The download includes the Cupcake Wars party invitation, thank you note, and cupcake box favor tags, as well the "show script" for your party!
*You can view our Privacy Policy here. To access the printable without subscribing to our newsletter, click here to send an email requesting access.
Check out some more awesome Tween Birthday Party Ideas:
Check out all of our Kids Birthday Parties here: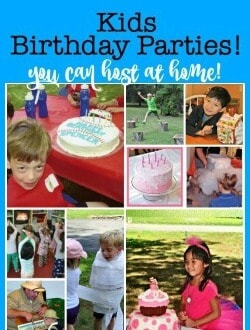 How to Throw Your Own Kids Birthday Parties at Home!
Looking for Some More Great Party Games, Crafts, & Activities for Kids?
or Shop for These Awesome Party Games!
Would your son or daughter love this Rainbow Loom birthday party? I'd love to hear about it if you hold one too!