Now I don't know about you- but it doesn't matter how many people I am cooking for on Thanksgiving… there have to be several Thanksgiving desserts offered!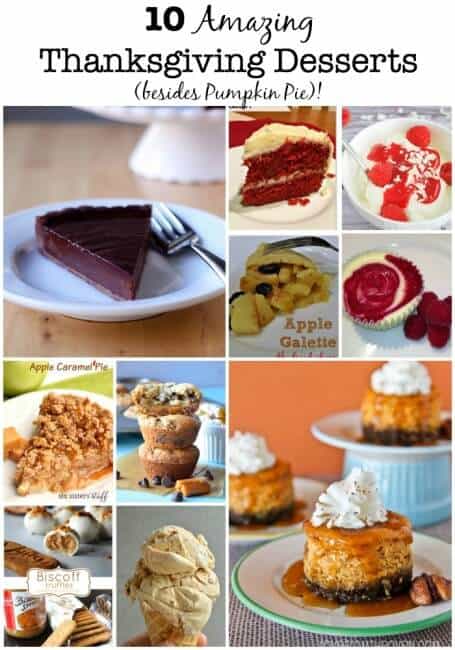 Of course, you have to have a freshly baked pumpkin pie. A Thanksgiving without pumpkin pie is almost like a Thanksgiving without turkey! And in my house, it has to be the traditional Libby's Pumpkin Pie recipe made with a graham cracker crust. But besides the pumpkin pie- I like to have something with chocolate, and maybe something with fruit… and I like to cut pieces small so guests are tempted to try a bite or two of each! So while I haven't completely decided what I will be baking this year- here are my top 10 choices for Thanksgiving desserts this year!
Thanksgiving Desserts: Small Bites:
I love truffles! They are the perfect bite-sized dessert! So the idea of combining one of my favorite cookies into a truffle makes my mouth water! Biscoff Truffles courtesy of Shugary Sweets.
Sticking with the bite-sized dessert theme… how amazing do these deep-dish caramel stuffed chocolate chip cookies look? Courtesy of Apple of My Eye!
Thanksgiving Desserts: Pies, Tarts, and Cakes:
For a deep, rich, chocolate dessert this chocolate tart from Annie's Eats looks amazing!
I know that my son Spencer will be requesting his personal favorite- apple galette with dried cherries!
Or maybe I could convince him to try something new this year and make this apple caramel pie from Six Sister's Stuff!
I know I have a couple of family members who would love it if I made my best-ever red velvet cake!
Thanksgiving Desserts: Something creamy:
Chocolate mousse is a favorite dessert in our family- often requested for birthdays. Maybe this year we'll try Fake Ginger's white chocolate mousse with raspberry sauce.
And speaking of raspberries- maybe I'll make some of these mini raspberry cheesecakes. I've forgotten how much my husband loves them!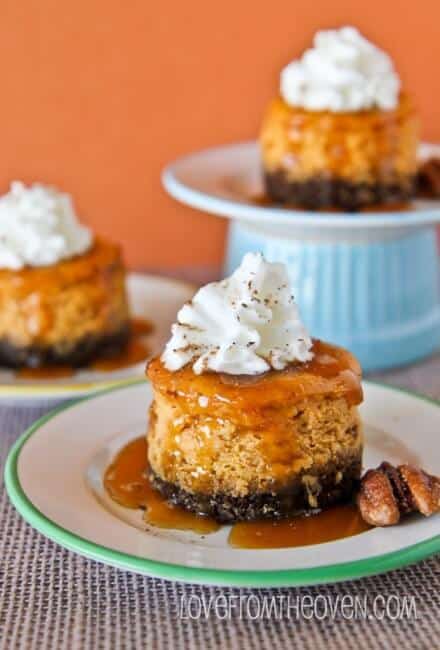 These mini pumpkin cheesecakes with gingersnap crust look so beautiful! And you can even make them the day ahead! Courtesy of Love From the Oven!
And I think every one of the dishes above could be made even better served with a scoop of this brown sugar cinnamon ice cream! Courtesy of Sugardish Me.
Looking for Some More Great Holiday Ideas?
Oooo... what to choose? What to choose?