This past weekend I finally took some time to do a little decorating inside and outside of my home to make it feel ready to embrace the arrival of fall! I went to one of my favorite stores (Stew Leonards!) and picked up some huge containers of bright yellow mums, some pumpkins sized for carving and some small pumpkins and gourds that are perfect for creating little fall "vignettes" inside and outside. I purchased these beautiful orange Smith and Hawkins wreaths from Target and I just love how they look on my doors!
And I even picked up a bag of cinnamon-scented pinecones that make my family room smell amazing! I also love to light my Sparkling Cinnamon
and Spiced Pumpkin
Yankee Candles which really sets me in the mood to watch the leaves fall!
I (finally!) changed out my word art decor to get my family excited that Halloween is just around the corner! (You can find all the links to these free Halloween printables in this post!)
And I updated our family room mantle to make it a little spooky too!
As I look around on Pinterest, there are so many bloggers who are making their own homes look fantastic for fall too- so I wanted to highlight 10 of the best fall ideas for your home here for you!
Table Ideas
I am in love with how the turquoise in this tablescape pops beautifully against the small orange pumpkins! (Courtesy of Craftaholics Anonymous)
Here's a great idea for a simple centerpiece using corn kernels as a filler. In her post, the author links to a tutorial on how to make the glitterized apples that are on the platter. So pretty and so easy! (Courtesy of The Real Thing with the Coake Family)
And I SO want to create my own version of this tabletop box so that I can create seasonal centerpieces like this one! (Courtesy of 724 South House)
Outdoor Decor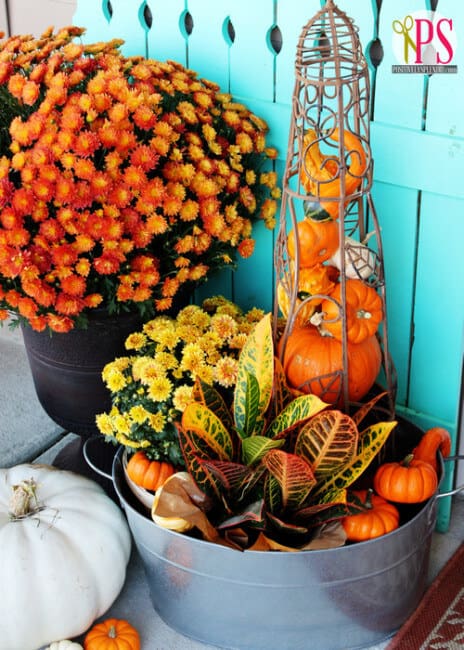 I love how this blogger used a small trellis she already owned and placed small pumpkins and gourds inside to create this stunning outdoor decoration. She also used a large tub that she owned and placed fall plants and mini pumpkins inside. I love the idea of re-purposing items you already own! (Courtesy of Positively Splendid)
Crafty Decor
We actually have several empty pallets stored behind our shed- and I would love to use one of them to create these sweet pallet pumpkins! I love how they are white-washed instead of painted orange! (Courtesy of Little House of Four)
This is a great way to craft a display using tree limbs (Lord knows we have plenty of those around here!) and rusty bolts. (Courtesy of Premeditated Leftovers)
Some grocery store gourds, a few tealights, and some spray paint is all you need to create these gorgeous gourd candles! (Courtesy of Jo Lynne Shane)
This is such a great idea- made from a paperback book! (Courtesy of It's Always Autumn)
I love this idea using mason jars- I think it would look even better is more muted fall colors. (Courtesy of Sugar Bee Crafts)
This is a great way to talk with the kids about the definitions of words related to the season- I love these printables displayed tacked on a wood board! (Courtesy of Moritz Fine Designs).
Do you decorate for the season? How does it make you feel?