2014 is the year of the horse…. and both my son Spencer and I were born during years of the Horse (the Chinese zodiac follows a 12-year cycle)- and according to ChineseZodiac.com….
"Horse symbolizes such character traits as strength, energy, and an outgoing nature. Extremely animated, Horses thrive when they're the center of attention. Always in search of a good time, Horses keep the crowds happy with their humor and their wit.

Horses are extremely intelligent so they're able to grasp new subjects with ease. They're also capable of multi-tasking however they don't always finish what they start because they're forever chasing the next opportunity. Horses are honest, friendly and open-minded. They're perhaps a bit too centered on themselves and have been known to throw tantrums when situations don't go their way."
I'm not sure how true any of that is for Spencer and I- but it is always fun to read what your Chinese Zodiac sign is supposed to say about you!
In preparation for the start of our New Year's celebration, I have been working on planning on menu (Spencer has requested that I make General Tso's Chicken this year), shopping at a nearby Asian grocery store to pick up some specialty items that I can't find locally, and of course decorating our home! We are decking out our dining room for the occasion, so I thought today I would share with you 10 Great Ideas for Chinese New Year Decorations!
Decorate with Chinese New Year Printables!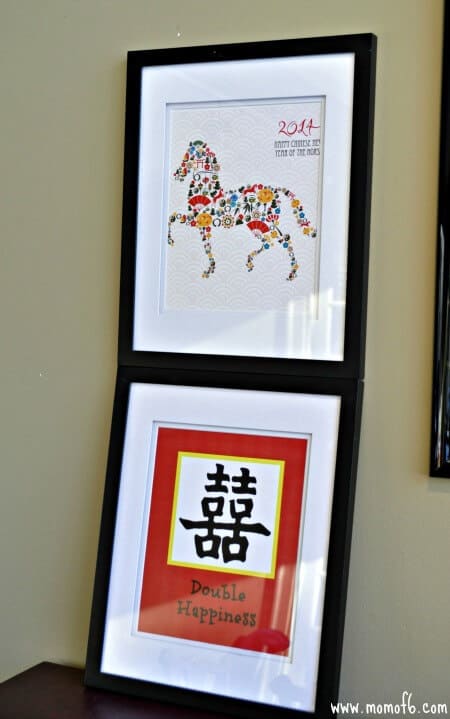 2014 Year of the Horse was downloaded (for $5.00) from CanStockPhoto. I created the Double Happiness printable, and you can download it for free!
Red Dot Horse was downloaded (for $5.00) from CanStockPhoto. I created the Love printable, and you can download it for free!
Hang Paper Lanterns
When we were in China in 2009 during the Lunar New Year celebration- there were red paper lanterns hung from every street light, and in every doorway! So we purchased these four lanterns to use in our own home during our trip. You can find similar Chinese Paper Lanterns
on Amazon!
Another idea is to make your own red lanterns and hang them over holiday LED lights as shows here on Red Ted Art! (Love this idea!)
Adorn the Doors with Couplets
It is traditional to hang Chinese couplets on your front door bearing messages for good fortune, happiness, and prosperity for the coming year.  When family members and guests pass through your door during Chinese New Year visits- your good wishes will welcome them! (We purchased ours in China as well, but you can find Chinese New Year Couplets
on Amazon!)
Create a Hong Bao Tree
Hong Bao (red envelopes) are filled with "lucky money" and given by adults to the children in the family. While my kids are all looking forward to seeing their Hong Bao placed at their seat at the table, I decided it would be fun to create a "money tree" too, just by using my hole punch to make a hole in each envelope and then hang them from this metal tree stand we already own. Of course you can do this using a tree branch propped in a tin bucket too! Hong Bao
can be found in any Asian market this time of year, or again, on Amazon!
Add Oranges to Your Table
Oranges represent luck and wealth and therefore you will find many New Years tables laden with oranges, tangerines, and clementines!
Use Silk Placemats
Red or gold silk placemats decorated with images of dragons make a beautiful addition to a dining room table!  We found ours in China, but you can purchase the same Chinese silk placemats
on Amazon (from the same manufacturer).
Create Paper Cuts
Paper cuts are a traditional and beautiful art form. We purchased some large intricate paper cuts depicting an entire village while on our trip. But you can make a simpler paper cut to celebrate the Year of the Horse using this pattern found at Craftiments!
Will you be celebrating Chinese New Year this year?