Don't just run out to the store and purchase those generic SpongeBob/Star Wars/Wonder Woman Valentines cards for your kids to hand out at school this year! I've got 3 sweet printable Valentine's cards for school that will make your kids the stars of their classrooms!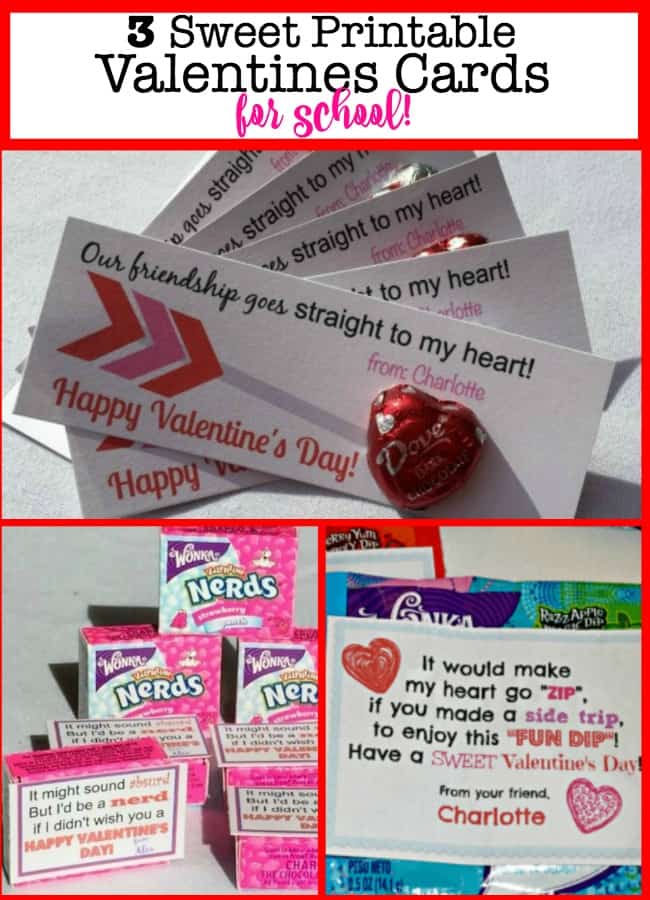 I think I might have set the bar too high around here. No sooner was I taking down the Super Bowl-themed decorations, than my kids were already asking me what I planned to create for Valentines Day. So before I headed off for this week's grocery shopping… I surveyed the crowd and asked what kind of sweet treats they might like to give out to their friends this year. And there was no unanimous decision. In fact, my daughter asked for Dove chocolate hearts (and she was quite specific about this). And my younger two asked for Nerds.
Sigh… Nerds.
You see, Santa was kind enough to place giant boxes of Nerds candy in each of the kids Christmas stockings this year. But I suppose that Santa didn't realize that virtually no child on the planet can shake out a small palmful serving of these tiny candies without spilling a small quantity onto the floor. At which point they bounce, roll, and generally make their way under every surface and into every nook and cranny in the house. I have been cleaning up these little Nerds in far greater quantity and for far longer than I have been vacuuming up pine needles left behind by the Christmas tree.
And apparently- this shall continue. Because of Valentines Day.
Oh well.
But we cannot simply gift a small box of candy to our friends at school without coming up with a cute way to do so. Perhaps an expression of friendship, a small yet clever poem would be fitting?
"It might sound absurd,
But I'd be a nerd,
if I didn't wish you a
Happy Valentine's Day!"
"Our friendship goes straight to my heart!"
Silly, but sweet right?
And you can download these free printable Valentines cards at the bottom of this post!
Supplies to Have On Hand:
Obviously, you'll need the candy of choice- either the Nerds or the Dove hearts, which can pick up at your local grocery store.
*Please note that some of the links in this post are affiliate links, which means I will make a small commission if you purchase through these links.
I also like to use cardstock
for my printables since it gives them a little more structure. And either of my home printers can print on cardstock paper without a problem. I also love to use my scrapbook paper trimmer
to quickly cut out tags with nice straight lines. And I use glue dots to secure the Dove hearts onto the cardstock.
For the Nerd boxes, I used my regular scrapbook roller adhesive
to attach the cardstock to the small box.
My kids really love this year's Valentine's cards for school…. and I am patting myself on the back for my craftiness!
Of course, you can always go with the Fun Dip printables that we created last year (included in the download below!):
Because what child doesn't love sugar on a stick served with a side of sugar?
Do you want to get these free Printable Valentines Cards?
Simply sign up below to join the MomOf6 community, and you'll be directed to a thank you page with download instructions:
Join the MomOf6 community!
You'll receive our twice-weekly newsletter via email filled with ideas and resources for busy Moms! *You can view our Privacy Policy here. To access the printable without subscribing to our newsletter, click here to send an email requesting access.
Are your kids looking forward to Valentine's Day this year?