This weekend we celebrated Chinese New Year (the Year of the Snake officially began yesterday) with a special dinner together as a family, and this year it really felt as if we have fully embraced making this holiday a true family tradition. Since I did not grow up in a household that celebrated this holiday, I don't have the experience of personal family traditions to lean on when planning my own celebration of this important holiday. But I knew that I didn't want our family's observance of this holiday to be limited only to events held by our local Chinese language school or other Chinese-American groups. These parties are great, and our family really enjoys them- but making these parties the center of our family's celebration would be like making the office holiday party the center of your family's Christmas festivities. I also knew that I didn't want to celebrate this holiday by ordering in food from the local Chinese restaurant- although the meal would be delicious- I am not the type to carry-out my Thanksgiving turkey or my Easter ham either. I knew that for this to feel like a real family celebration at our house, that I needed to learn to cook some (semi)-authentic Chinese dishes and create our own family Chinese New Year's traditions. So after a few years of trial and error, we finally have a menu, decorations, and annual traditions that feel as if they are our own.
My understanding of the most important part of the Chinese New Year holiday in China, is the gathering together of family. In China, many businesses close down for (at least the start of) the New Year's holiday, and people will travel great distances to return to their family's home village to celebrate together. Families ready their homes for the New Year by cleaning and decorating with lanterns, and couplets that hang on their doors and gates offering visitors good wishes for the coming year.
We decorate our home with Chinese lanterns during the New Year. The fifteenth (and last) day of the Chinese New Year celebration is called the Lantern Festival. Traditionally children would go out at night carrying the paper lanterns, and would solve riddles on the lanterns.We set the table with beautiful gold silk place-mats (embroidered with dragons, a symbol of power, strength, and good luck) and red glass plates (red symbolizes happiness, good fortune, and joy). Oranges are served to represent good fortune for the New Year. We serve noodles which represent longevity- and ideally you eat them without cutting into them (not so easy for kids!).
This year I decorated our mantle with some printables I designed to celebrate the New Year. The snake picture on the left is actually a picture of a special commemorative stamp released in China this year. The two on the right are Chinese characters to represent happiness and love- both are wishes I have for my family this year.
You can click on any of these images and then print a copy for your own celebration!
8 x 10 Year of the Snake: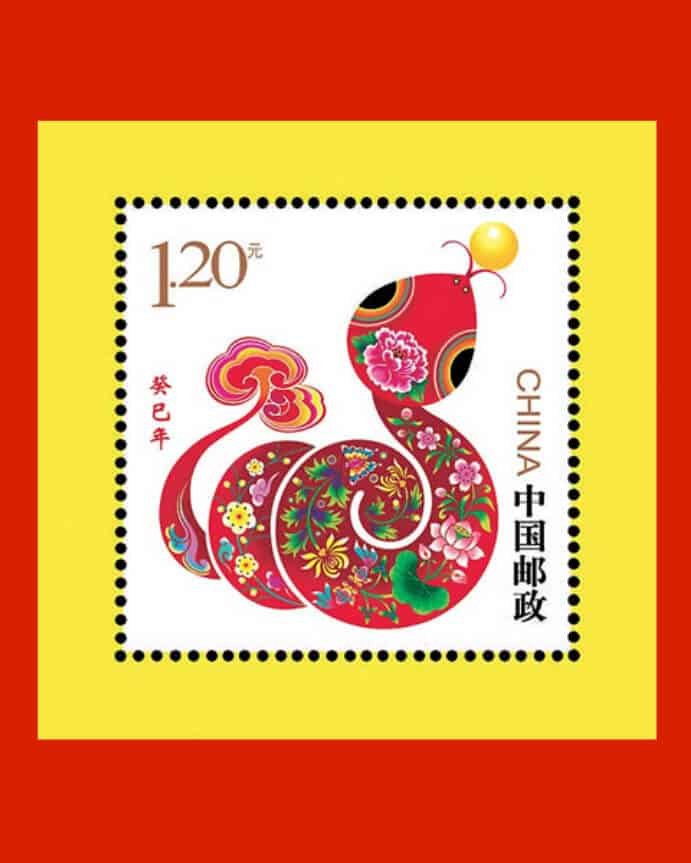 5 x 7 Love:
5 x 7 Double Happiness:
Our favorite tradition is to make dumplings together. I first prepare the pork filling, and then the kids and I fill the dumpling wrappers (I use store-bought wrappers) and pinch the ends together. We store them under damp paper towels until it is time to pan fry them.
Chinese Dumplings (Jiaozi)
Adapted from a recipe given to me by some wonderful ladies who have conducted a dumpling-making workshop at our FCC CNY party for several years)
The Filling:
1 lb. ground pork 4 large Napa cabbage leaves, minced 3 stalks of green onion, minced 7 shitake mushrooms, minced 1/4 cup of ginger root, minced 3 T soy sauce 2 T sesame oil 2 T cornstarch
Mix together well.  It is possible to prepare the filling ahead of time and freeze it.  Defrost before preparing the dumplings.
Wrapping the dumplings:
Put a small spoonful of filling into the center of the wrapper.  Pour a 1/4 cup water mixed with 1 teaspoon of cornstarch into a shallow dish and dip your finger into the starchy water to moisten the outer edge of the wrapper (all around the circular edge).  Fold the wrapper in half, creating a semi-circle with the filling inside, and gently pinch the edges of the wrapper together, sealing them completely.  Gather the sealed edges and pleat them together to form the edge of the dumpling.
To Pan Fry:
Heat 1-2 tablespoons of oil in a skillet. Once hot (but not smoking) add your dumplings to the pan, smooth side down, and cook for a few minutes until the bottom turns golden brown. Add about 1/4 cup of water to the skillet, cover with a lid, and steam the dumplings for 4-5 minutes to cook the filling. Remove the lid and cook for another 2-3 minutes until all of the water has cooked off.
Dipping Sauce:
We mix together some rice vinegar and sesame oil with soy sauce, and a little Asian hot sauce for those that like a little heat.
After dinner we allowed our kids to open their Hong Bao (red envelopes) filled with "lucky money"! In China it is tradition for parents and even grandparents to give children gifts of lucky money for Chinese New Year, and it is no surprise that my kids love to practice this tradition at home!
But the best part of the evening for me was when my younger daughter was digging into her plate of dumplings and I heard her say to herself, "I just love Chinese New Year". And I thought, me too, Lili, me too.
Do you celebrate Chinese New Year with your family?
And to stay up to date on the latest tips and ideas from Momof6, please Like the Momof6 Facebook page!