I have been wanting to find a beautiful way to display my past holiday cards of my own family for years now. I display cards we receive this way….
But I wanted to come up with a way to display the cards we've sent- and to enjoy looking back on how my kids have grown and how our family has changed from year to year. At first I considered framing all of them…. but I didn't want to hang them on a wall- and our mantles and table tops are already overlfowing. And then I came across this beautiful set of printables from Chicakbug that you can download for free if you sign up for one of my favorite blogs' mailing list: HowDoesShe! And ta-da…. I was inspired!
I dug through my boxes and boxes of pictures and cards to see if I could locate a copy of every holiday card we have sent… but I was missing a few of them. Fortunately I have created most of my holiday cards on Shutterfly, and I was able to log in and see all of my old cards (filed under "projects"). Unfortunately I was unable to print new copies of my old cards- the cards themselves have been discontinued. So I instead I did some "screen grabs" to capture the image and then printed the photos along with the different banner pages. I then cut them out and glued them together along with the year "buttons". I just love how they turned out!
My kids are as in love with this display as I am…. they talk about the cards that they remember and marvel at the ones where they were so little. I know that adding to our banner will become an annual holiday tradition that my kids will look forward to each year- just as they do when we are unpacking our special holiday ornaments for the tree!
Family Video… a Year in Review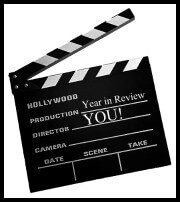 One other way I plan to create a memory for my family is to once again create our annual year in review using videos and pictures that I have taken of our family throughout the year, set to music that was popular during the last 12 months. I create my video using Apple's iMovie, but you can also use Window's Movie Maker to do the same thing. This is a project that takes some time to create, but I love having this as a family keepsake for the year.
Are you going to create a holiday memory this holiday season? Please leave a comment here below, or link up if you've decided to join me for our Getting Ready for the Holidays "Blog Party"!


This post is linked up to: