There's nothing better than kicking off the holiday season with some candy-coated cookies and candy, right? Halloween bark is just a way to warm up the sweet tooth for all of the decadence that will be coming our way! I know- it IS kind of crazy to gear up for a candy-filled holiday by making even more treats involving candy…. but for our family who has missed out on Halloween the past two years due to Mother Nature (I'm looking at you Hurricane Sandy and massive snowstorm in 2011!), we're not taking any chances. Better to sugar-up now… just in case we have to miss the entire event once again!
So sad that this awesome costume was never even worn to our neighbors' homes on Halloween Night:
Or this one…
Halloween Bark!
This recipe is so incredibly simple- it is almost not even a recipe- but just a gathering together of deliciousness. And you can easily whip up a batch and divvy it up into serving bags for school parties, or a scout meeting, or just to eat while hiding under the covers watching the latest episode of "Homeland" (no judging!)
1 package of Oreos (if you can find the Halloween ones with the orange filling- even better!) 1 package of Brach's Candy Corn 1 24-oz package of white chocolate morsels
Place the Oreos into a gallon-sized ziplock bag, and using a rolling pin, crush up those babies into small chunks. You don't want them to be smashed into crumbs- you are really striving for small chunks here. Pour the Oreos into a large mixing bowl and add your package of candy corn. Stir it up. Resist the urge to steal bites just to make sure the "everything is fresh".
Next you want to melt your white chocolate morsels. The easiest way to is to pour them into a microwave-safe bowl, and heat them on high for 1 1/2 minutes.
Now when they come out, they'll look like you haven't even warmed them up. Ignore the way it looks- and give it a good stir.
And soon it will look like this- return the bowl to the microwave and heat for another 1 to 1 1/2 minutes.
Again- it won't look all melty until you start to stir. Just keep stirring until the chocolate melts and is smooth. Resist the temptation to dip in your finger. (Or try to, anyway).
Pour the mixture onto a rimmed cookie sheet that has been covered in non-stick foil. Allow the bark to set up in the fridge for 30-45 minutes. Then break into bite-sized pieces. They will resemble weird looking moon-rocks. Call it "Monster Mash". And if the kids think it still looks too strange to eat- then pat yourself on the back… your evil plan worked and you can enjoy the whole batch to yourself!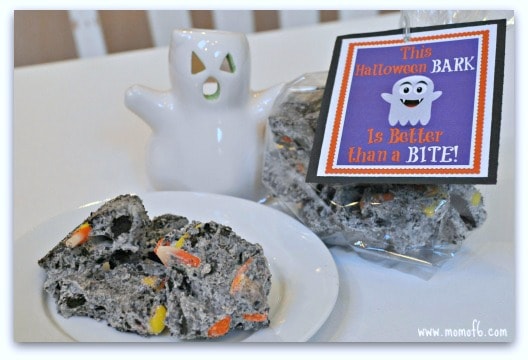 Just in case you do decide to share…. here is a cute printable tag for you to include on the package….
Right click on the image to open in a new window, or you can click here to open.
Okay- I would love to hear what everyone in your family is going to be for Halloween this year? Please leave a comment and share!