I once had a girlfriend tell me about a holiday tradition in her family. Each year when it came time to decorate the Christmas tree, the grown-ups would mix together a little holiday cheer in a tall glass and sip it while stringing the lights, helping the kids hang ornaments, and adding the final touches of garland. Holiday music would play in the background, and afterwards they would turn out the lights in the room, leaving only the tree to twinkle, and watch one of the Christmas specials on TV. How picture perfect does that sound to you? It always sounded lovely to me! Especially when she told me that the adult beverage they enjoyed was Baileys…. served with the richest most decadent vanilla ice cream they could find! In her case, they would blend together the Baileys and ice cream and turn it into a shake, which they would savor through tall straws all evening long…
It's been years since she shared that tradition with me… but I have never forgotten it. And when I came across a recipe for homemade Baileys a few weeks ago- I decided it was time to give this tradition a try!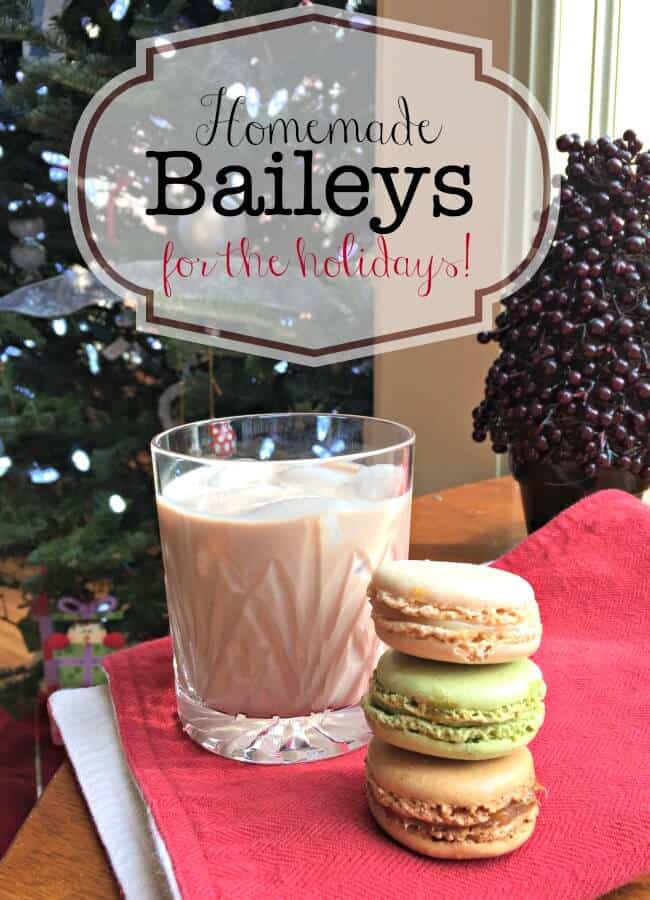 If you've never had Baileys before- think of it as a creamy, chocolatey, rich, yet boozy beverage. It should be served cold- over ice… or as I mentioned earlier….
Even over scoops of vanilla ice cream. Don't blend it all together as my friend did- instead sip the Baileys through a straw and use a spoon to dip into the cold ice cream. Hang a few ornaments… take a few sips…. throw a little tinsel…. take a few sips…..
Homemade Baileys
2015-12-03 19:43:29
So creamy and decadent. You'll never want to buy it from the store again!
Ingredients
1 cup heavy whipping cream
1 can (14 oz) sweetened condensed milk
1 2/3 cup Irish whiskey
1 teaspoon instant coffee
3 tablespoons chocolate syrup
1 1/2 teaspoons vanilla
3/4 teaspoon almond extract
Instructions
Add all of the ingredients to your blender, and blend on high speed for 30 seconds.
Pour over ice or ice cream and serve.
Store in the refrigerator. Will keep up until the expiration date on the cream you used.
MomOf6 https://www.momof6.com/
I bet it will even taste great as we take the tree down in January…. box up a few ornaments…. take a few sips….. remove a string of lights…. take a few sips…..
Enjoy!