This isn't as much a recipe- as it is a "technique"… and I will be the first to admit, that rainbow cupcakes take a lot longer than regular cupcakes to make…. but the WOW factor is HUGE! And when you are celebrating a holiday and a birthday all wrapped up in one (as my daughter Charlotte is today!)… these are the perfect treats to send in to school! Or to enjoy with your kids for dessert on this fun day!
It all starts with the batter! I used two regular white cake mixes from the store, prepared the batter according to the package instructions, but also added a large dollop of vanilla yogurt when mixing the batter. The acid in the yogurt makes the colors pop!
I poured the batter equally into six bowls and created my ROYGBV colors using Wilton icing colors
which give the batter such a deep rich color! (*Amazon affiliate link)
The hard part is not putting too much of one color into a muffin tin. I used a teaspoon to drop the colors into the cupcake liner, and then lightly "dropped" the entire pan into the counter a few times to get the layers to settle and spread out. Even though two boxes of cake mix should produce 48 cupcakes, I only stretched the layers as far as 36 cupcakes.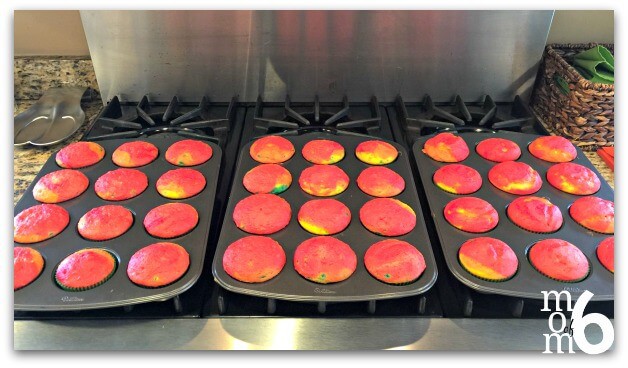 Don't they look amazing after baking?
You can see little peeks of color through the top layer… but that's okay because we will be covering them in creamy frosting!
I used my favorite frosting recipe (see below), and piped the frosting onto the cupcakes using a piping bag without a tip (that's how you get this fluffy/puffy look) and sprinkled them with just a bit of green sanding sugar.
I love how the rainbow layers are revealed when the kids peel back the wrapper!
And the rainbow surprise when they bite into it!
Sure- layering the batter colors takes a bit longer than baking regular old cupcakes…. but c'mon…. how cool do they look?
Creamy Cupcake Frosting
2015-03-17 06:21:50
Ingredients
2 cups shortening
1 2-lb. bag of powdered sugar
1 teaspoon vanilla extract
1/2 teaspoon butter extract
1/2 teaspoon almond extract
4 tablespoons of milk (or more to thin)
Instructions
Whip together in an electric mixer until light and fluffy!
MomOf6 https://www.momof6.com/
Are you game to try this rainbow cupcakes technique?