I love to have a few games organized that we can play when our extended family gets together for Christmas! And these free Christmas charades cards can be printed and played in several different ways!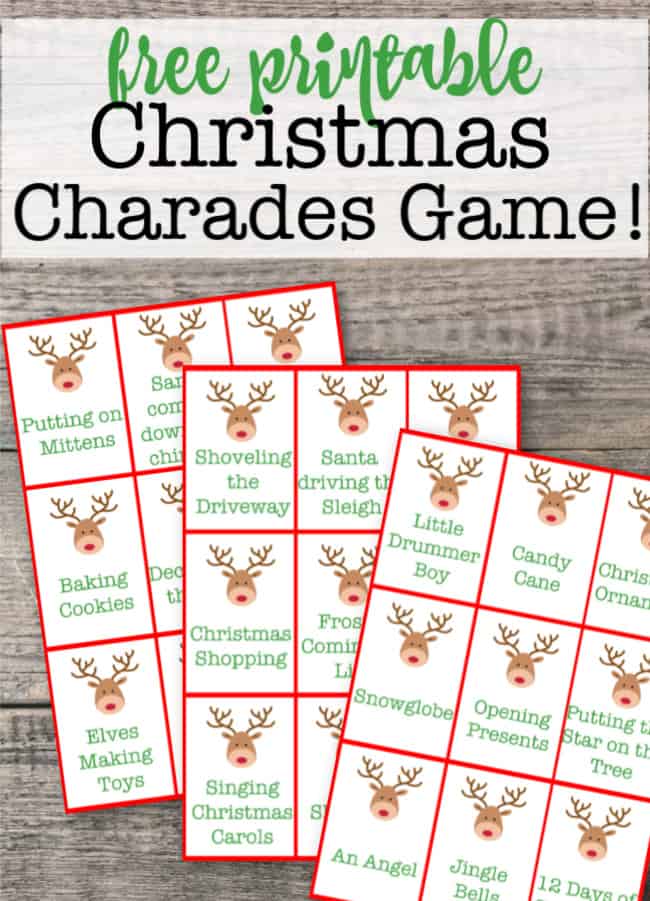 This set of free printable cards comes with 27 different Christmas-related objects or phases. After you print the cards and cut them out (I like to use my scrapbook paper cutter for this), you can play the game in one of several ways:
Christmas Charades Game: Options for Play
Charades-Style:
Divide players into two teams. Each team takes turns having one team member (the actor) take a card from the face-down pile, and read what's on the card. The actor then has to act out the words on the card without speaking, using lip movements or pointing at objects in the room- until the rest of the team can guess the object or phrase.
Teams take turns acting out what is written on the cards- but within a team, the actor needs to change with each round, and all members need to have a turn to act.
You can play this Christmas game charades-style by timing how long it takes each team to guess what was on each card- and summing the accumulated time across all cards played. The fastest team in the winner! (You might want to set a limit of 2-3 minutes as the maximum time per card).
Heads Up! (also known as Head Bandz) Style:
This version of the game is best played in pairs. Players place an elastic headband on their heads (wearing it across the forehead and around the back of the head), and slip a game card into the headband facing out- without seeing what is printed on the card. (Print the cards on white cardstock so that you can't accidentally see thru the card when you pick it up).
Their partner has to either act out what is on the card (with no words or lip movements), or the game can be played where the partner has to describe what's on the card- only using words and without any gestures. You cannot use a rhyming word to describe the word on the card.
Once the partner guesses the word, the roles are reversed. If pairs are playing as teams against other teams, you can give each team a stack of cards and the team that completes their stack first wins!
Would You Like to Download this Free Printable Christmas Charades Game?
Awesome! Simply sign up below to join the MomOf6 community, and you'll be directed to a thank you page with access instructions!
*You can view our Privacy Policy here. To access the printable without subscribing to our newsletter, click here to send an email requesting access.
Looking for Some More Christmas Ideas?
Does your family love to play holiday games?