Is it a side dish or is it a dessert? It can be hard to decide! But if you are looking for a fabulous dish for your holiday table or need to find something to take along to a family get-together…. I promise you that this sweet potato torte recipe is one everyone will be talking about for a long time!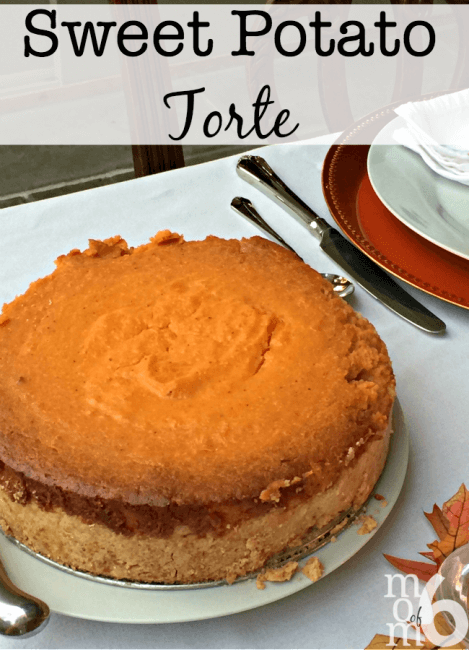 The crust is made in the food processor, and has a tangy bite to it due the small amount of vinegar in the dough.
The sweet potatoes are cooked in the microwave, and once cooled, the flesh is scraped into a large mixing bowl and mashed (kids can help with this step- with or without glittery orange nail polish!)
The torte is assembled in a springform pan- with the dough pressed into the bottom and up the sides of the pan to seal.
And then baked in the oven until the edges are golden brown and the center is just set.
Sweet Potato Torte
2015-12-20 18:53:20
An amazing and impressive side dish, that almost counts as a dessert!
For the Crust
2 cups all purpose flour
1 Tablespoon sugar
3/4 teaspoon salt
3/4 cup shortening, cut into 1 inch cubes
2 Tablespoons (or more) of ice water
2 Tablespoons vegetable oil
1 large egg yolk
1 1/2 teaspoons white vinegar
For the Filling
4 large sweet potatoes
2 14-oz cans sweetened condensed milk
1/2 cup sugar
6 Tablespoons butter, melted
1/4 cup honey
2 large eggs
2 Tablespoons maple syrup (the real stuff!)
1 teaspoon ground nutmeg
1 teaspoon salt
1 teaspoon vanilla extract
For the Crust
In a food processor, combine flour, sugar, and salt, and blend for 10 seconds. Add the cubed shortening and process using on/off pulses until mixture resembles large crumbs.
In a small bowl, whisk together 2 Tablespoons ice water, egg yolk, oil, and white vinegar. Add liquid mixture to food processor and blend using on/off pulses until dough comes together in large moist clumps. (Add more ice water if dough is too dry).
Gather dough into a ball, flatten to a disk, and wrap in plastic wrap. Chill for at least an hour and up to a day.
For the Filling
Cook the sweet potatoes until tender in the microwave, piercing them first to allow steam to escape. (I cook them on high for 10 minutes and then test for squishy-ness, adding two additional minutes of cooking time until they are done). Allow to cool.
Scape cooked potato flesh into a large bowl and mash until smooth. Measure 3 cups of mashed sweet potatoes for use in the torte.
Add all remaining ingredients to the mashed sweet potatoes and beat until the filling is smooth.
Preheat oven to 375 degrees. Place disk of dough into a 9" springform pan. Using your fingers, press dough into the bottom and up the sides of the pan, pressing seams together to seal.
Add filling to springform pan and bake for 90 minutes, or until the torte is brown at the edges and the center is just set. Allow to cool for 45 minutes before serving.
Adapted from Bon Appetite
Adapted from Bon Appetite
MomOf6 https://www.momof6.com/
This sweet potato torte recipe is delicious served alongside a beef roast, a ham, or turkey- it will be a hit at the table!