I love to make a meal out of several different kinds of appetizers… put them all out buffet-style with a stack of small white plates and allow everyone to take a bit of this and a bit of that to make a design-your-own dinner. And one of my favorite appetizers and these little meatballs served in a tasty tangy sauce! Hmmm… maybe appetizer night should be a regularly scheduled thing at our house!
Sweet and Sour Meatballs
For the Meatballs:
1 lb. hamburger 1/2 lb ground pork 1 cup of fresh or dried breadcrumbs 2 tablespoons butter, melted 1 egg 1 1/2 teaspoon salt 1/2 cup milk 2 tablespoons sugar 1/2 teaspoon allspice 1/2 tablespoon nutmeg
Mix all of the above ingredients together, and then form meatballs.
Place on a rimmed cookie sheet lines with non-stick foil and bake at 350 degrees for 10-15 minutes.
For the Sweet and Sour Sauce:
1 minced onion 1 clove garlic 1 tablespoon butter 1 cup ketchup 1 cup water 1 teaspoon dry mustard 1/4 cup lemon juice 2 tablespoons brown sugar 1 teaspoon salt 1 teaspoon chili powder
Saute onion and garlic in butter. Add remaining ingredients and summer for 15 minutes.
Add meatballs and simmer for an additional 15 minutes.
Menu planning is just one tool that I use to keep my family organized! And if you aren't menu planning each week…. maybe you should be!
This recipe is part of our Menu Plan Monday series, where I will be linking up Org Junkie's Menu Plan Monday post.
Here's what my family will be dining on this week:
Monday: Easy Weeknight Quesadillas
Tuesday: Homemade Lasagna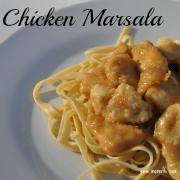 Wednesday: Chicken Marsala
Thursday: Beef, Tomato, and Cornbread Bake
Friday: Chicken in Brown Sauce
Saturday: Family Fun Night (the kids get to pick!)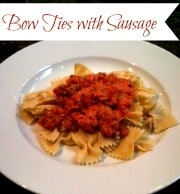 Sunday: Bow Tie Pasta with Sausage
What's on your meal plan for the week? Please leave a comment below- and share links to your favorite recipes!