CopyCat Pizza Hut Pan Pizza Recipe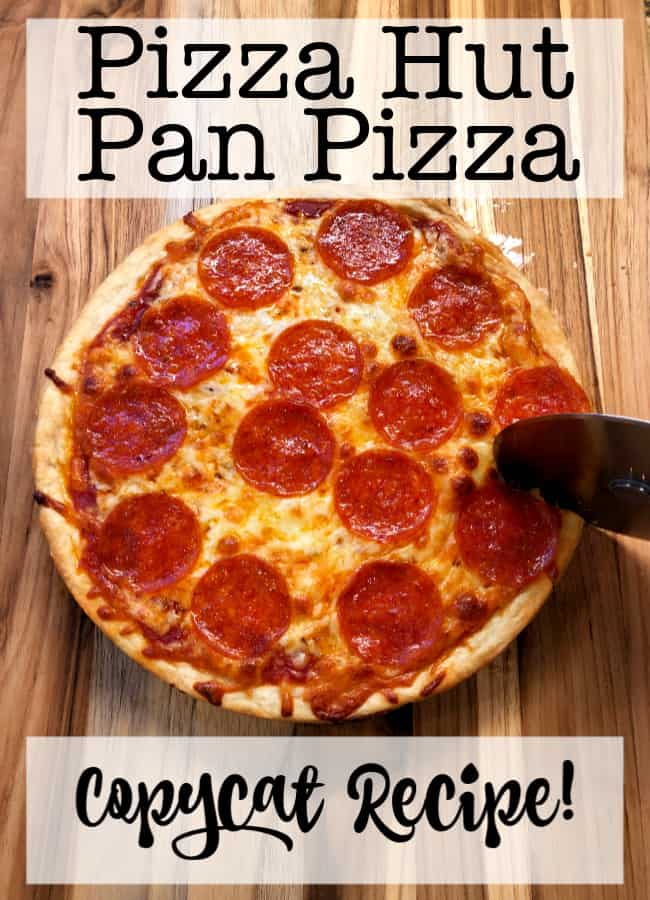 1⅓ cup warm water (105 degrees F)
¼ cup non-fat dry milk
½ teaspoon salt
4 cups flour
1 Tablespoon sugar
1 package dry yeast
2 Tablespoons olive oil (for dough)
6 Tablespoons olive oil (divided between the pans)
1 jar of tomato sauce
1 teaspoon oregano
½ teaspoon marjoram
½ teaspoon basil
½ teaspoon garlic salt
Mix yeast, sugar, salt, and dry milk in a large bowl. Add water and stir to mix well. Allow the mixture to sit for two minutes until the yeast appears frothy.
Add 2 T olive oil and stir again. Add flour and stir until dough forms and flour is absorbed.
Turn out on to a flat surface and knead for about 10 minutes until the dough is "silky". Divide dough into three balls.
In three 9″ cake pans, put 2 oz. of olive oil in each making sure it is spread evenly. Using a rolling pin, roll out each dough ball to about a 9″ circle. Place dough in cake pans.
Place a plate over each pan (to hold the heat in), and put the pans in a warm place to rise for an hour (I usually put mine in an oven that I turned to warm for 10 minutes and then turned off so I that I heated it slightly).
Meanwhile- make the sauce. Empty out a bit of sauce from the jar and add in the spices. Stir to mix, replace the top and shake the jar to mix completely.
After the dough has risen, you can use your fingers to press down the center and shape the dough a bit, and then add your doctored-up sauce and pizza toppings. Bake at 400 degrees for 20 minutes or until the cheese is bubbling and the pizza crust is brown.
Recipe by
MomOf6
at https://www.momof6.com/food-kids-will-eat/copycat-pizza-hut-pan-pizza-recipe/