Homemade Chewy Dried Cherry Biscotti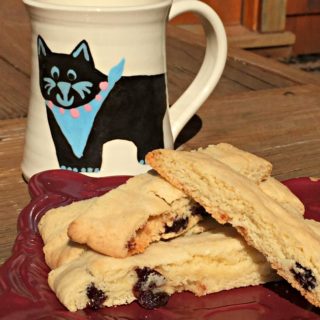 2½ cups all-purpose flour
1 teaspoon baking powder
½ teaspoon salt
1½ cups sugar
1 stick unsalted butter, room temperature
2 large eggs
½ teaspoon almond extract
1½ cups dried cherries
Preheat your oven to 350 degrees.
Line a heavy rimmed baking sheet with parchment paper.
Mix together the flour, baking powder, and salt, and set aside.
Using your mixer, beat together the sugar, butter, eggs, and almond extract until light and fluffy. Mix in the flour mixture and then the dried cherries.
From dough into 2 long logs- the length of the baking sheet, about 2½" wide and 1" tall. Bake until golden brown, about 35 minutes. Allow the logs to cool for 20-30 minutes (but don't turn off the oven).
Slice the logs into 1½" wide slices. Turn each slice into its side, cut side up and return to the oven for 5-10 minutes to crisp just a bit.
Allow to fully cool before serving.
Recipe by
MomOf6
at https://www.momof6.com/food-kids-will-eat/homemade-chewy-dried-cherry-biscotti-recipe/