Roasted Chicken with Maple Soy Gravy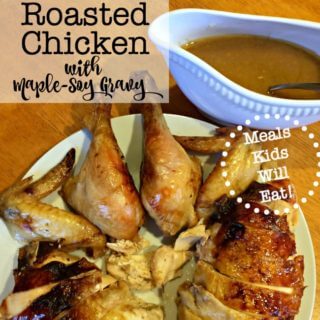 ¼ cup of pure maple syrup (note: not the fake pancake stuff- the real stuff!)
1 Tablespoon of soy sauce
1 Tablespoon of rice vinegar
½ teaspoon of hot pepper sauce (like Tobasco)
¼ stick of butter, softened
1 teaspoon of minced garlic
1 teaspoon of minced ginger
salt and pepper
½ orange
½ cup Sherry
1 T vegetable oil
chicken neck and giblets
3 whole carrots, broken into 2-3 pieces each
3 stalks of celery, broken into 2-3 pieces each
1 large Spanish onion, quartered
1 bay leaf
4 T flour
3 T vegetable oil
Preheat your oven to 375 degrees.
Prepare the maple-soy glaze by whisking the maple syrup, soy sauce, rice vinegar, and hot sauce in a small bowl. Set aside.
Prepare the chicken for roasting- by removing all packaging and set aside the neck and giblets, which we will use for the gravy. Rinse the chicken well in the sink, pat dry with paper towels, and place it breast-up in a roasting pan. Run hands under the chicken skin to loosen it.
Combine the butter, garlic, and ginger into a "paste" and spread the mixture under the skin, over the breast and thighs. Sprinkle your chicken with salt and pepper.
Cut ½ orange into 4 pieces. Squeeze some of the juice from the orange pieces over the chicken, then place the slices inside of the cavity. Pour the ½ cup Sherry over the top of the chicken. Place inside the oven and roast for 20 minutes.
Add ½ cup of water to the pan and continue roasting until the internal temperature reaches 170 degrees in the thickest part of the thigh (I prefer to use a meat thermometer vs. the pop-up thingy that comes in the chicken).
Every 20 minutes or so, baste the chicken with the maple-soy glaze.
When the chicken has reached the correct internal temperature (170 degrees), remove it from the oven and then place a sheet of foil on top and allow it to rest for 10 minutes. This will give it a chance to re-absorb the juices before you carve it, allowing for a much moister chicken.
First, make the chicken stock- add one tablespoon of vegetable oil to a large and heat until hot. Add the turkey neck and giblets and brown for 8-10 minutes. Add the carrots, celery, onion, and bay leaf.
Allow that to simmer on the stove for 5 minutes and then add 6 cups of water. Simmer at a slow boil until the liquid is reduced by half. Strain and discard the solids. After the chicken has finished cooking and been removed from the roasting pan, pour the drippings into a grease separator and set aside.
In a large saucepan, add four tablespoons of flour to three tablespoons of vegetable oil and whisk together over medium-low heat for 5-8 minutes until the flour is aromatic. Add in ½ cup (or so) of the chicken stock and whisk until smooth, add in ½ cup (or so) of grease-eliminated chicken-drippings. Continue to add chicken stock and drippings until you achieve the desired consistency for your gravy. Season with salt and pepper.
Recipe by
MomOf6
at https://www.momof6.com/food-kids-will-eat/roasted-maple-soy-chicken/