Homemade Lasagna That Kids Will Love!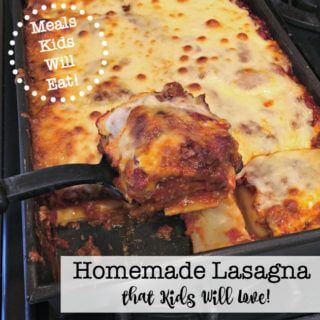 2 tablespoons of olive oil
1 medium onion, finely chopped
2 cloves of crushed garlic
½ teaspoons of dried parsley
1 pound of ground beef (lean)
½ pound of ground pork
35 oz. can of crushed tomatoes
12 oz. can of tomato paste
1 teaspoon dried basil leaves
2 teaspoons dried oregano
2 teaspoons of salt
½ teaspoon of ground pepper
2 tablespoons of sugar
1 box of lasagna noodles (about 16- 18 pieces)
1½ pounds of thinly sliced mozzarella cheese (or feel free to use shredded)
1 lb ricotta cheese
5 oz. freshly grated parmesan cheese
homemade lasagna meat sauce (above)
Heat 2 tablespoons of olive oil in a large deep pot. Sauté the chopped onion, garlic, and dried parsley until the onion is tender and starting to caramelize about 7-8 minutes.
After the onion has been caramelized, add in the beef and pork, cooking until it is well browned and then drain off any excess grease.
Add all of the remaining ingredients and stir. Bring the sauce to a boil and reduce heat to a very low simmer. Cover and cook for 3 -4 hours.
Preheat your oven to 350°. Prepare your lasagna noodles according to the package directions. Drain them under cool water so that they are easy to handle.
Prepare your lasagna pan (I prefer to use a 13 x 9″ baking pan) by adding a little bit of the meat sauce to the bottom of the pan so that the noodles will not stick.
Layer 3 noodles side-by-side in the 13 x 9″ pan, add spread a generous amount of ricotta cheese over the noodles. Next, add a nice layer of the meat sauce on top, and then add a layer of sliced or shredded mozzarella cheese.
Repeat the steps- adding layers of noodles, meat sauce, and cheese until your lasagna reaches the top of the pan. As you get to the final layers it will likely be necessary to add four noodles side-by-side across the top, overlapping slightly in order to span the width of the pan.
Cover the pan with aluminum foil and bake at 350° for 45 to 50 minutes. I like to remove the foil during the last 10 minutes of cooking to brown the cheese on the top layer nicely. Allow the lasagna to stand for 10 -15 minutes before serving, and even once you have cut into it and placed it on the kids' plates, be sure that it is not too hot for them to eat.
Recipe by
MomOf6
at https://www.momof6.com/food-kids-will-eat/homemade-lasagna-kids-will-love-menu-plan-monday/