Pink Velvet Cookies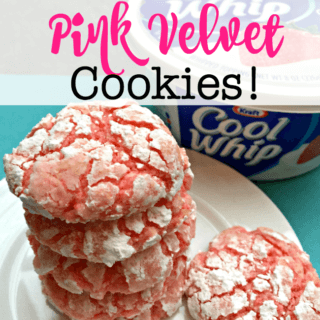 1 box of pink velvet cake mix
1 8 oz. tub of Cool Whip
1 egg
powdered sugar (for coating)
Add the cake mix, Cool Whip, and egg to a mixing bowl and stir together for a few minutes. You'll notice that the cookie dough is VERY sticky. So you will want to chill it for an hour or two prior to preparing the cookies for the oven!
After the dough is thoroughly chilled, roll small balls of the dough between your palms to form the cookie, then drop into powdered sugar and coat completely before placing onto parchment paper-covered cookie sheets. (So fun to do this step with the kids!)
Bake in a preheated 375-degree oven for 10-12 minutes until the edges are golden brown.
Allow to cool for 5 minutes before serving!