Homemade Cheese Blintzes with Berry Compote Topping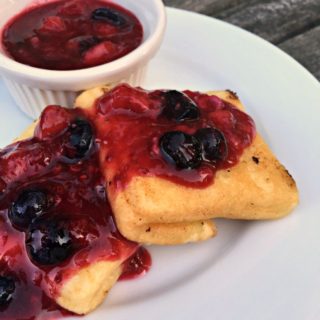 *For the Berry Topping:
1 12-oz. bag of frozen mixed berries
¼ cup sugar
2 teaspoons cornstarch
*For the Cheese Filling:
1 lb container of non-fat cottage cheese
⅓ cup sugar
1 large egg
pinch of salt
*For the Crepes:
1½ cups water
3 large eggs
1½ cups of flour
1 tablespoon sugar
¾ teaspoon salt
*Prepare the Berry Topping:
Combine frozen berries and sugar in a bowl and allow to stand at room temperature until berries defrost, stirring occasionally- about 1½ hours.
Strain berry mixture, collecting the juices over a saucepan, and set the berries aside in a bowl. Whisk juices over medium heat while slowing sprinkling in the cornstarch until smooth. Allow the syrup to boil and thicken, about 3-4 minutes.
Remove from heat and cool for 20 minutes before pouring the syrup over the berries.
*Prepare the Cheese Filling:
You'll need to remove some of the liquid from the cottage cheese so that your blintzes don't get soggy and fall apart while cooking. To do that, pour the contents of the cottage cheese container into a clean kitchen towel, gather it up and then squeeze the ball of cottage cheese to remove the excess moisture.
Do this several times and then unfold the towel and scrape the cheese into the bowl of a food processor.
Add the remaining ingredients and blend until smooth, scraping the sides of the bowl occasionally. Set aside.
*Prepare the Crepes;
Combine all of the ingredients in a blender.
Blend on low speed until smooth, stopping to scrape down the sides of the blender occasionally. Brush a 10″ non-stick skillet with a bit of vegetable oil and place over medium-high leat. Add ¼ cup of crepe batter to the pan, and swirl it around gently to spread the batter into a thin disk.
Cook until the bottom of the crepe is just starting to turn golden brown, and the top of the crepe shows air bubbles. Remove the crepe from the pan and allow to cool on the kitchen counter while you finish preparing the remaining crepes. If you need to stack the crepes, be sure to place a paper towel between them so that they won't stick together!
*Assembly and Cooking of Blintzes:
Please one crepe on the counter, cooked side up. Add ¼ cup of cheese filling in the lower third of the crepe, then fold the bottom of the crepe up and over the filling. Next, fold in the sides and then fold the top over, forming a small rectangular "container" for the cheese filling. Continue to build all of your blintzes on the counter, allowing them to rest seam-side down.
Add enough vegetable oil to a nonstick skillet to just cover the bottom and heat over medium-high heat until a drop of water added to the oil sizzles. Place 4-5 blintzes in the pan, seam side down, (allowing for enough room so they do not touch) and cook until golden brown, about 4-5 minutes. Carefully turn the blintz over and continue cooking until the top is golden brown as well- another 2-3 minutes. Remove from pan and place on a paper towel to drain and cool for 5 minutes.
Serve blintzes with a generous helping of the berry topping and enjoy!
Recipe by
MomOf6
at https://www.momof6.com/food-kids-will-eat/cheese-blintzes-with-fruit-compote/