Scottish Oatmeal Bars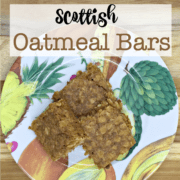 1¼ cup all-purpose flour
1 teaspoon baking soda
½ teaspoon salt
½ teaspoon cinnamon
2 sticks of softened butter
¾ cup sugar
¾ cup packed brown sugar
2 eggs
1 teaspoon vanilla extract
3 cups Quaker Oats
Preheat your oven to 375°.
In a small bowl mix together the flour, baking soda, cinnamon, and salt. Set aside.
Beat together (using your mixer) the butter and sugars until fluffy. Add in eggs and vanilla to combine. Slowly add in dry ingredients until fully mixed.
Add in the 3 cups of Quaker Oats and mix.
Press dough into a parchment-lined baking sheet.
Bake for 20-25 minutes until bars are set.
Allow to cool completely before cutting.