Pork Carnitas Recipe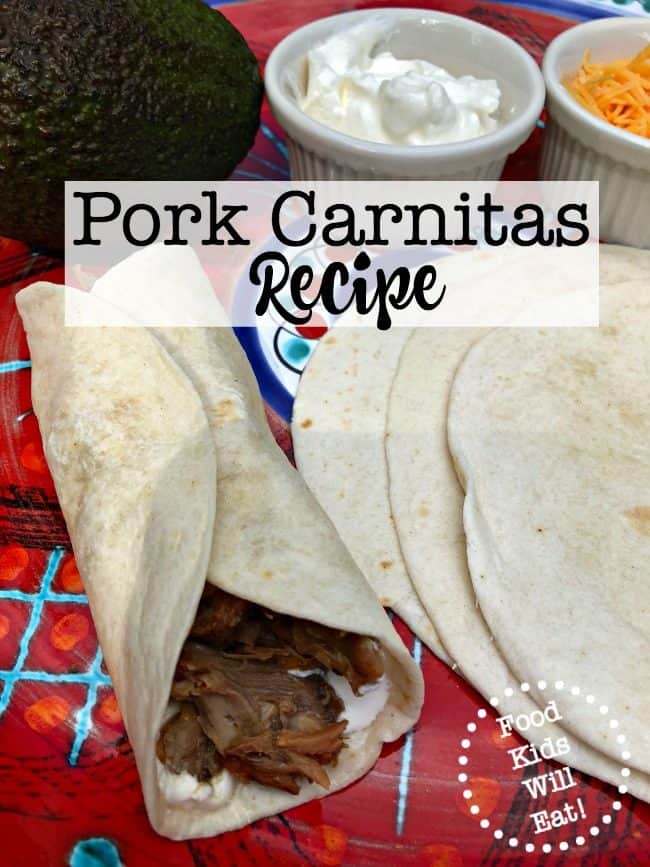 5 lbs. pork butt (I usually buy picnic style)
1 onion, chopped
1 teaspoon salt
1 teaspoon pepper
4 cloves of garlic, minced
¾ cup orange juice
olive oil for "crisping"
For the rub:
1 Tablespoon dried oregano
2 teaspoons ground cumin
1 Tablespoon of olive oil
Prepare the rub by mixing together the oregano, cumin, and olive oil in a small bowl. Rub it all outside of the pork butt. Sprinkle on the salt and pepper on top of the rub, and place pork butt into the crockpot with the fat cap on top.
Top with the chopped onion and minced garlic, and drizzle the orange juice over that.
Cook on high for 6 hours, followed by low for another 2-3 hours.
The meat should be very tender and falling off the bone. Remove the pork butt and place onto a cutting board (ideally one with a lip to catch the juices). Shred the meat with two forks- discarding any bones and fatty pieces.
Pour the juices from the cutting board as well as the crockpot into a gravy separator and allow it to settle.
Right before serving, heat 1 tablespoon of olive oil in a large non-stick pan over medium-high heat. Add shredded pork into the pan, and drizzle the separated pan juices on top to cover the bottom of the pan.
Allow the meat to simmer in the liquid until the juices are evaporated, and the bottom of the beat becomes golden brown and crispy. Using a spatula, flip over the shredded pork to lightly crisp the other side. Ideally, you'll want a mixture of both tender and crispy bits of pork.
Repeat this "crisping process" in batches until all of the meat and has been simmered in juices.
Serve the shredded pork on a tortilla along with sour cream, salsa, shredded cheese, and diced avocado.