Homemade Bagels Recipe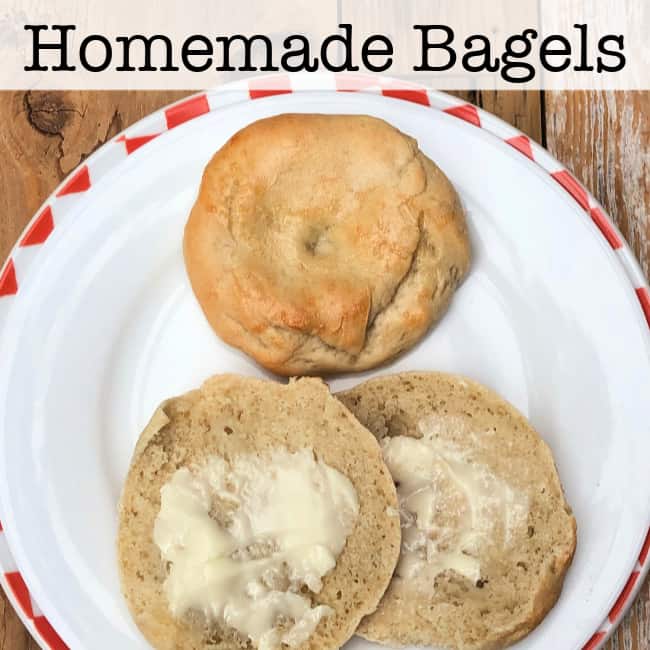 1 cup warm water
3 cups of bread flour
5 T white sugar, divided
1½ tsp. salt
2¼ tsp active dry yeast
white from one egg
cornmeal
Dissolve the yeast, salt, and 2T sugar in the warm water, and allow to sit for a few minutes until frothy.
Mix in the flour until incorporated, then turn out the dough and knead until silky and smooth.
Return the dough to the bowl to rise for 1-2 hours in a warm spot.
After the dough has completed its first rise, divide it into 8-9 pieces.
Flatten the pieces into disks and then using your finger, poke a hole in the center.
Place them on a floured surface, spacing them apart a bit, cover them with a kitchen towel and allow them to rise for an hour.
To begin cooking the bagels, dissolve 3 tablespoons of sugar into a big pot of boiling water, and then place 4-5 bagels in the pot for just one minute, turning them over after 30 seconds.
Using a slotted spoon or tongs, remove the bagels from the water and place them on a kitchen towel to drain.
Place the bagels on a cookie sheet that is liberally dusted with cornmeal, and brush the top of each bagel with an egg white wash (which is just an egg white in a bowl that has been beaten with a fork until frothy).
Bake the bagels at 375 degrees for 20 minutes.