Mini Crab Cakes with Basil Mayonnaise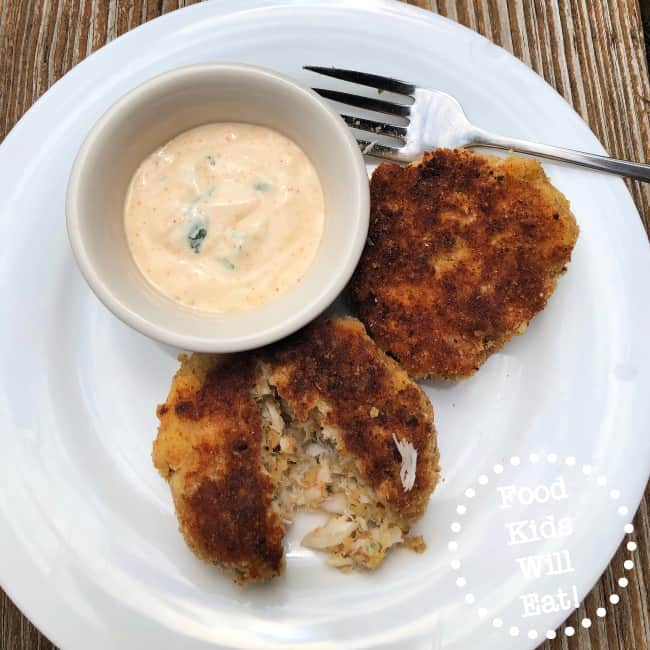 40 fresh whole basil leaves
1½ cups mayonnaise
2 teaspoons Dijon mustard
2 teaspoons lemon juice
¼ teaspoon cayenne pepper
2 Tablespoons olive oil
2 stalks of celery, finely chopped
⅔ cup of onion, finely chopped
1 pound lump crabmeat (we use canned crabmeat for this)
⅔ cups breadcrumbs
1 Tablespoon chopped fresh chives
1 Tablespoon chopped fresh parsley
6 Tablespoons flour
3 large eggs
2 cups breadcrumbs
2 Tablespoons vegetable oil
Blanch the basil in boiling water for 30 seconds, and then plunge into an ice bath to cool. Drain and pat dry with paper towels. Finely chop the basil.
Mix together the remaining ingredients along with the chopped basil. Set aside ½ cup of basil mayonnaise to use in the crab cakes. The rest can be placed into a serving container.
Heat 2 tablespoons olive oil over medium heat, and saute the chopped celery and onion until tender (about 5 minutes). Transfer to a large bowl.
Add in the remaining crab cakes ingredients- stirring together to combine.
Use a ⅓ measuring cup, scoop crab mixture and form round cakes using your hands. Place onto a baking sheet.
Place flour in a small bowl, whisk together the 3 large eggs in a 2nd bowl, and place 2 cups of breadcrumbs in a 3rd bowl.
Take each crab cake, dip both sides in the flour, then the beaten egg, and coat both sides with the breadcrumbs, returning to the baking sheet.
Heat 1 tablespoon vegetable oil in a large skillet over medium heat. Add crab cakes in batches, cooking until golden brown on both sides (about 5 minutes per side).
Serve warm with basil mayonnaise for dipping.
Recipe by
MomOf6
at https://www.momof6.com/appetizer/mini-crab-cakes-with-basil-mayonnaise/