This time of year, whenever I meet up with another Mom at a sports practice, the grocery store or in the waiting room at the dentist's office- everyone is chatting about Spring Break. With wishes for sunnier skies, warm breezes, and fun things to do as a family- outdoors! If that's what you're dreaming about too- then let me inspire you 5 awesome Spring Break ideas for families!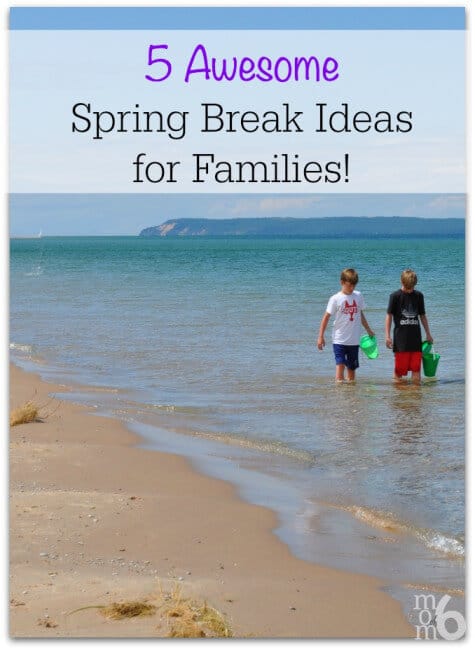 #1 Spring Break Ideas for Families: Head to Florida!
I know- for East Coasters like me- this one is pretty much a no-brainer, right?
During late March and early April, the weather in Florida is usually perfect. With temperatures in the 70's and 80's, spring break takes place before the start of the summer humidity and hurricane season.
The only problem? You and about a million other people all think that heading to Florida for spring break is the best idea ever! This means it can be crowded- especially at the "Happiest Place on Earth". So my suggestion- plan your spring break getaway somewhere other than the "House of Mouse" and explore some of the other amazing attractions that Florida has to offer.
On our last trip to Florida, the kids and I visited Kennedy Space Center for the first time- and we were so impressed!
We had never gone before because I assumed it would be a little bit like the Smithsonian- with most exhibits behind glass, and lots of signs for the kids to read to learn about what they were looking at. Instead, what we found were some pretty amazing interactive exhibits.
We started the day at the Atlantis shuttle building- where we had a chance to learn about how the space shuttle program was conceived and constructed. We were able to see the actual Atlantis shuttle, with its payload door wide open, and marveled at the wonder of it. Then we rode on a shuttle launch simulator to understand what they astronauts felt during lift-off. It was fantastic!
We chose to add on the "lunch with an astronaut" option to our admission ticket, where we ate a great buffet lunch which was followed by a presentation by shuttle commander Fred Gregory. My kids hung on his every word.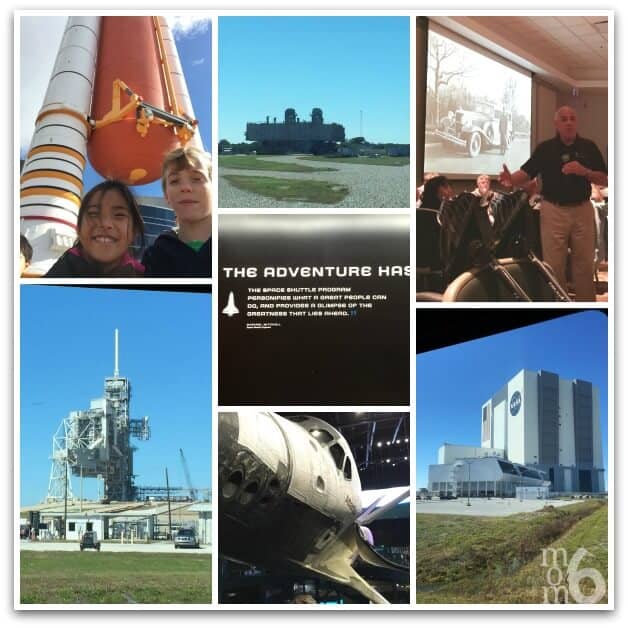 After lunch, we took the bus tour to see the two launch pads, the enormous crawlers that carry the rockets (and at one time the shuttle) out to the launch pads, and drove past the Vehicle Assembly Building.
The cool part was listening to our bus driver talk about the future of Kennedy Space Center as a launch center for commercial enterprises such as Space X and United Launch Alliance, and see the changes they are making to the launch pads and crawlers to support these new businesses. It is exciting to see where the space program is heading.
We stayed in New Smyrna Beach which was about 45 minutes north of Kennedy Space Center. This is a great area of the Florida East Coast with lots of fantastic restaurants and things to do (you can check out my post on New Smyrna Beach here!)
#2: Secure An Off-Season Beach Rental
One of my favorite ideas for Spring Break that is so much fun for the family, and can be very reasonably-priced is to rent an off-season house or condo at the beach.
This is what we did several years ago, and let me just say that I think that there is nothing better than a quiet week in the springtime sun in an uncrowded location!
The kids enjoyed splashing in the surf and digging big moats in the sand, while I was able to enjoy catching up on grown-up conversation while sipping cocktails under a beach umbrella! Intrigued? Then read my post on how to make this YOUR reality!
#3 Spring Break Ideas for Families- Visit Washington DC!
Washington DC is a fabulous spring break getaway for families! The kids will be entertained, they will head home having learned something, and you'll walk away with a new appreciation of the beauty and the majesty that is our Nation's Capital.
If you live in the Northeast part of the country, DC is likely within a reasonable driving distance. And there are so many great things to see and do- here are a few ideas to get you started on planning a spring break in Washington DC with kids!
#4- Stay at a Great Wolf Lodge!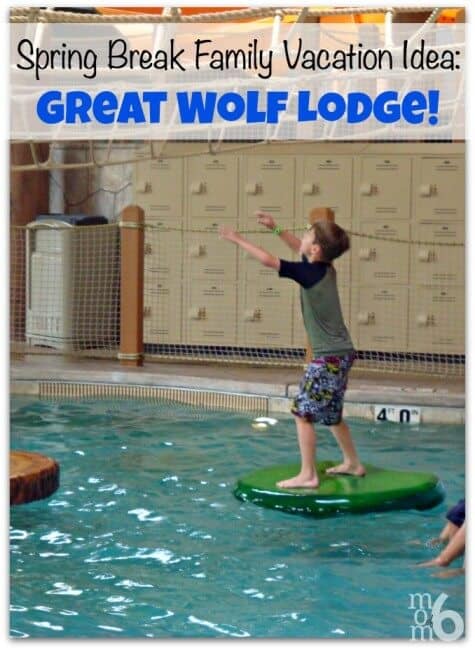 A great idea for an overnight getaway during Spring Break is the indoor water park at the Great Wolf Lodge!
Over the past few years, we have personally stayed at the Great Wolf Lodges in The Poconos, PA, Williamsburg, VA, and in Sandusky, OH and have had an amazing time at each one. And since admission to the water park is included in the price of the hotel stay- you get to enjoy two fun-filled days on the water slides with an overnight stay AND the decadence of staying in a nice hotel room.
I've got a few tips to share with you on how to save a little money during your visit to the Great Wolf Lodge too- check 'em out!
#5: Have Your Kids Ever Seen Where You Grew Up?
For some of us (like my husband Steve), our parents still live in the same house that we grew up in, and at holidays when we go "back home" and take the kids to visit Grandma and Grandpa- we are returning to the home and the town of our childhood.
But for others of us (like myself)- our parents have since sold the home that we grew up in and moved to a totally different (warmer climate!) location.
A really fun idea for Spring Break is to take the kids back to the town you grew up in and share with them some of your favorite memories from childhood. Or take them to visit where you went to college- get out and walk around the campus and show them what it's like to be a college student! Here's a look at the trip I made with my own family to show them both where I grew up as well as where I went to college!
You might want to check out these other posts that offer tips and advice on planning and packing for road trips:
And if you are looking for some more cool destination ideas:
Have you made any plans yet for Spring Break? If so, please share them here!