Our family had a chance to check out some of the fun things to do in Asheville on one of our recent family road trips. We wanted to break up our trip home from Atlanta with a stop somewhere scenic so we could enjoy the great outdoors (we were traveling in February from the snowy Northeast), that also offered some unique things to do. Asheville was the perfect one-day family vacation for us!
#1. Visit the Biltmore Estate
The Biltmore Estate is the largest privately-owned home in the United States, and had long been on my bucket list of things to see! But I wasn't sure that the kids were going to be so thrilled to spend a couple of hours touring a mansion built by George Vanderbilt II in 1895. Fortunately, I was wrong! The kids were enthralled! ("This is SO SICK, Mom!" was uttered dozens of times!)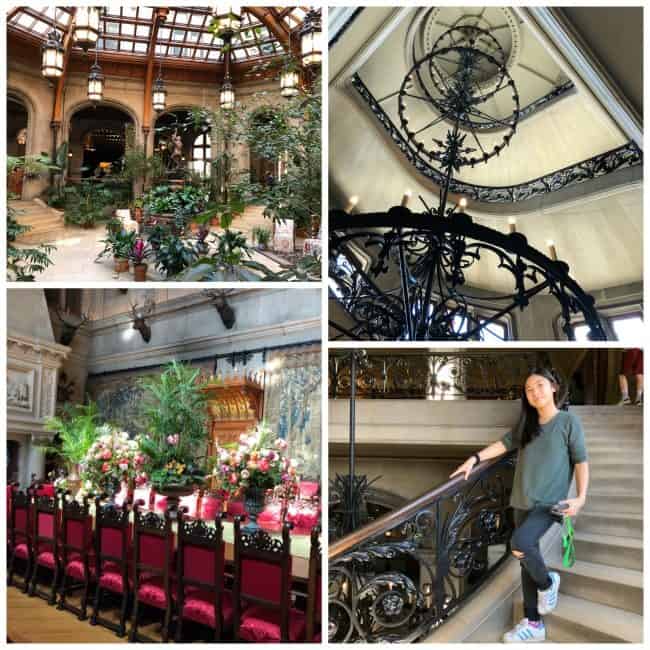 The drive into the estate only heightened the anticipation of the experience because the home is hidden from view until after you park your car and walk along the path to get to the front lawn. And then you catch your first glimpse of this- and your jaw drops!
Sure- you can take a bus to the front door- but we preferred to walk (so the teens could snap tons of selfies along the way!)
Once inside of the house, we opted for the self-guided audio tour so that we could learn a bit about the people that lived here and some details about the home and furnishings as well. One of our favorite parts of the tour was seeing the basement areas- including the indoor swimming pool and the working spaces for the servants that cooked, cleaned, and laundered for the guests of the estate.
During our visit, there was also an exhibit on the fashions from the film "Titanic" that were staged throughout the home (and since that is one of my all-time favorite movies, I loved seeing the costumes!) There are often temporary exhibitions that are included in the price of admission- so be sure to check out their website.
#2 Drive Along the Blue Ridge Parkway
There is a reason why this is considered to be one of America's most scenic roads! The beautiful vistas overlooking the dark rolling hills contrasted against the blue sky are just amazing.
We left Atlanta early in the morning and met up with this scenic drive south of Asheville- which included a stop for a hike (see below).
#3 Hiking to Waterfalls in Pisgah National Forest
I am never one to pass up a waterfall hike- and if I can get two of them done in one day- that's even better!
Our drive took us into the Pisgah National Forest- which is a beautiful spot for hiking. Our first stop was at Looking Glass Falls– a gorgeous waterfall right on the side of the road- where you could feel the force of the waterfall as you walked alongside it!
About a mile up the road from Looking Glass Falls is a spot where you can park your car and take a short (3/4 mile) hike to Moore Cove Falls. The cool thing about this 50-ft tall wispy waterfall is that you can walk all the way behind it and stand under the overhang looking out into the falls. (or just stand directly under the waterfall as my teens did!)
Then be sure to check out this list of Road Trip Must Haves This is an affiliate link: MomOf6 earns a commission if you purchase, at no additional cost to you. over on my Amazon influencer page This is an affiliate link: MomOf6 earns a commission if you purchase, at no additional cost to you. !
#4: A-Escape Room
Our family loves to do escape rooms together- and it's an activity that we've been adding to our family vacations lately too! We chose to do to the Selachi Biotech Research Bunker room at A-Escape, and it was a challenge!
What I loved about this venue is that they design and build all of their escape rooms themselves- so they are each unique from any other escape room you've visited. Our room included all kinds of 1990's-era computers with floppy disks and equipment, and even used punch cards for a timeclock- things that my kids had no idea how to use! It kept the game interesting!
We were unable to finish in 60 minutes, but since there was time before the next game was scheduled, and we were soooo close to having it figured out- they gave us 10 minutes, and we were able to escape!
#5 Asheville Pinball Museum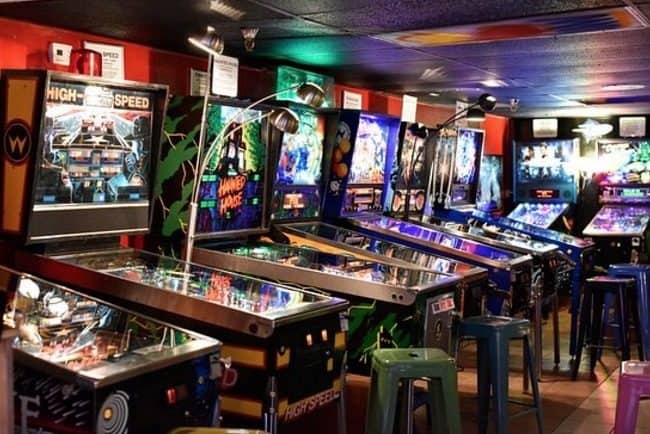 If your kids like old-fashioned pinball machines (and mine definitely do!), the Asheville Pinball Museum is a fun place to visit! You pay admission to enter the museum, but once inside you can play all 80 machines without tokens or quarters! It's a great way to spend a few hours!
Have you visited Asheville, NC on a road trip? What did you love best about your visit?
Want to Check Out More Great Road Trip Destinations?
Need Some Help Planning or Packing for Your Family Road Trip?