Mammoth Cave National Park in Kentucky contains the world's largest cave system (by comparison, the world's 2nd largest cave is only about 25% of Mammoth Cave's size!). The cave is a series of caverns and tunnels that stretch to nearly 400 miles long, and it is stunning in both size and beauty. We had such a fantastic time on our family road trip that I wanted to share with you 5 reasons to visit Mammoth Cave with Kids!
Reason #1 to Visit Mammoth Cave with Kids: The Trog Tour!

This fantastic tour is only open to kids ages 8-12, and it alone is reason enough to make the trip to Mammoth Cave! Kids don caving jumpsuits with knee pads, bandanas, helmets, and headlamps and head out for a 2-hour adventure led by 2 guides via the Historic Cave Entrance.
Once inside the cave, the kids head "off trail" for a true caving adventure! They get to squeeze through narrow passageways and army-crawl through low tunnels- all by the light of their headlamps. They are allowed to try to climb the cave walls and scramble over boulders and get a sense of what real cave exploring is like.
Now while this tour is not for everybody (I could not convince our 8-year old daughter to go with her brothers), our three boys had a blast. This was one of the highlights of their summer!
Reason #2- The Historic Tour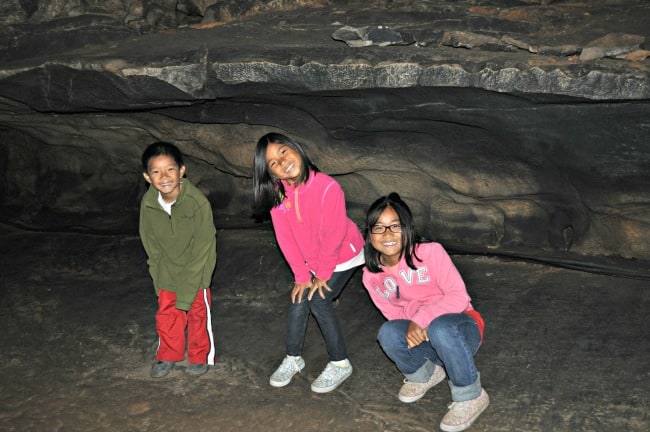 This is a fantastic "introductory tour" to the cave that is right for nearly all ages. You have the chance to see some of the enormous cave chambers- that are measured in size by acres! You also learn all about the early cave history- how it was used for mining saltpeter, how it eventually became a national park, and how all of the pathways used on the tours were constructed following the Great Depression.
In the 1800's when tours were given, for a small fee, guides would use the soot from a burning candle to write the name of the visitor on the ceiling of the cave (an early form of graffiti!). And while of course this is not allowed anymore, you can still see the lettering on the cave walls which were also often dated.
And no cave tour would be complete without the chance to squeeze through a narrow passageway called "Fat Man's Misery!"
Reason #3- The New Entrance Tour
Mammoth Cave is so large and so diverse that you can take several different kinds of tours and have completely different experiences. This tour which embarks from the "New Entrance" (which is not-so-new… I believe it was constructed in the 1920's) begins with a large descent down into the cave via metal staircases. It is narrow and deep, and absolutely breath-taking!
On this tour, you learn that at one time this section of the cave was considered to be a separate cave system from Mammoth Caves, and it wasn't until later exploration that it was discovered that they were indeed connected and part of the same cave system! This tour ends with a section of the cave called "The Frozen Niagara" where the flowstone makes it look as if the cave walls are melting!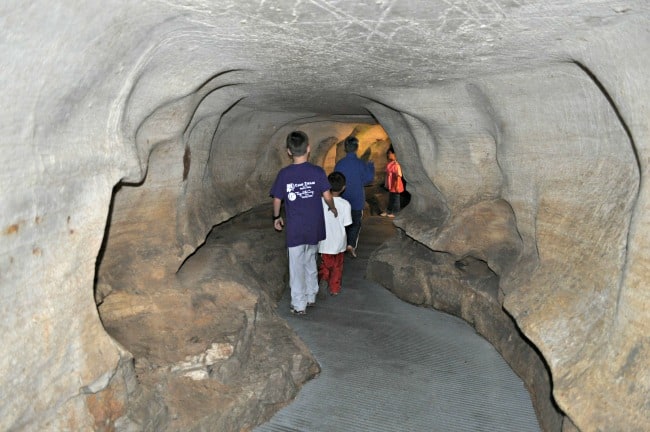 Then be sure to check out this list of Road Trip Must Haves This is an affiliate link: MomOf6 earns a commission if you purchase, at no additional cost to you. over on my Amazon influencer page This is an affiliate link: MomOf6 earns a commission if you purchase, at no additional cost to you. !
Reason #4- The Park Rangers are Fantastic!
The park rangers that give the tours, direct visitors at the information center, and generally just "run the show" at Mammoth Cave are just outstanding. They sincerely make the visit worthwhile.
While they take their jobs very seriously regarding safety for the guests (and safety for the wildlife- where they are taking serious precautions against the introduction of "white-nose syndrome" to the bats of Mammoth Cave), they also work hard to make the tours informative and entertaining. We had some great "storytellers" on our cave tours!
Reason #5 to visit Mammoth Cave with Kids- It is one of our country's great National Parks!
We are so fortunate (and it is so easy to take for granted) to have this incredible system of National Parks in this country. But our tax dollars pay for this park system, and as citizens, it belongs to all of us- so we should be sure to enjoy them! Mammoth Cave is simply spectacular, and if you have visited a smaller cave in the past, then you will be hugely impressed by a visit and a tour of Mammoth Cave!
While there is no admission fee into the park, you do pay a fee for the tours, which I felt were pretty reasonable. We stretched our vacation budget by staying in Mammoth Cave Campground, which is within walking distance of the visors center, where all of the tours depart.
Our only disappointment during the trip was that the campground and the area outside of the cave were very much "over-run" with yellow jackets, and for us, it made us uncomfortable to cook and eat outside. I poured one of the kids a cup of lemonade, and they were all over us instantly, and it hard not to swat at them, which only leads to wasp stings.
So we ended up eating all of our dinners and lunches out, and we ate a cold breakfast in the tent each morning. I don't know if the yellow jackets were just an unusual occurrence, or if this is an issue that you always need to contend with in the summer here- but it would be worth asking about before making campground reservations.
Want to Check Out More Great Road Trip Destinations?
Need Some Help Planning or Packing for Your Family Road Trip?