Our family has seen the Statue of Liberty from a distance a few times as we have flown in and out of Newark airport, and occasionally caught a glimpse of her as we were driving down the highway in New Jersey- but we knew that a family road trip to see the Statue up close was long overdue! And let me tell you, Lady Liberty did not disappoint, she is as beautiful and majestic as we had all imagined. If you live in the greater NYC area or are here as a tourist, allow me to share with you 5 reasons to take your kids to visit the Statue of Liberty!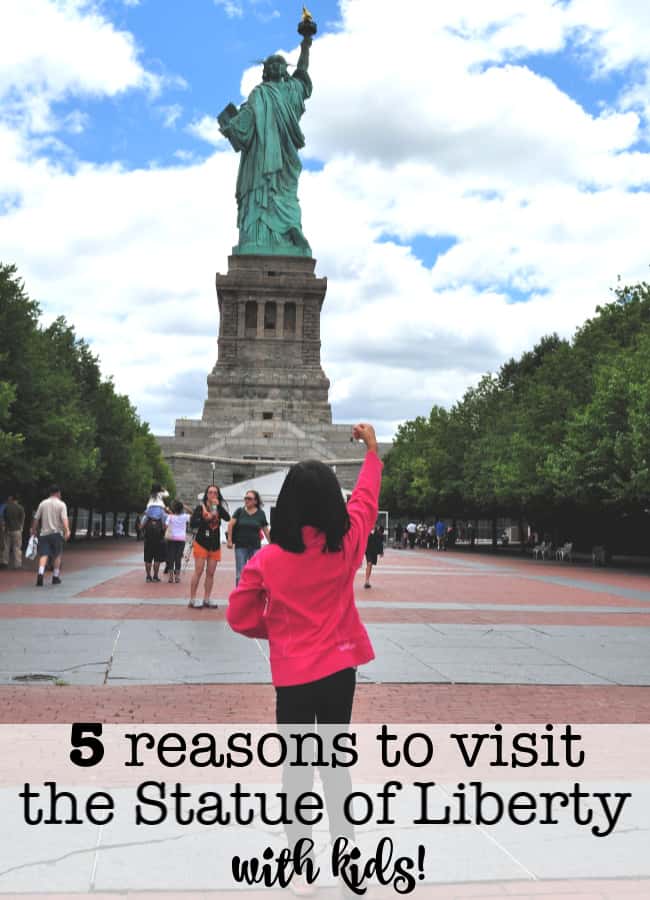 #1. She is an amazing site to see up close!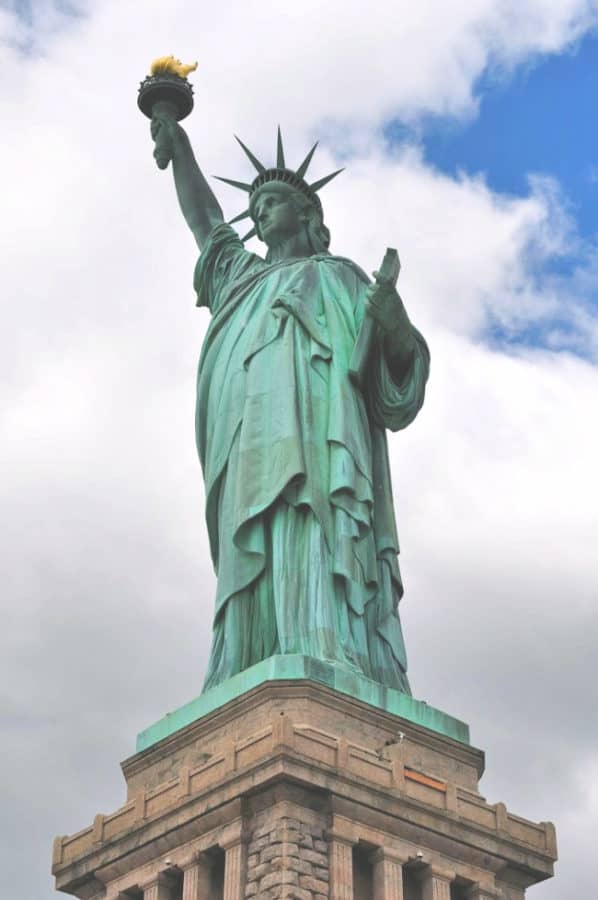 The Statue of Liberty is such an enduring symbol of our country and the freedom and liberty that we have extended to new arrivals to the United States, that all school aged-kids- no matter how young are familiar with her. But to get to see her up close and learn more about the details of the Statue- why she was designed in this way, how she was built, who gave her to our country is fascinating for kids to hear as they stand in her shadow.
You can take a walking tour up to pedestal or even all the way up to the crown of the statue- but all tickets should be purchased in advanced- both for transportation to Ellis Island as well for the tours at Statue Cruises.
2. To learn about her history through the stories of a National Park Service Ranger
During our visit, we enjoyed a tour around the Statue given by one of the National Park Service Rangers. Tours start every 30 minutes or so in the park-like area behind the statue, and rangers lead walks around the perimeter of the statue as they impart the history of Lady Liberty and challenge the kids to think about why she is standing in that particular pose, and why do they think there are chains near her feet, etc.
These walks and talks are free, and I just love it when we have the chance to listen to someone give a tour who is knowledgeable and passionate about what they are sharing.
Kids can also sign up for the Junior Ranger program and earn a badge!
3. To strike her pose!
After learning about the details of her pose from the park ranger, we all took a few turns striking the pose for pictures. But this one of Lili with the Statue in the background is my favorite.
4. To take a boat ride on the New York Harbor
There are two ways to get to the Statue of Liberty- you can board a boat from NYC in Battery Park, or you can drive to Liberty State Park in New Jersey and take the boat from there. In either case, you will be traveling via Statue Cruises from your point of embarkation over to Ellis and Liberty Islands.
We decided to leave from the New Jersey side, which gave us a gorgeous view of the NYC skyline. And certainly, the kids find a boat tour (even a short one such as this) to be completely thrilling!
The other incredible thing about taking the ferry from Liberty State Park is having the chance to see New Jersey's 9/11 Memorial. If you stand at the base of the memorial, looking towards the cityscape, the walls of the memorial depict where the Twin Towers once stood. As you pass through the corridor created by these two sleek walls, the names of all of the citizens of New Jersey who died in attacks are inscribed there. And at the base of the memorial stands two of the steel beams that were once a part of the World Trade Center buildings.
Seeing this memorial was deeply moving for both Steve and me, who were in NYC on 9/11 and remember that day so vividly.
Then be sure to check out this list of the Best Travel Games This is an affiliate link: MomOf6 earns a commission if you purchase, at no additional cost to you. for kids over on my Amazon influencer page This is an affiliate link: MomOf6 earns a commission if you purchase, at no additional cost to you. !
5. To see Ellis Island
Our 10-year old son, who had just wrapped up a unit on immigration in June with his 4th-grade class was perhaps more excited to see Ellis Island than even the Statue itself! Inside of the main building at Ellis Island, there is a fantastic series of displays on the history of immigration to the United States, and as we walked through the halls, we were able to spend time explaining to our kids the numerous reasons why people left their native countries to come to the United States, and the hardships they faced in doing so.
We talked about the discrimination and the mistreatment that met so many immigrants when they arrived, and that our country did not necessarily welcome people with open-arms as we might like to believe. We tried to get them to imagine how hard the choice must have been for these immigrants to leave behind their families, their homes, their possessions with just the idea that a better life could be waiting for them here- and how disheartening it had to be when they realized what a tough life it would be.
Ellis Island was incredibly meaningful for our older three kids, but the younger three were pretty antsy and weren't up for all of the discussions that Steve and I tried to have with them. They just wanted to get back on the boat!
Looking for some more great New York road trip ideas?
Check out these posts: