Eating a healthy breakfast in the car from items that you've brought from home or purchased on the road is a less expensive and certainly a better-for-your-body alternative to the fast food drive-thru! So here's what I like to pull together and put in the car on our family road trips so that we can eat breakfast on the road!
Basic Family Favorites
I like to pack a couple of choices of healthy breakfast cereals along with a quart of skim milk, paper bowls, plastic spoons, and napkins, to pass out to the kids to eat when we are at a rest stop, or refueling the car.
To go along with their cereal they can each choose a piece of fresh fruit or a small container of yogurt, and I like to buy bagels and little triangles of cream cheese so that they can have a little bagel and cream cheese to go along with their cereal.
I also buy small single-serving-sized containers of orange juice that come with a straw just like a juice box, so the kids can enjoy fresh orange juice in the morning too.
Fresh Fruit Smoothies
Another terrific healthy option for kids that perhaps don't like breakfast cereal (as well as for the driver who can't be managing a spoon and bowl while driving the car) are fruit smoothies.
I like to make fresh fruit smoothies in our hotel or condo before we check out, and pack them up in a reusable plastic container that we can sip from along the way.
Preparing fruit smoothies is awesome because you can use leftover fruit that you have from yesterday- like strawberries, bananas, or even apples, and oranges. You can also use frozen fruit that you purchase at the grocery store (if you are staying somewhere with access to a freezer).
Mix in one of those little containers of yogurt, some orange juice or even skim milk or apple juice, and you can create a great breakfast.
You can even pack along some ground flaxseed or protein powder in Ziploc bags and add some to your smoothies for some extra punch!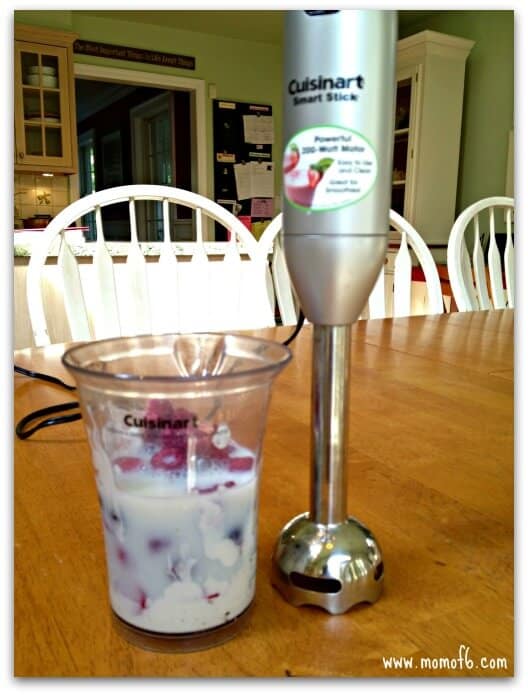 I pack along an immersion blender This is an affiliate link: MomOf6 earns a commission if you purchase, at no additional cost to you. and it is perfect for road trips!
It is lightweight, it packs into a very small space, and it's super easy to plug in and blend a smoothie in a hotel room or condo before we leave in the morning. Simply rinse off the blender piece, and repack it as you head out the door!
Do you have any other breakfast on the road ideas to share? If so please leave a comment below!
For more easy meal ideas for cooking while on a road trip- check out these posts:
Cooking in a Condo- 3 easy ideas for road trip dinners!