When you are loading up your family and heading out on a 4-week 8000-mile road trip, you have to be organized, right? Especially when you will be visiting so many different states and staying about 14 different locations! So here is how to organize a family road trip:
Hotel and Destination Information
For road trips that involves multiple destinations, I find it helpful to create a filing bin and to set up a folder for each separate destination. Within each folder I will have a copy of our hotel confirmation and information about the hotel (indoor pool? ice machine? free wifi?), and I'll also make notes as to what we want to carry in to each hotel (# of days worth of clothes, toiletries, swim bag, pjs)  and my notes as to who's sleeping where (in some spots my kids will sleep in the other double bed in the room and another spots they may sleep on a pull-out sofa or even in a sleeping bag on the floor). I will also have copies of the directions to our destination (printed from mapquest), I will note the weather forecast and average temperatures for this area, and include a note about what time zone we will be in. I "build" all of these notes and information and store it in my favorite free app called Evernote, but because some of the places we will be traveling to are remote, and do not have reliable cell service, I've decided that I want to carry a paper copy of all of our plans as well!
Itinerary
I like to make a list of all of the things that we want to do on any given day while on vacation. Does this mean there isn't any room for spontaneity? Of course not! We are certainly flexible, but I don't want to drive all the way up to Wyoming to see Yellowstone National Park and not know about this awesome hiking trail that follows along a the line of geysers because I didn't do my research ahead of time! I'm using guidebooks on National Parks as a resource (Fodor's books are my favorite!) and I've been doing online research at great websites like Trekaroo to plan what it is I want to do during each day of my vacation.
To-Do Lists
Yes, even on vacation I do take along a to-do list….. but that's meant to ease my mind, so that when we arrive at a destination I'll remember that today's the day that I need to do a couple of loads of laundry, or if I need to run to the grocery store (and I'll even have a copy of the grocery list so that when I run into the store I can just pick up what I need and get out). To-do lists allow me to relax the rest of the time, and just enjoy myself!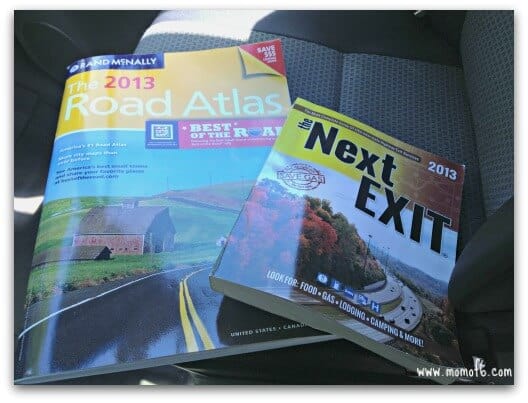 Two other must-have items!
The latest edition of the Rand McNally Road Atlas is a must-have item for the car! More than once I've been in a location where we've been detoured or we got lost ,and GPS wasn't available or we had no cell service to reach Google Maps via my smart phone! I also like this great book called Next Exit that contains a listing of fast food places, gas stations, and hotels at upcoming exits on all of the interstates across United States. When the kids start getting hungry in the car, we can just look up what's available up ahead at the next 3 or 4 exits and decide which place we would like to stop at. There's also a great app that does the same sort of thing- called Road Ninja- that helps you to understand what is up at the exits ahead.
Want to See Road Trip Organization in Action?
I created this YouTube video that shares exactly how I plan and organize our family road trip…. check it out:
Be sure to stop back here all summer long on Tuesdays and Fridays to see our Road Trip Diaries that will be chronicling our great adventures!