When you are traveling by airplane you have to pack using sturdy luggage pieces such as suitcases and duffel bags that will withstand the wear and tear that can happen during baggage handling. But when traveling by car I find that I can be much more organized and efficient if I pack for a road trip using a system of bins and tote bags to hold all of our clothes, toiletries, and other items that we will need for our adventure.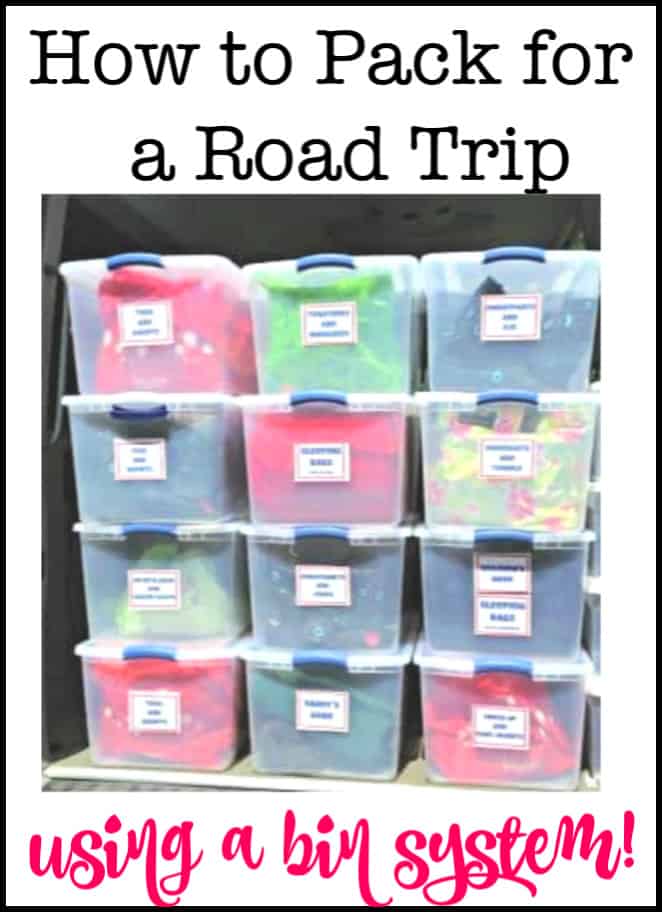 While I drive a rather large-sized vehicle and have room for lots of bins, I also need to take a lot of stuff with us on a road trip for our family of 8! But a bin and bag system will work in any sized car if you find bins to properly fit your space (and they especially work nicely in minivans and SUVs).
Start by measuring the trunk space you have to work with, paying particular attention to the depth of that space, and find bins that will fit your needs. I use these XL bins with latching handles This is an affiliate link: MomOf6 earns a commission if you purchase, at no additional cost to you. in the back of our car.
Because I didn't have enough room to fit four of these bins across the back of my car, I also purchased him some smaller 20-quart bins This is an affiliate link: MomOf6 earns a commission if you purchase, at no additional cost to you.  to maximize my space and allow me to keep everything neat containerized and organized.
In each bin I can fit two reusable tote/shopping bags worth of clothing or other items that I want to take on this trip. And within one tote I can pack one day of shorts and tees for my entire family.
One bag will hold everyone's PJs, one bag will hold a pair of jeans for each person (in case it gets cold), or all of our rain jackets, a stack of sweatshirts, etc. The idea is to compartmentalize my packing and know exactly where everything is, so I can find it immediately when I need it.
How to Pack Toiletries for a Road Trip:
Another tip that I have when it comes to packing toiletries is to not put everything into one large toiletries bag. Separate your items into two categories- items that you'll need every day, such as shampoo, hair combs, toothbrushes, etc,  and items that you'll need to take with you "just in case" like first aid items and some medications.
That way when you arrive at a hotel you only need to take in the bag of items that you know that you'll need that evening, and the rest of the toiletries can stay in the car until you need it.
Want to See Road Trip Organization in Action?
I created this YouTube video that shares exactly how I plan and organize our family road trip…. check it out:
You might want to check out these other posts that offer tips and advice on planning and packing for road trips:
And if you are looking for some more cool destinations: