Do you dream about taking your family on a great American road trip? Do you long to see the national parks of the West and the natural wonders that make America truly unique? Summer family road trips can be the perfect way to see so much of what the USA has to offer!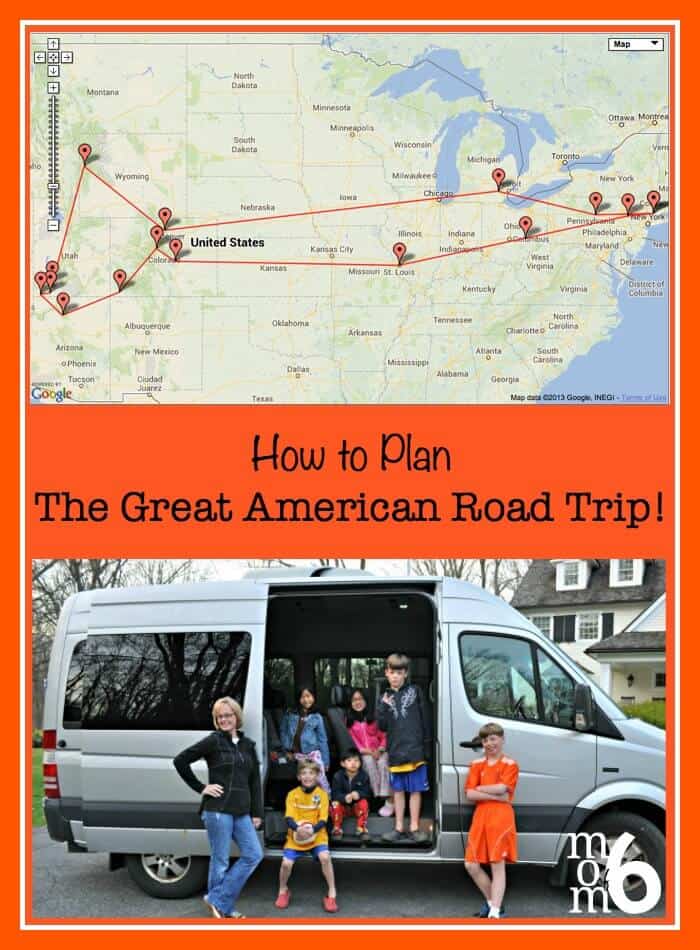 Taking my kids on a multi-week cross-country great American road trip was a long-held dream of mine, but I knew that this needed to be something that they wanted to do too. Something that they would enjoy so that they would welcome the idea that this would be how they would spend their summer.
And to make that happen, I needed to understand their vision of taking a cross-country road trip- what would make it really great for them? What sites did they want to see? What did they picture in their heads when they thought of the "Great American West"? What types of activities would make this their version of a "dream vacation"?
It was time for a road trip planning meeting!
#1- Generate an American road trip "dream list"
For several nights over dinner, the kids and I brainstormed a list of things that would be cool to do and see on our cross-country road trip. They told me they wanted to see the Old Faithful geyser (they had heard about it in school and wanted to see it first-hand), and they listed the Grand Canyon as a place that they wanted to visit. This is what they pictured in their minds when they thought of the western states!
Next we focused on activities and not ones that necessarily have anything to do with the states that we were visiting! They listed things that they love such as playing mini-golf and they wanted to visit a water park. Then they listed some vacation-specific activities such as going on a horseback ride (and they immediately jumped all over the mule-ride idea when I shared with them that this was an activity that we could do while at the Grand Canyon), going down an Alpine slide, and going white water rafting.
This list gave me a great starting point to begin planning our trip. I knew if we could make these things happen on our trip- it would be awesome for all of us!

#2- Put the "dream list" into action!
Armed with this list, I set about planning our road trip. I specifically looked for destinations that would allow us to do at least one of the activities on our list.
For example, when we visited Rocky Mountains National Park in Colorado I specifically decided to stay at the YMCA of the Rockies because they offered multiple swimming pools, mini-golf, and horseback riding on the property- and right off the bat I was able to knock several things off of the list that the kids wanted to do while on vacation! Might I have enjoyed staying in a different hotel that's not a… um… YMCA? Perhaps. But this is about making the whole family happy! (Side note: the YMCA of the Rockies ended up being all kinds of awesome! I loved it as much as the kids!)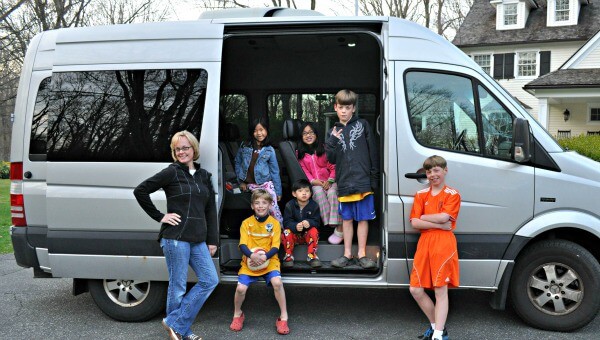 #3- Consider making this trip an extended family event
While the kids have the summer off from school and my work-from-home career allows me to travel for weeks at a time, my husband doesn't share that same flexibility. So while he would be able to join us for 10 days of our trip- traveling for an entire month with us wasn't possible. But I didn't see that as a reason to not take the trip!
So we invited the grandparents to join us for portions of the trip! My job was to make the long cross-country trek with the kids in the car- and then my husband, my parents, and my in-laws flew out to meet us at different points of the journey. It made our adventure even better by getting to share it with those that we love! Not to mention having grandparents join us made the trip quite a bit easier for me!
#4- Consider the daily distance for travel
My kids have a high tolerance for time spent in the car because we've taken them on so many long road trips. So I know that they can handle a 12-hour day in the car without a problem. But since I was going to be the only adult and therefore the only driver on the trip I wanted to make sure that we would never travel more than 8 to 9 hours on any given day.
So as I mapped out our journey I spent a lot of time using Google Maps to determine the distance between destinations that we were considering and whether or not I needed to add an overnight stay with activities somewhere in between. This is where the overnight stay at a water park fits in!

#5- Consider the types of accommodations vs. your budget
There is no doubt that a multi-week cross-country road trip is going to be expensive. Gas, food, souvenirs, and activities for so many days are really going to add up (and it is important to take the time to carefully plan your expenses and make decisions to help you stick to your total vacation budget in advance!).
But the largest expense of the trip overall is going to be accommodations.
I knew that we could make our American road trip more economical if we stayed in lower-priced lodging such as campsites, but I had to balance that against the fact that for a long stretches of the trip I would be the only adult which would make camping quite challenging (setting up and taking down the tent, sleeping bags, walking kids to bathrooms during the night, cooking, etc.). So we limited the camping only to nights that my husband would be joining us.
I also had to make sure that our accommodations allowed for me to cook frequently which would save money on meals, and they needed to have laundry facilities which allowed me to pack more efficiently for this trip. So I made some carefully-considered decisions regarding where we would be staying based on amenities offered.
 #6- Plan, plan, and then plan some more!
Look- I am all about being flexible while on the road- stopping at some attraction or activity that looks interesting to everyone- changing up the planned schedule when everyone needs a break, etc. Altering a plan is all good! But you need to at least start with a plan when you want to take a trip of this size with your family!
As I am planning a road trip- I'll put all of my notes into a Google doc- jotting down ideas of what we want to see and do- listing address so I'll have easy access to them later, making notes of admission fees and hours, etc. I'll even take some time to research dining options in each area we'll be visiting so I have a go-to list of possibilities if I need one.
I'll create a folder in my email system to hold all of our reservation confirmations- for hotels, campsites, activities, etc. It allows me to easily locate them along the way.
Once I've done my research and note-taking- I'll fine-tune that Google doc into a daily game plan- even listing start/end times of activities and drives so I make sure that I don't over-schedule a day. And then I'll print out that document and use it all on our trip- so everything I wanted to remember about a particular location is right in front of me!
You all know me- I have to keep a great American road trip organized, right?
Planning a road trip?
You might want to check out these other posts that offer tips and advice on planning and packing for road trips:
And if you are looking for some cool family road trip destinations: