Here are some ideas that we use on our longer family road trips when we don't want the kids eating fast food lunches day after day! Here's how we do lunch on the road!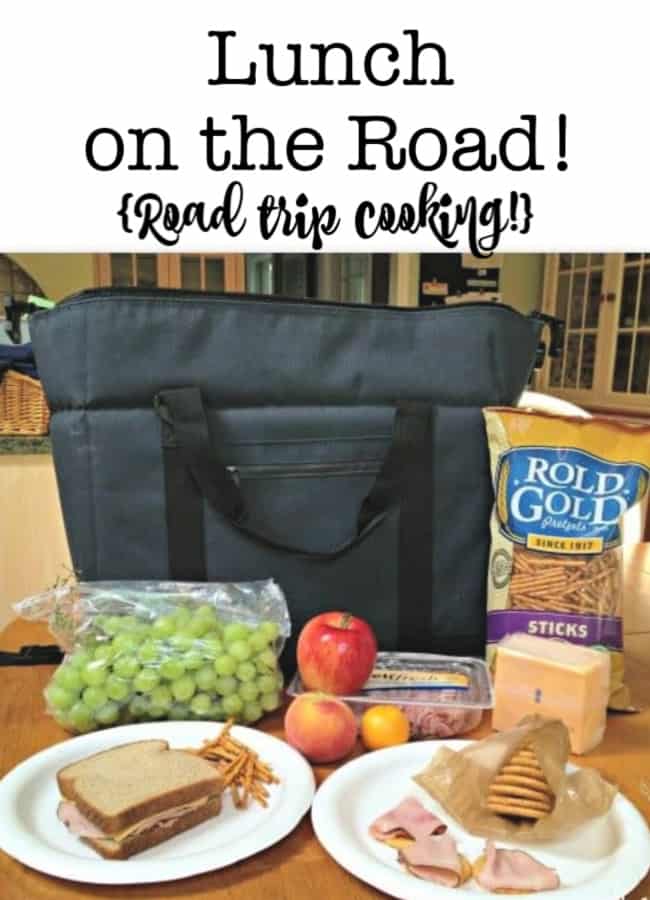 When heading out on a week-long road trip, I think it's perfectly fine to hit the drive-through at the "Golden Arches" once or twice during the trip. It's a treat for the kids, they can each indulge in something that they love like chicken nuggets and french fries, and if you have pre-schoolers, you know how much they adore the happy meal toys!
But when taking a month-long road trip – you really don't want to be relying on fast food and its questionable nutritional value all that much. During some of our longer trips, there are days when we will make it a point to stop for lunch and enjoy a sit-down meal at a restaurant where the kids will have some healthier lunch options.
But other days when we're doing a long-haul drive of 10-12 hours in the car and we just want to get to our destination- I want something that's fast, easy and healthy for my kids.
There will also be plenty of times when we'll want to have a picnic lunch during a hike in one of the national parks. So I put together a short list of ideas of meals that I can pack- to serve lunch on the road, or out on a picnic.
One "Base Meal"- Served Multiple Ways
When you are serving lunch to multiple kids with different taste preferences, it can be hard to make everyone happy. So I find it easiest to find a "base meal" to center the lunch on, and then give different options for enjoying that base meal.
Ham Sandwiches and Ham Roll-Ups
All of my kids love deli-sliced ham. Some of them will eat it on whole-wheat bread as a sandwich with cheese and lettuce and a side of pickles, and others aren't a fan of sandwiches, but they will eat ham and cheese on crackers.
And still others just like plain ham slices- rolled-up. I pack along some fresh fruit and something crunchy like pretzels, and lunch on the road is served!
Cold Grilled Chicken Strips
At home we eat a lot of leftovers at lunchtime- so we will do the same while on the road!
If I served grilled chicken for dinner the night before, I will cut the remaining chicken breasts into strips and chill them overnight.
Or you can purchase grilled chicken strips at the deli counter at the store. I'll serve the chicken on top of a salad with ranch dressing for lunch or on a plate with honey mustard sauce for dipping.
And Speaking of the Deli Counter…
Rather than buying lunch at a restaurant, a cheaper option is to visit the deli counter at a grocery store and have them pack and prepare sandwiches for your family.
They usually have a great selection of cold pasta salads, potato salad- so the kids can choose what they'd like.
Another yummy option is cold fried chicken and a side of biscuits. Just load it up in your car cooler and you're all set!
Cold Pasta Salad
This is another great way to use leftovers- if we are making pasta for dinner one night at our condo, I will make an additional box of penne so that I have enough to serve as s a cold pasta salad the next day.
Some of my kids like it with just a little bit of Italian dressing or a little olive oil mixed in, and other kids like it with cold sesame noodles sauce which I whip up easily using my immersion blender This is an affiliate link: MomOf6 earns a commission if you purchase, at no additional cost to you. that comes along on all of our road trips!
The Old Standby…
And of course, there is always the old standby peanut butter and jelly! Served on bread or on crackers- it's always a family favorite!
For more easy meal ideas for cooking while on a road trip- check out these posts:
Cooking in a Condo- 3 easy ideas for road trip dinners!

What is your best lunch-on-the go? Please leave a comment and share your ideas with all of us!