When packing for a road trip, I know from experience that it's the inside of the car that can get all messy, dirty and disorganized while traveling- and that makes me crazy! That's why I've created a system to keep things neat and organized so the kids can find what they are looking for and have a great time during all those hours that we are spending in the car on a family road trip!
Here is what you need to organize the inside of your car when packing for a road trip.
*Please note that some of the links in this post are affiliate links, which means I will make a small commission if you purchase through these links.
Packing for a Road Trip Using Kids Car Organizers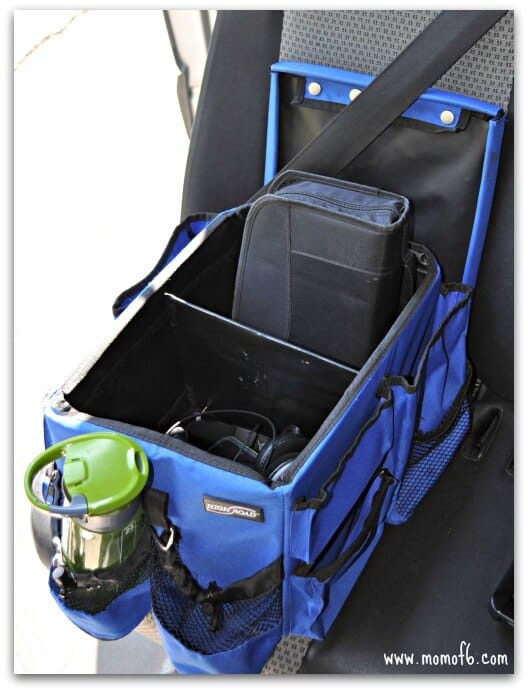 These kids car organizers are totally awesome- they have lots of compartments inside so one bin can easily be shared between two siblings. Keep in mind that you will need to have an extra seat between the two kids in order to use these bins. They are secured using the seat belt for that middle seat which means the bins won't move around or fall off of the seat. Each bin has two cup holders, and the bin also comes with a lid that can be flipped over and used as a food tray, which is a really nice feature.
Don't have space between the seats? This hanging car organizer keeps the back seat organized too!
Under The Seat Bins
Now I know this won't work for every type of car, but underneath each child's seat we use a plastic storage bin to hold additional travel gear such as a nice cozy fleece blanket that they can snuggle up with in the car, a pair of sunglasses, a sweatshirt, and it's where they can also store their shoes (which they love to take off when they get into the car) as well as the extra pair of shoes that they have with them on the trip.
This bin keeps all of this clutter off of the floor and makes it just so much neater on the floor of the car.
Packing for a Road Trip: Entertainment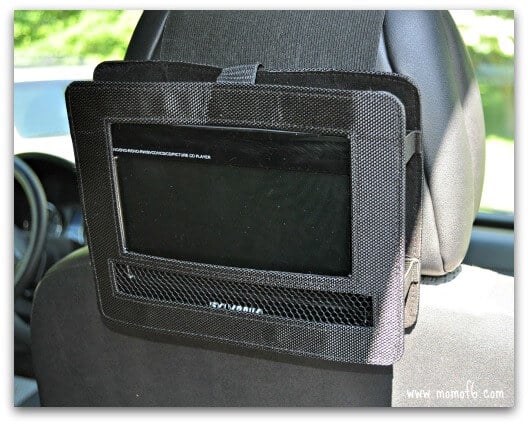 I love these over-the-headrest, velcro-strapped DVD player holder. It is easy to shift the location of the DVD player if I want to move it from the driver's headrest to the passenger's headrest, and when sitting in the passenger seat, the smooth strap doesn't bother my head. And the design of the holder also makes it easy for the kids to access the DVD player and switch out movies on their own.
Depending on the length of your road trip- you may be able to load enough movies onto an iPad for the car ride- and then you might want an iPad headrest mount for your car to hold it in place. For longer road trips- we use these Sylvania Dual-Screen DVD players (bought ours 3+ years ago and they still work great!)
Now the other issue you might run into- is having the ability to keep everything charged and humming along! In our car with 6 kids each having a phone as well as DVD player- we need to be able to charge a whole lot of things! So we use this power inverter and a couple of extension cords that snake under the seat to keep everyone happy!
And if you'd like to do the electronic-free thing- here are some fun travel games for kids:
A Place to Put the Garbage
Each row has its own garbage bag- it's just a plastic shopping bag from the grocery store- and this really helps keep the car neat. I love that the kids don't keep passing their garbage up to me to throw away for them- they can take care of it themselves!
When we arrive at our destination in the evening, they can pick up any little wrappers or anything that's on the floor around them and put it in a garbage bag and then dispose of the bag as we walk into the hotel, making the car nice and neat to start the next day.
Want something sturdier and a little more leak-proof than a grocery store plastic bag? We love this XL leak-proof bin!
Backpacks to Carry Items Into the Hotel
Each row also has a backpack that we keep underneath the seat, and when we arrive at the hotel for the evening, each child can pick up their own electronics, their chargers, their headphones, and anything else that they want to carry into the hotel into their backpack. Easy Peasy.
The next morning when it's time to check out of the hotel, they are responsible for finding their own electronics, headphones, and chargers, and putting all of it back into the backpack to return the items to the blue bins once we get back into the car.
Want to See Road Trip Organization in Action?
I created this YouTube video that shares exactly how I plan and organize our family road trip…. check it out:
Packing for a road trip?
You might want to check out these other posts that offer tips and advice on planning and packing for road trips:
And if you are looking for some cool family road trip destinations: